Instagram has become a platform where coffee enthusiasts, cafés, and baristas share their passion for this sought-after beverage.
Capturing a perfect shot of your morning brew and pairing it with an apt caption can significantly enhance your coffee-related posts.
However, finding the right words to emphasize the essence of this rich, aromatic beverage can sometimes be a challenge.
We understand this predicament and aspire to assist you in the pursuit of creating engaging posts.
So, whether you're a seasoned barista showcasing your latte art skills, a café owner promoting your specialty brew, or a coffee lover sharing your daily caffeinated delight, we have got you covered.
This article provides a curated list that is bound to inspire you and help you connect with your audience on a deeper level.
Coffee Instagram Captions
In this section, we're focusing on providing you a selection of catchy and creative coffee Instagram captions.
We will be breaking down the subject into bite-sized subsections for easier navigation and convenience.
This will help you quickly find the perfect caption that matches your mood or coffee snap.
Coffee Quotes for Exam Season
As we delve into the section dedicated entirely to exam season, let's explore some great coffee-related quotes perfect for your Instagram captions.
These witty and relatable phrases are sure to resonate with anyone who has ever cracked open a textbook in the wee hours fueled by a trusty cup of joe.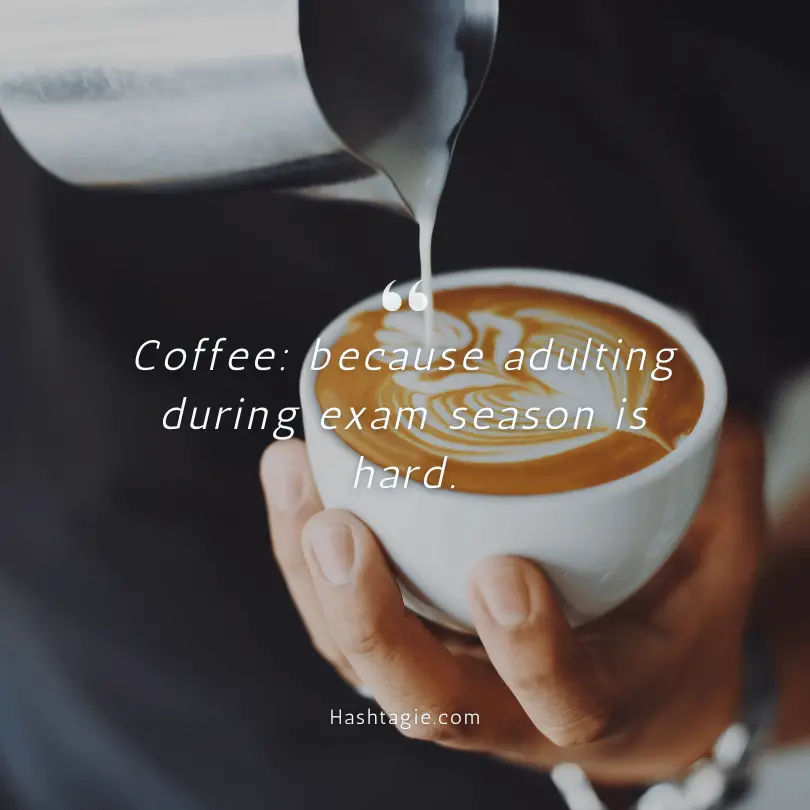 When everything else fails, there's always coffee to the rescue during exam season.
Exams, books, and coffee – the classic student survival kit.
Coffee doesn't ask questions, coffee understands for those late-night study sessions.
Too much study and not enough coffee equals procrastination.
A day without coffee during exams is like… just kidding, I have no idea.
Keep calm and brew on, it's only exams.
Coffee – The best study partner during exams!
With enough coffee, I can dress myself and use my grown-up manners.
I never laugh until I've had my coffee, especially during exams.
Life happens, coffee helps. Especially during the exam weeks.
Exams require constant fuel. Coffee, I'm looking at you.
With coffee by my side, textbooks seem a tad bit less terrifying.
May your coffee be strong, and your study productive.
Behind every successful student is a substantial amount of coffee.
Inhale coffee, exhale negativity. Beat the exam stress.
Coffee: because adulting during exam season is hard.
Stressed, blessed, and coffee obsessed. That's exam season for you!
Coffee – turning breakdowns into breakthroughs one cup at a time!
Need to study? You mean need to make another pot of coffee.
Coffee: the favorite drink of the exam-prepping civilization.
Instead of worrying and stressing, brew a cup of strong coffee and get started.
Coffee, powering students through exams since the dawn of time.
Coffee Captions for Busy Mornings
Diving into the segment of our article focused on busy mornings, we understand that a good coffee and an engaging Instagram caption can set the right tone for the day.
In this section, we will share a collection of witty, humorous and motivational coffee-related captions, designed to pair perfectly with your caffeinated morning posts on Instagram.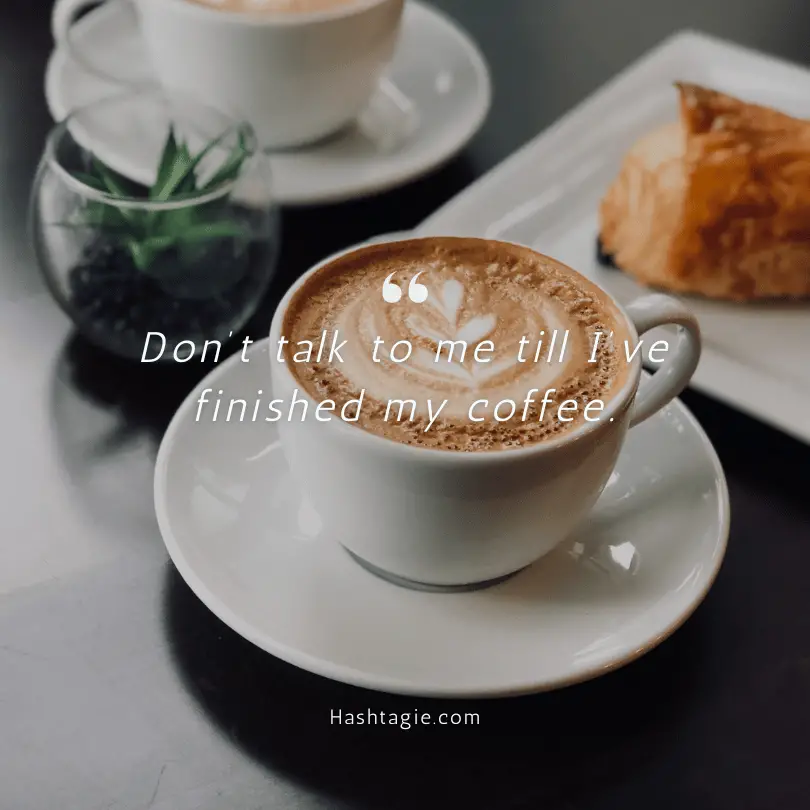 Brewing up productivity with my morning coffee.
Coffee first, world domination later.
Making waves one sip at a time.
It's a brew-tiful morning!
Sipping on sunshine and coffee.
Coffee: the best morning support system.
Superpowers courtesy of my morning coffee.
The day begins after coffee.
Fuel for the mornings: sunshine and caffeine.
Morning goals: wake up, sip coffee, repeat.
Coffee: transforming zombies into functioning humans.
Ready to espresso myself after this fresh brew.
A strong coffee to match a strong to-do list.
Grabbing the day by the coffee cup!
It's a good day to have a good day, with coffee of course.
Coffee: the most important meal of the morning.
Espresso yourself, with a cup of coffee.
Coffee in one hand, confidence in the other.
Today's forecast: 100% chance of caffeination.
Rising and grinding with my morning coffee.
Coffee: turning grinds into grounds for a great day.
Fueled by passion and strong coffee.
Equipped for the day with a fresh brew in hand.
Starting the day right with a sip of delight.
Don't talk to me till I've finished my coffee.
Life happens, coffee helps.
Coffee: because adulting is hard.
Brewing coffee and success this morning.
But first, coffee.
Coffee-themed Captions for Winter
As we dive deeper into the chill of the winter season, the warmth and comfort of coffee becomes even more inviting.
In this section of our article, we are going to share some coffee-themed captions, perfectly suited for those cozy winter images you'll be posting on Instagram.
Brew a cup, settle in, and let's get snapping.
Brewing warm memories with a winter's coffee.
Keeping warm and cozy with my cup of joy.
Sippin' on coffee and watching the snow fall.
A mug of coffee and a snowy day, perfect match.
Feeling winter's spirit in every coffee sip.
Let it snow, let it brew.
Winter chills, coffee thrills
Surviving winter one latte at a time.
A steaming cup of coffee for the winter soul.
Savoring the warmth of coffee on chilly days.
Winter days, frosty nights, and a cup of coffee.
Winter mornings made better with mocha.
Life is brewing great with a cup of winter coffee.
A cup of coffee brings winter comfort.
Coffee-infused warmth on a winter's day.
Snowy days, frosted windows and hot coffee.
Let the winter be steamy with a cup of coffee.
A dash of cinnamon in my coffee sparks up the winter mood.
My winter survival kit: a mug of coffee and a blanket.
Warm coffee, cold winter, perfect balance.
A cup of coffee in hand, winter wonderland outside.
There's a silent beauty in a steaming cup on a winter day.
The aroma of coffee over the fireplace, that's winter for me.
Coffee Instagram Captions for Fall
As the leaves begin to change color and cozy sweaters come out of the closet, our coffee preferences might shift too.
We gravitate towards flavors like pumpkin, cinnamon, and nutmeg that embody the spirit of the season.
In this section, let's explore captivating and creative coffee Instagram captions that will perfectly encapsulate your autumnal caffeine fix.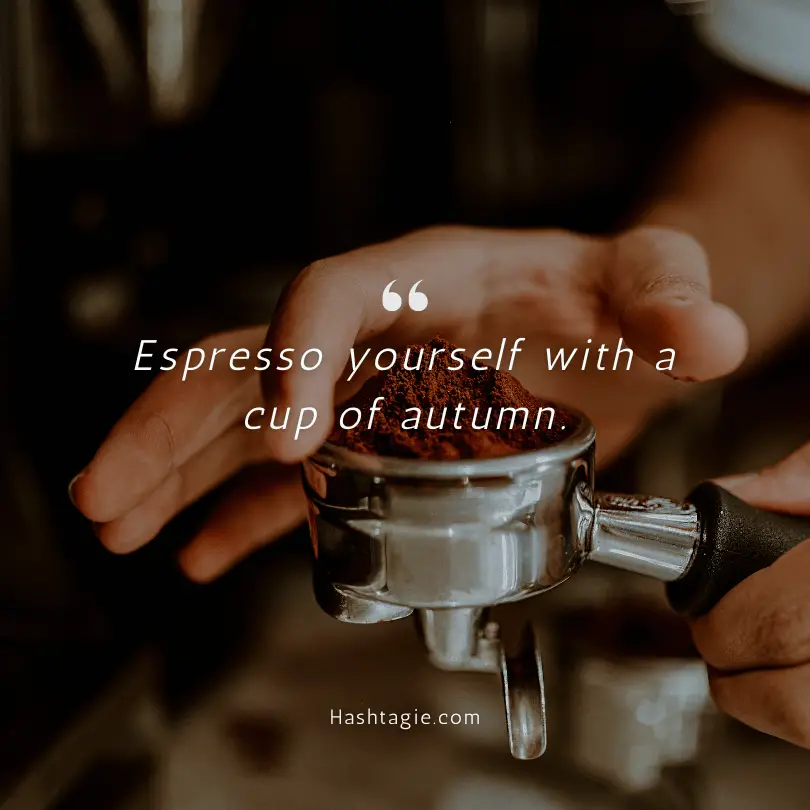 Sipping on fall, one cup at a time.
Espresso yourself with a cup of autumn.
Cozy sweater, warm coffee, and colorful leaves.
When life gives you lemons, trade them for coffee and fall foliage.
Brew-tiful moments are made of coffee and fall.
Fall in love with every sip.
Turning a new leaf with a coffee in hand.
Brewing up some autumn magic.
Coffee first, pumpkin errands later.
Peeling back the layers of fall, one coffee at a time.
Autumn skies and pumpkin spice lattes.
Colder days, warmer coffee.
The temperature is dropping, coffee is popping.
Harvesting sweet moments with my cup of joe.
With a cup of coffee, every leaf becomes a flower.
Pour yourself a steaming cup of autumn.
Life starts after coffee and autumn walks.
Decaf? No thanks, it's fall.
Autumn, the year's last loveliest latte.
Fall in a cup, that's what I'm sipping.
With a coffee in hand, anything is a-"latte"-ble.
Coffee because adulting is hard especially in the fall.
A yawn is a silent scream for coffee and fall colors.
Sweater weather, warm hands, hotter coffee.
Autumn leaves and lattes please.
Latte and leaves as far as the eye can see.
Caption Ideas for Latte Lovers
Moving on, we enter the world of lattes.
For those strengthened by the creamy, frothy goodness of a well-brewed latte, your dedication deserves celebration.
This section is all about providing caption ideas for latte enthusiasts who desire to share their love for this beverage on Instagram.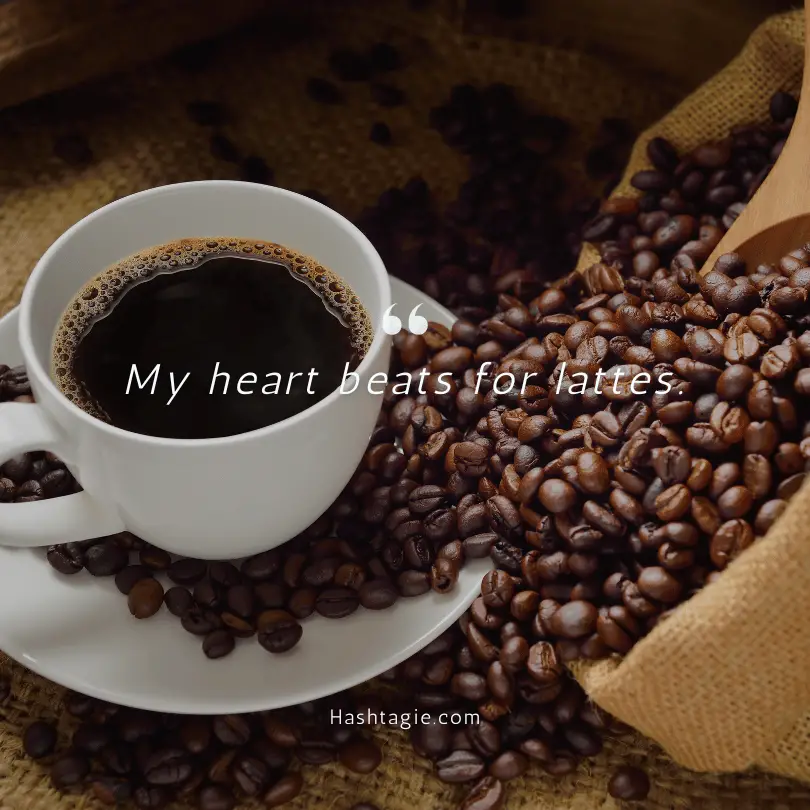 Sipping on sunshine and latte.
My day starts with a latte and love.
A day without latte is like… just kidding, I have no idea.
Keep calm and order a latte.
Feeling depresso? Have a latte!
Turning coffee into productivity, one latte at a time.
My favorite coworker? A delicious latte.
Do it with passion or not at all. Like making a latte.
Wake up and smell the latte.
Latte is a hug in a mug.
A steady hand makes the perfect latte.
Spreading latte love, one cup at a time.
Lattes are the answer, no matter the question.
Life happens, but lattes help!
Sipping away my troubles, one latte at a time.
Sweet dreams are made of lattes.
There's always time for a latte break.
Life isn't perfect, but my latte is.
My heart beats for lattes.
Brew-tiful days start with a cup of latte.
Every latte I brew, I brew it for you.
Take a sip, make a wish, drink your latte.
Finding latte-nity in a cup!
Good vibes and lattes: my kind of day.
Coffee first. Schemes later. Better yet, a latte first.
Beyond the froth: the lattes of life!
The art of being happy starts with a latte.
Steaming to the rhythm of latte love!
Afternoon delight? More like latte delight!
Instagram Captions for Cold Brew Coffee
In this section, we delve into the fascinating world of cold brew coffee Instagram captions.
If you're fond of sharing pictures of your chilling, refreshing, and tasty cold brew coffee on Instagram, you'll find numerous caption ideas to make your post more engaging and enticing.
Let's explore some fantastic and creative options to inspire your next caption.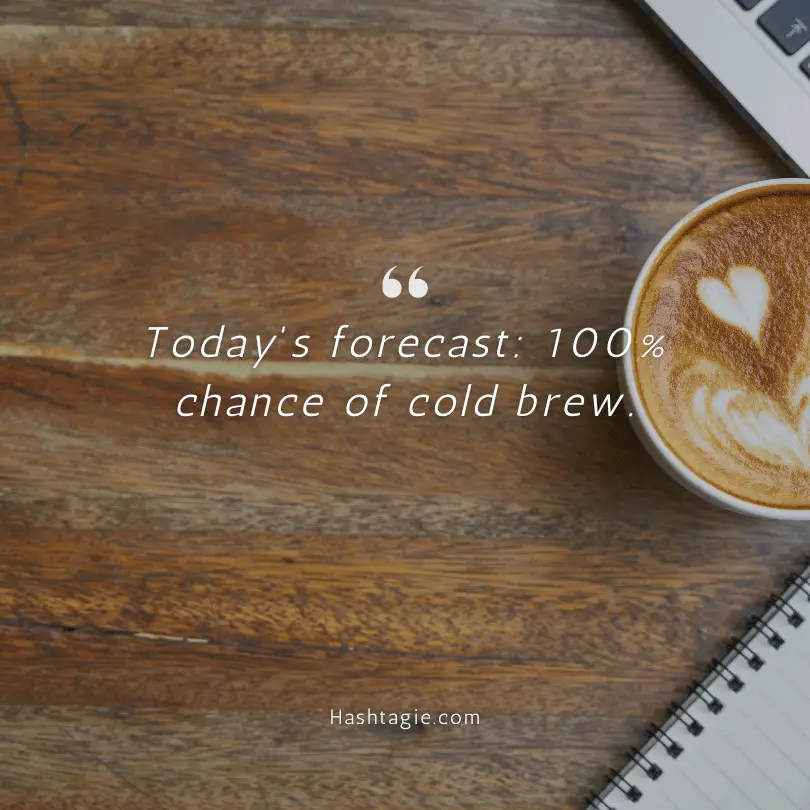 A sip of cold brew and my day is officially started.
Every day is a cold brew day.
Who needs a good morning text when you have cold brew?
Living life, one cold brew at a time.
Start me up: Cold brew edition.
Expresso may be a hug in a mug, but cold brew is summer in a cup.
Choosing cold brew is always a 'brew-tiful' decision.
Cold brew is my secret for the perfectly balanced morning.
Cold brews and cool vibes all day long.
Cold brew, because adulting is hard.
But first, cold brew.
Rise and grind with a cold brew in hand.
Today's forecast: 100% chance of cold brew.
Life's too short to say no to cold brew.
Taking life one sip at a time with my cold brew.
A day without cold brew is like… Just kidding, I have no idea.
It's always cold brew o'clock somewhere.
Cold brew: Because it's too early for wine.
Cold brew: the Monday remedy.
My blood type is cold brew.
Nothing cools my hot days better than a cold brew.
May your clothes be comfy, your coffee be strong, and your Monday be short. Cold brew always comes to the rescue.
Those who say 'no' to cold brew, scare me.
Cold brew: my first and forever love.
Now, it's time for cold brew and seize the day.
Artful Barista Shot Captions
Moving on to the creative sphere of coffee artistry, let's delve into the world of stirring captions for those skilful barista shots.
From the detailed coffee swirls to the perfect latte foam, capturing these moments calls for an engaging text to complement its visual richness.
In this section, we'll provide some captivating inspirations on how to caption your barista shot coffee posts on Instagram to garner your content more attention.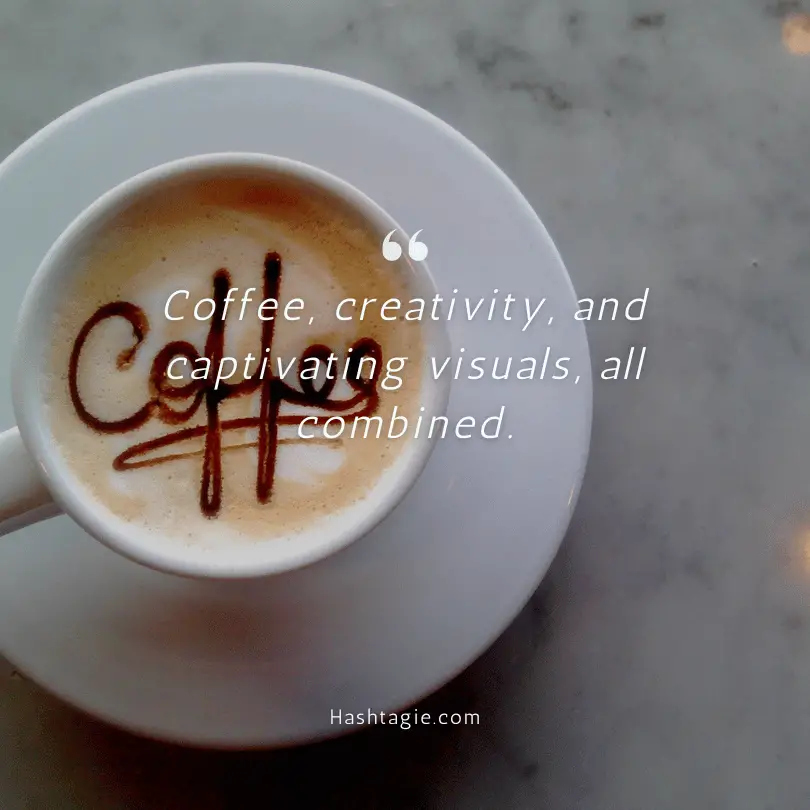 Brewing up a masterpiece.
Stirring creativity into every cup.
Pulling the perfect shot, one sip at a time.
Art begins with a blank canvas and a little espresso.
Serving up a splash of inspiration.
Flavorful strokes of genius.
Crafted with precision, enjoyed with delight.
Unveiling the beauty in every brew.
Where rich aroma meets sumptuous art.
A blend of tradition and creativity.
When art pours into your cup.
Espresso yourself with a cup of art.
The barista's brush and canvas: foam and espresso.
Between the art of brewing and the joy of sipping.
Where coffee comes with an aesthetic appeal.
Serving not just coffee, but an experience.
For the love of taste and aesthetics.
The finely brewed art of being a barista.
Crafting memories, one espresso shot at a time.
Whisking up a world of frothy masterpieces.
A sip into the artist's paradise.
Drawing out the beauty of beans and milk.
Every cup is a creative journey.
Creating stylists cups for coffee enthusiasts.
Latte art: where every swirl tells a story.
The enticing symmetry of latte art.
Revealing artistry in each coffee pour.
Coffee, creativity, and captivating visuals, all combined.
Barista: the artist behind your coffee cup.
Coffee and Book Pairing Captions
Diving into the next section, we'll explore how the magic of coffee and books can serve as a wonderful inspiration for your social media captions.
We'll show you how to create compelling Instagram captions that reflect your love for a good cup of joe and the escape provided by a thrilling novel.
Let's delve into the comforting universe of coffee and book pairing captions.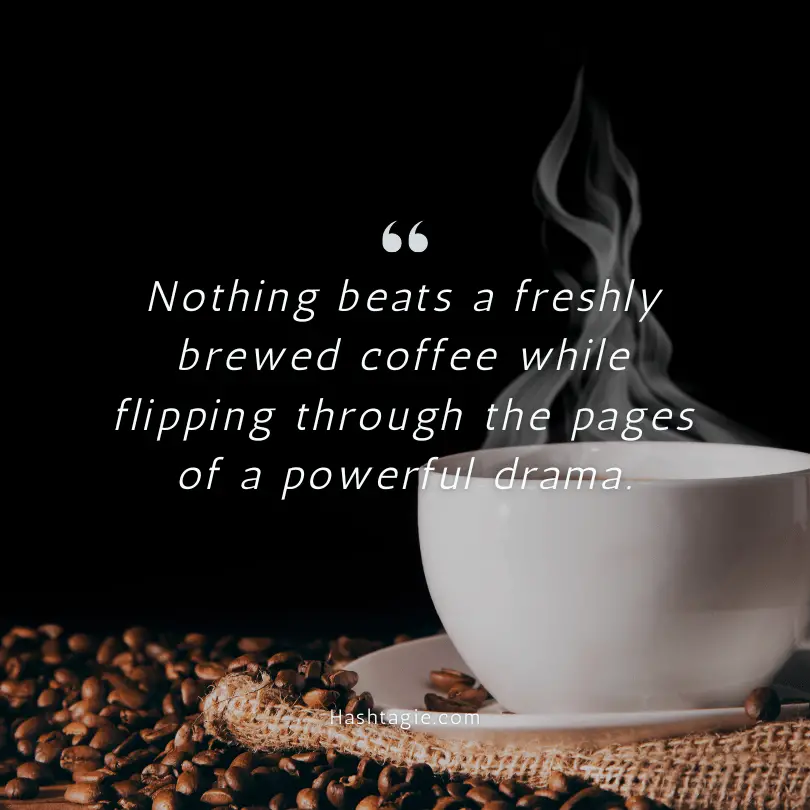 An espresso roast and a gripping thriller – a combination to set your senses ablaze.
Enjoying a peaceful Sunday with a latte and a good old classic novel.
A fantasy adventure book and a cappuccino, my kind of magic.
A cup of black coffee and a spine-chilling horror tale, an edgy combination for a thrilling night.
Mornings are for coffee and contemplation with a thought-provoking non-fiction.
Engulfed in an enchanting romance novel with a sweet caramel macchiato by my side.
An enticing mystery and a warm cup of mocha, the perfect partners for a cozy evening.
An adventurous expedition tale and a full-bodied dark roast for an exciting journey.
Living in the world of historical fiction with a traditional Turkish coffee.
Savoring a creamy cappuccino while nestled in a heartwarming memoir.
A powerful autobiography and a strong cup of Americano, my key to inspiration.
Drowning in a sci-fi epic with an iced coffee to keep the chills.
Sailing through a travelogue with a warm cup of Irish coffee.
A philosophical book and a cup of Greek coffee, a combo to stimulate your mind.
Cold brew and chill vibes as I immerse myself in books about mindfulness and meditation.
Nothing beats a freshly brewed coffee while flipping through the pages of a powerful drama.
Captivated in an intriguing biography and sipping a comforting café au lait.
Troubles seem far away when you have a favorite poetry book and aromatic Vietnamese coffee.
Twists and turns of political thrillers go best with a spicy chai latte.
Epic tales of mythology and traditional Indian filter coffee to feed the soul.
A simple house blend and the latest best seller, truly a match made in heaven.
Holding my suspense novel and a flat white makes the perfect picture of leisure.
Getting lost in a coming-of-age book while sipping on a sleek latte, pure indulgence.
Kickstart the day with compelling self-help books and a coffee that packs a punch.
Coffee Shop Atmosphere Captions
In this section, we will specifically delve into the world of coffee shop atmosphere captions.
It will provide a variety of ideas for captions that encapsulate the unique ambiance and experience that is typical of coffee shops.
We'll aim to give your posts a vibe as warm and inviting as your favorite café.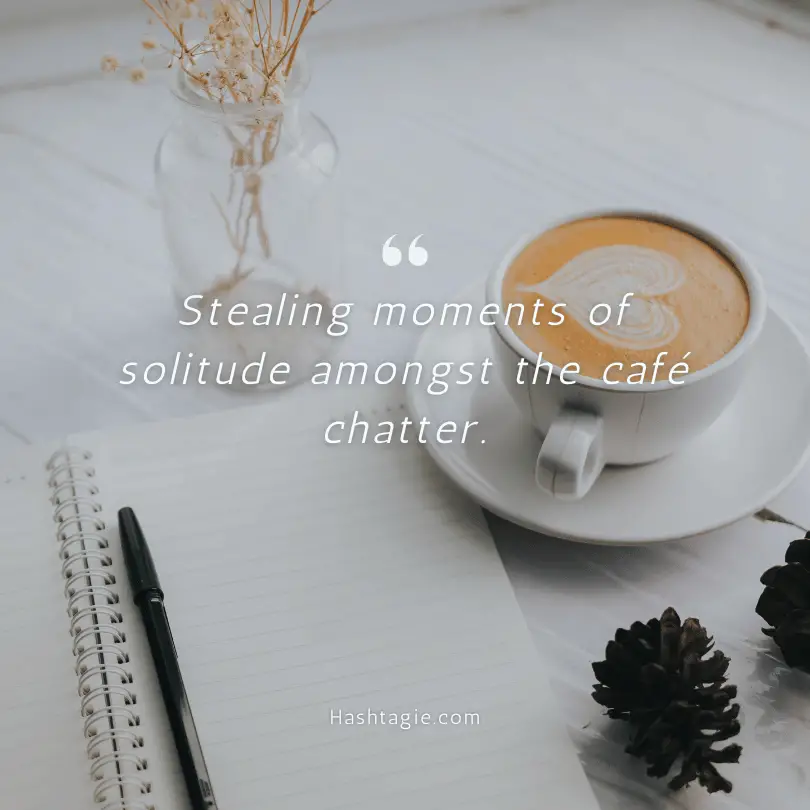 Sipping on serenity in the heart of the city.
Indulging in the sweet symphony of clinking cups.
Stealing moments of solitude amongst the café chatter.
Diluting deadlines with doses of strong coffee.
Caffeinated conversations in cozy corners.
Embracing warmth one coffee cup at a time.
Caught in the aromatic ambiance of freshly ground beans.
Finding comfort in the froth of a perfectly cooked cappuccino.
Savoring the day's first light with a latte at hand.
The calm amongst the chaos: a quiet cafe corner.
Between sips and stories, the coffee shop comes alive.
Feeling at home in the humdrum of the café.
Sipping solace from the world in a coffee-filled sanctuary.
A coffee shop, where strangers become stories.
A love affair with the laid-back latte lifestyle.
The charm of chalkboard menus and barista banter.
Coffee shop corners, where creativity brews better.
Basking in the baked goods and barista artistry.
Coffee shop hustles permeated with the smell of sweet roasted happiness.
eBooks, earphones, espresso – essentials of a modern sanctuary.
Making every minute a mocha moment.
The welcoming whiff of roasting beans; a coffee lover's beacon.
An espresso escape amidst metropolitan mayhem.
Where thoughts percolate over a steaming cup of coffee.
The rhythm of the roast: the coffee shop's soulful soundtrack.
Drenched in the dusk with a decaf on the side.
Retreating into the coffee-scented comfort zone.
Coffee shop: the canvas for crafting countless chronicles.
Delving into daydreams with a strong brew beside.
Captions for Coffee and Dessert
In this section, we delve into the perfect captions for your coffee and dessert Instagram posts.
These will enhance your social media presence, adding a hint of wit and creativity to your caffeine and sweet fueled uploads.
These captions are carefully curated to appeal to your followers while perfectly expressing your love for coffee and dessert.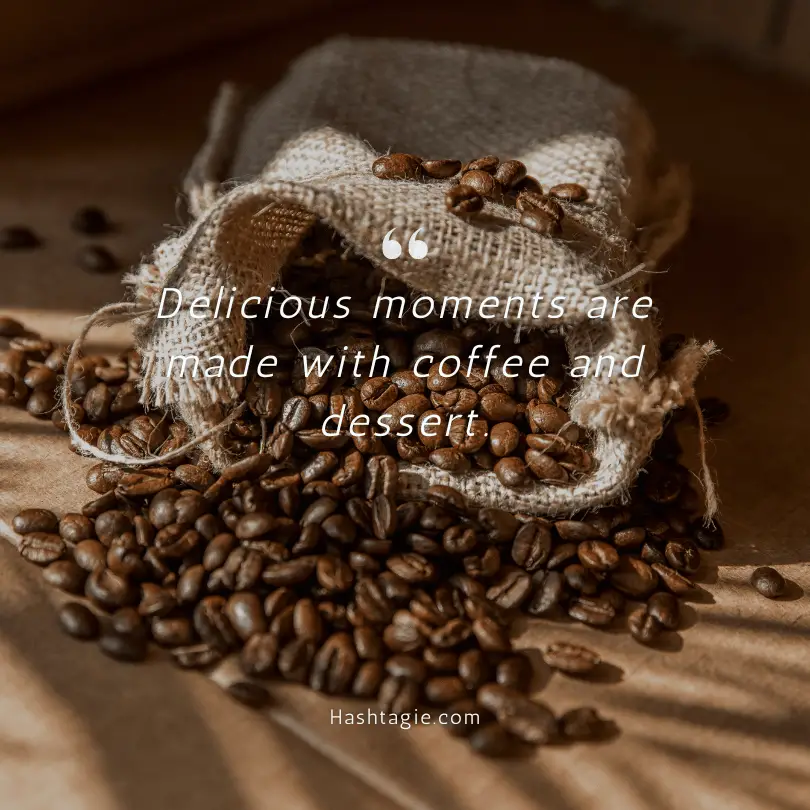 A sip of coffee, a bite of dessert, perfection!
Nothing sweetens the day like coffee and dessert.
Dreaming in coffee and sugar.
My two favorite food groups: coffee and dessert.
Courage and love, served with a side of coffee and dessert.
Life happens, coffee and dessert help.
Where there's coffee and dessert, there's happiness.
Bring on the day with coffee and dessert.
Sometimes, all you need is love, and a little coffee and dessert.
Smiles are made of coffee and dessert.
Press pause for coffee and dessert.
Delicious moments are made with coffee and dessert.
Taste the sweet life with coffee and dessert.
The sweetest rendezvous: between coffee and dessert.
Stressed spelled backwards is desserts. Add coffee, stress no more.
The secret ingredient is always love, coffee, and dessert.
Elevate your moments with some coffee and dessert.
Find joy in every sip and bite – coffee and dessert harmonize.
Welcome to my happy place, where coffee and dessert meet.
Creating sweet memories with coffee and dessert.
The language of indulgence – coffee and dessert.
Coffee to uplift, dessert to sweeten.
Coffee for the soul, dessert for the heart.
Indulge, life is sweet with coffee and dessert.
Feel the coffee, taste the dessert – savor the moment.
Savory coffee, sweet dessert, perfect day.
A rendezvous of rich flavors – coffee meets dessert.
Humorous Coffee Quote Captions
In this section, we'll focus on adding a sprinkle of humor to our coffee-inspired Instagram captions.
Spreading a little laughter with your morning cup can not only make your followers' day brighter but can also showcase your witty side.
So, let's dive into the world of humorous coffee quote captions without further ado.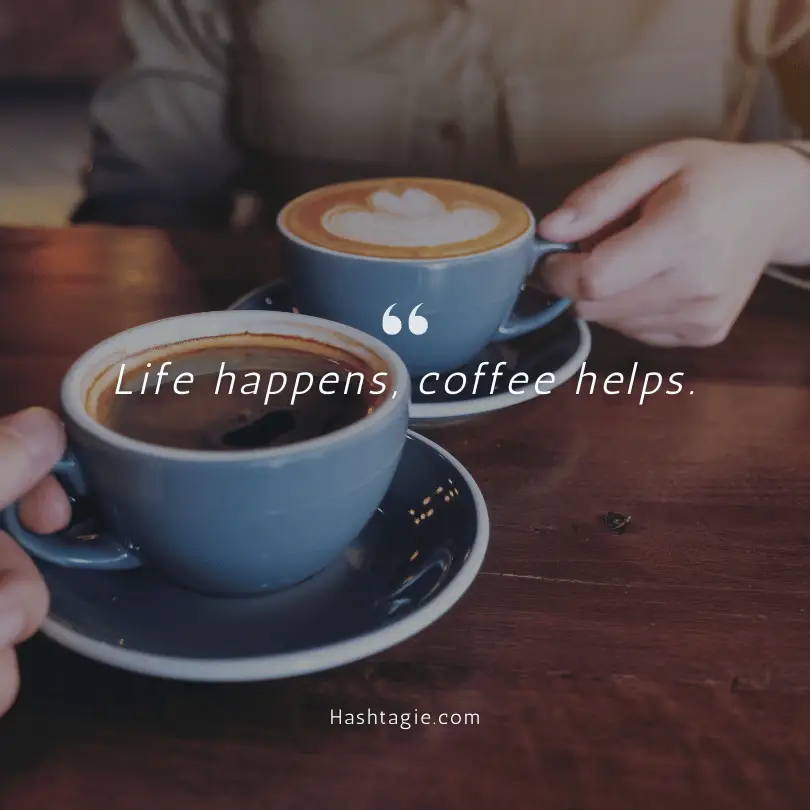 Espresso may not be the answer, but it's worth a shot.
I don't have a problem with caffeine, I have a problem without it.
If coffee can't fix it, it's a serious problem.
Instant human, just add coffee.
Without coffee, I'm basically a taller but less cute version of Grumpy from Snow White.
Coffee – because bad mornings deserve a second chance.
Who needs alarm clocks when you have coffee?
Coffee, the most important meal of the day.
Is it time for coffee or is it just me?
I like my coffee with a side of sunshine.
Drink coffee and pretend to know what you're doing.
I'll stop drinking coffee when they pry it from my cold, dead hands.
Coffee: because no great story started with someone drinking water.
Coffee is my love language.
Brew-tiful mornings start with coffee.
Decaf? No thanks, I'm not into self-inflicted torture.
I can't espresso how much you bean to me.
Coffee – the socially acceptable chemical dependency.
Death before decaf.
Yet, despite the look on my face, you're still talking before my coffee.
Today's good mood is sponsored by coffee.
Life happens, coffee helps.
If coffee were a mood, it'd be my forever mood.
Stay grounded. Drink coffee.
A yawn is just a silent scream for coffee.
Coffee Captions for Study Sessions
Moving on to a crucial aspect of our discussion, let's delve into coffee captions specifically crafted for study sessions.
These aptly worded captions might energize your Instagram feed just like a strong cup of coffee fuels a tiring study session.
Whether you're a student cranking out a term paper or a professional preparing for a big presentation, there's a coffee caption for every studious scenario.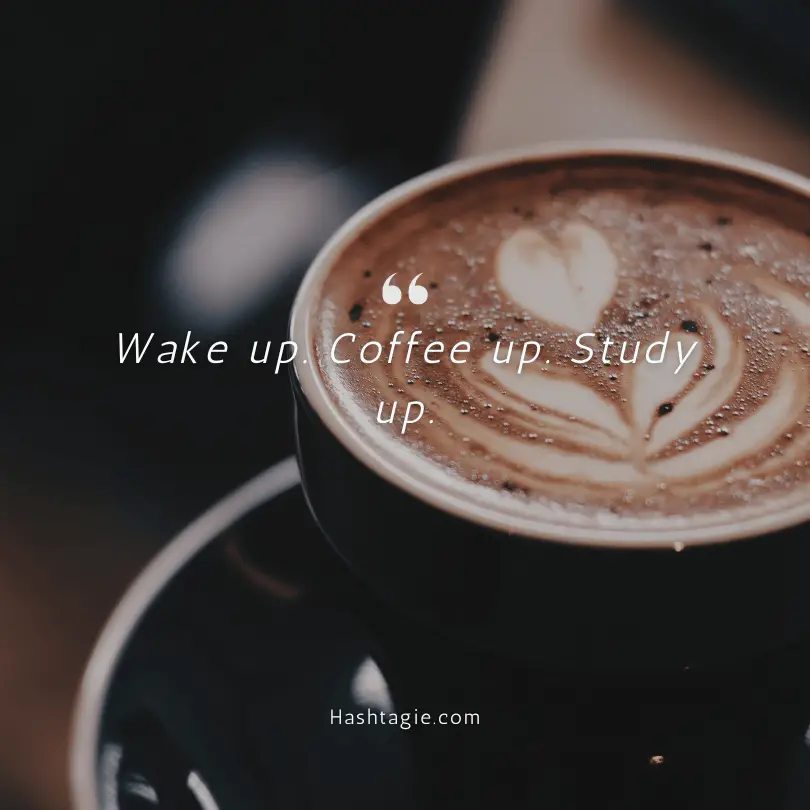 Brewing thoughts and coffee for long nights.
Caffeine and clarity – my study companions.
Procaffeinating: The art of studying with coffee.
Books in one hand, coffee in the other.
Turning coffee into study points.
Coffee – powering my study grind.
Brewing knowledge one cup at a time.
Coffee & books – You can't have one without the other.
Espresso yourself through exams.
Coffee, fueling academic achievements since forever.
Coffee – because studying doesn't happen on decaf.
With enough coffee, even studying is possible.
Studying + Coffee: A blend of success.
Let's sip coffee and crack this syllabus.
Pouring over books and coffee.
Sipping away the study blues.
My secret study sauce? A strong cup of coffee.
Brewing up a storm (in textbooks, of course).
Translate coffee into wisdom.
Serving knowledge hot and frothy.
Feeding my brain, one cup at a time.
Notes, books, and a steaming cup of motivation.
Blending success with my favorite bean juice.
Wake up. Coffee up. Study up.
Guarding grades gallantly with my gallant cup.
Coffee Break Captures at Work
Taking a moment to enjoy a coffee break at work not only re-energizes, but also offers an opportunity to share those blissful pauses on social media.
In this section, we will explore a range of catchy coffee Instagram captions that you can use to express your brewing thoughts during those daily office coffee breaks.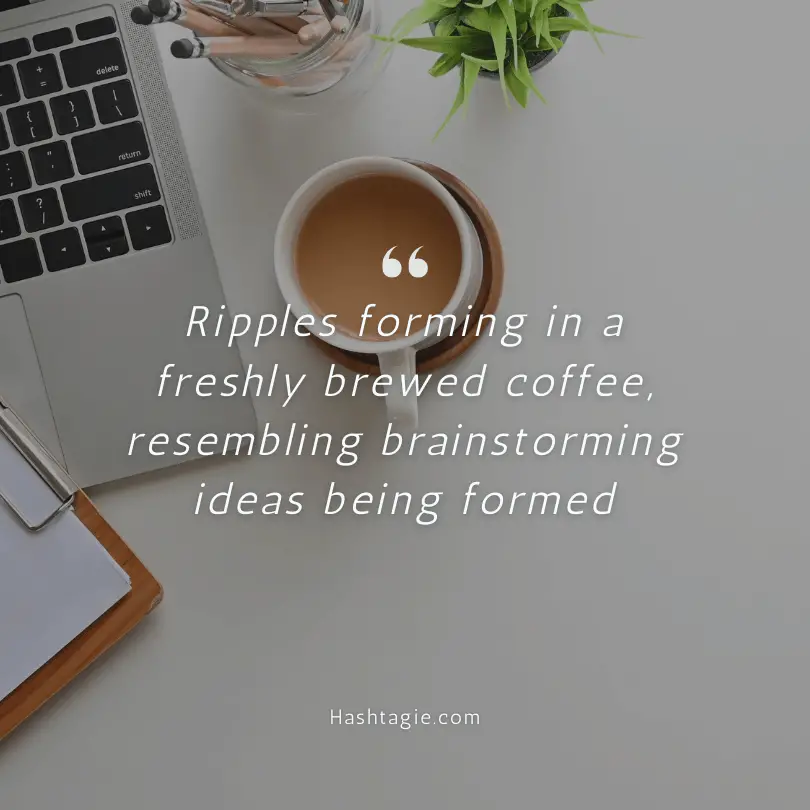 A steaming cup of coffee, the perfect break time accompaniment
Workmates gathered around the coffee machine, enjoying a light moment
Close up view of coffee being poured into a mug, signaling break time
Solitude at the coffee nook, a peaceful interlude amidst the busy workday
Ripples forming in a freshly brewed coffee, resembling brainstorming ideas being formed
Comfort and warmth in a cup, the antidote to a hectic day
A stolen moment of indulgence – creamy latte during the mid-day slump
A pair of hands wrapped around a hot cup, taking a moment away from the keyboard
A well-deserved treat; a barista-made cappuccino in the middle of the day
The ritual of the coffee break, a stillness in the bustle of the office
A cup of coffee, a comforting aroma, and a pause in the day
A conference table with espresso shots, boosting creativity and productivity
Catching up over caffeine, brewing friendships amidst work
A shared joke, a shared brew- the coffee break harmony
Mug held up in anticipation; a pause before the sip that recharges
A glance out the window with a coffee in hand, fleeting moments of reflection
Spontaneous coffee break gatherings sparking innovative discussions
A frothy heart on a mocha boost, a pleasant break time surprise
Energizing oneself with a quick shot of espresso before the next meeting
A chuckle, a sip, and a tale – humans of the coffee break
A meeting of mugs – the unofficial office conference
Close up shot of a working hand holding a cup, a symphony of work and rest
Refreshing coffee break tales that make the workday more bearable
Casual coffee breaks giving way to creative dialogues
A glimpse of a coffee break – the blend of relaxation and rejuvenation
Daily Espresso Shots Captions
In the following section, we'll turn our focus to daily espresso shots, a popular subject among coffee lovers on Instagram.
We'll offer a range of caption suggestions that encapsulate the rich flavor and energizing experience of savoring a shot of espresso.
These captions will be sure to resonate with your followers, helping to further engage them with your coffee-centric content.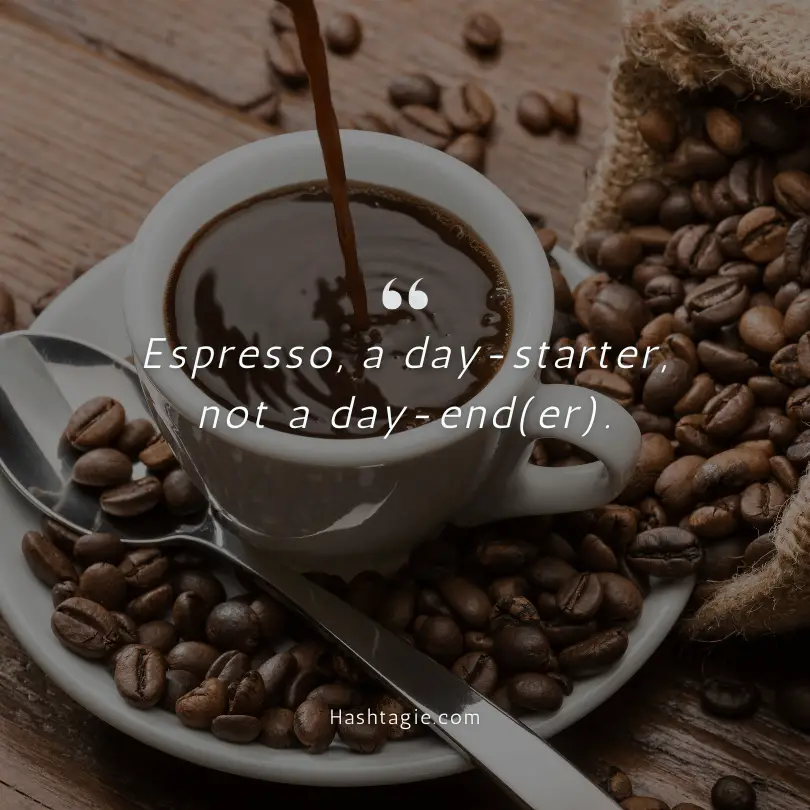 Adding a shot of joy to the mornings.
Nothing better than a shot of espresso to start the day.
Espresso daily? Yes, please!
My morning booster shot: a rich, dark espresso.
Because every day should start with an espresso shot.
Fuel your day the espresso way!
Pump up your mornings with a powerful shot of espresso.
An Espresso a day keeps the sleepiness at bay.
Awaken your senses with a daily espresso shot.
Espresso: your morning jolt of energy.
"Start your day the espresso way.
Every morning deserves a shot of happiness.
Espresso up and face the day!
Let the daily grind begin with espresso.
One shot of espresso for my daily pleasures.
Getting through the day, one espresso shot at a time.
Espresso: because adulting is hard.
Rise and shine, it's espresso time!
Jumpstarting my day with liquid gold.
Transform your day one espresso shot at a time.
Espresso: helping you handle the daily hustle.
Life is short, let's start with espresso.
A day without espresso is like…just kidding, I have no idea.
Espresso: small cup, big energy.
Boost your mornings; embrace the espresso.
First, espresso. Everything else follows.
Delight in every shot of morning bliss.
Espress(o) yourself every morning!
Espresso, a day-starter, not a day-end(er).
Coffee and Travel Combination Captions
In the following section, we delve into the exciting fusion of coffee and travel-themed Instagram captions.
We know your love for a warm cup of coffee in a foreign city deserves the perfect caption, and we're here to provide just that – well-curated ideas to compliment your globetrotting, coffee-filled adventures.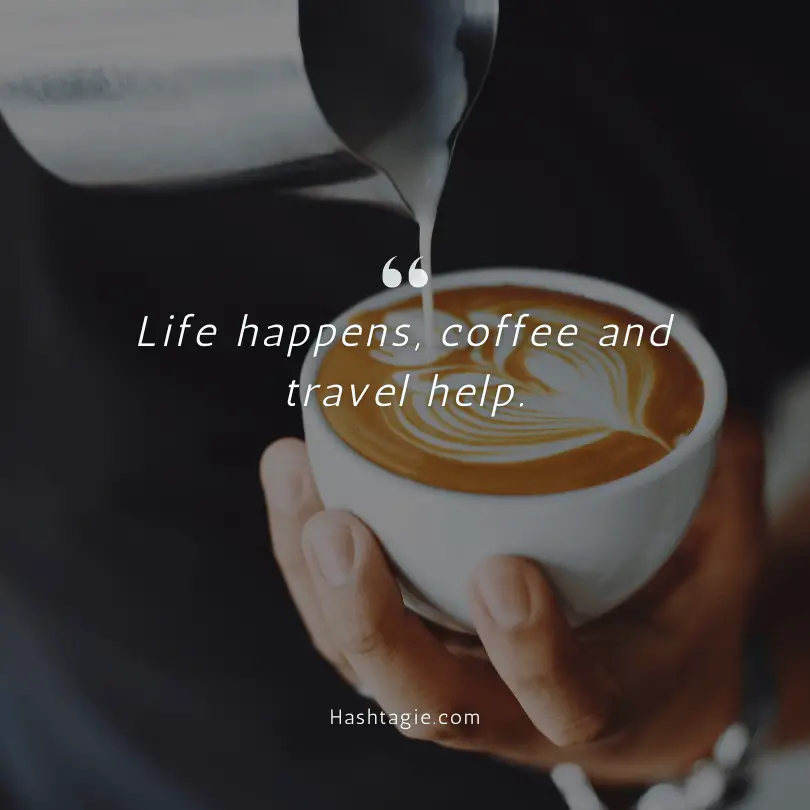 Coffee at sunrise, travel at sunset.
Exploring the world, sip by sip.
Caffeine fuelled adventures.
Passport in one hand and a latte in the other.
Espressos and excursions – the perfect blend!
Life happens, coffee and travel help.
Feeling brew-tiful on my journey.
Where to next? But first, coffee.
Travel mugs and adventurous hugs.
Wanderlust and latte dust.
Seeking new destinations and coffee sensations.
Sipping the world, one cup at a time.
Journeys and java: the perfect blend.
Life is short – drink good coffee and travel often.
Perking up my travel stories with a cup of coffee.
Mocha moments and travel tales.
Trekking across borders and coffee orders.
Stepping into adventure, one brew at a time.
Everything gets better with coffee and a plane ticket.
Coffee in the morning, travel stories at night.
Cappuccino and carry-ons: a traveller's survival kit.
Road trips and coffee sips.
Caffeinated and ready to roam.
A journey of a thousand miles begins with a freshly brewed coffee.
Brew, jet-set, and repeat.
To have and to hold, and to drink en route.
Adventures, steeped in coffee.
Fill your life with adventures and your cup with coffee.
Captions for Coffee Aficionados
In this section, we'll explore a variety of fun and creative caption ideas tailored for coffee lovers.
If you're a coffee aficionado who's always looking for fresh ways to share your passion on Instagram, these suggestions are just the thing for you.
Get ready to perk up your social media game with these java-inspired captions.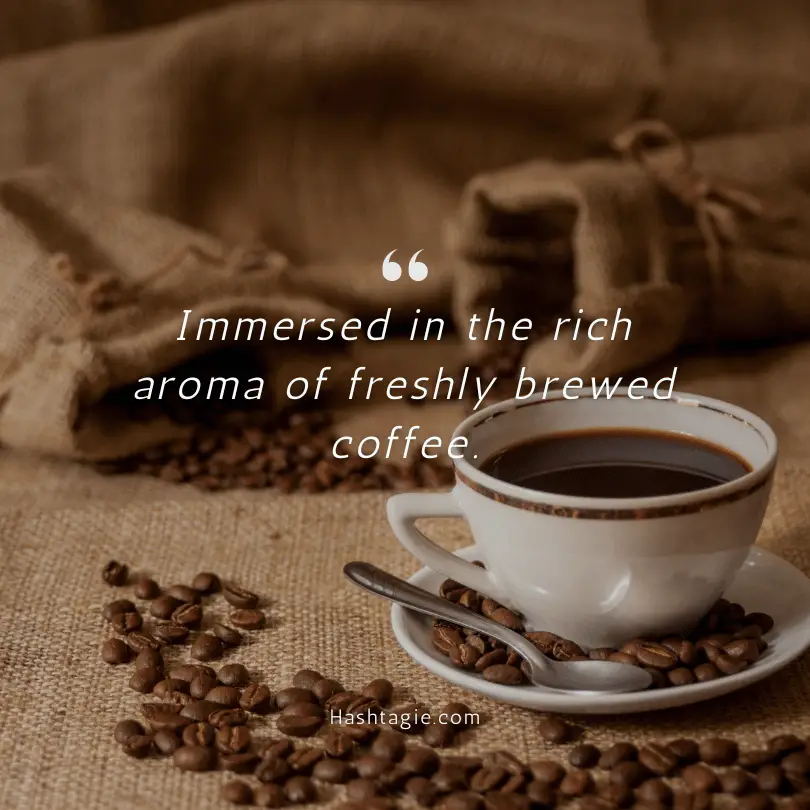 Immersed in the rich aroma of freshly brewed coffee.
There's no life before coffee. Period.
Every day should start with coffee and kindness.
Savoring the sweet rebellion of a midnight brew.
Just a coffee aficionado exploring the world in a cup.
Decoding life one coffee bean at a time.
From farm to cup, the journey of coffee is an art.
Chasing sunrise with a mug of my favorite roast.
A balanced life is a coffee in each hand.
Tasting the nuances of the world, one bean at a time.
Feeling the coffee-rush, the elixir of life.
A Latte love for the golden brew.
My coffee ritual – where pleasure and passion merge.
For the love of the froth – a cappuccino tale.
Espresso yourself; life's too short for bad coffee.
Coffee – my magic potion for everyday hustle.
Sipping the perfect blend of comfort and courage.
Mornings, brews and breakthroughs – coffee tales.
Adventures in every cup – coffee chronicles.
A sip closer to nirvana – my kaffeklatsch time.
Behind every successful person, there's substantial coffee intake.
Indulging in the delightful blend of tranquility and taste.
Pouring love and coffee in equal measures.
Rising and grinding, enjoying my cup of motivation.
When the world buzzes, I choose coffee and calm.
Life is what happens between coffee and wine.
Savoring the silent whispers of a coffee-morning.
Coffee and Brunch Combo Captions
In this section, we'll be concentrating on the delightful combination of coffee and brunch.
We'll take a look at some catchy, fun-filled captions that perfectly encapsulate this leisurely daytime meal paired with a warming cup of coffee.
Whether you're sipping a latte at a trendy café or dining al fresco, these captions would be the cherry on top of your Instagram posts.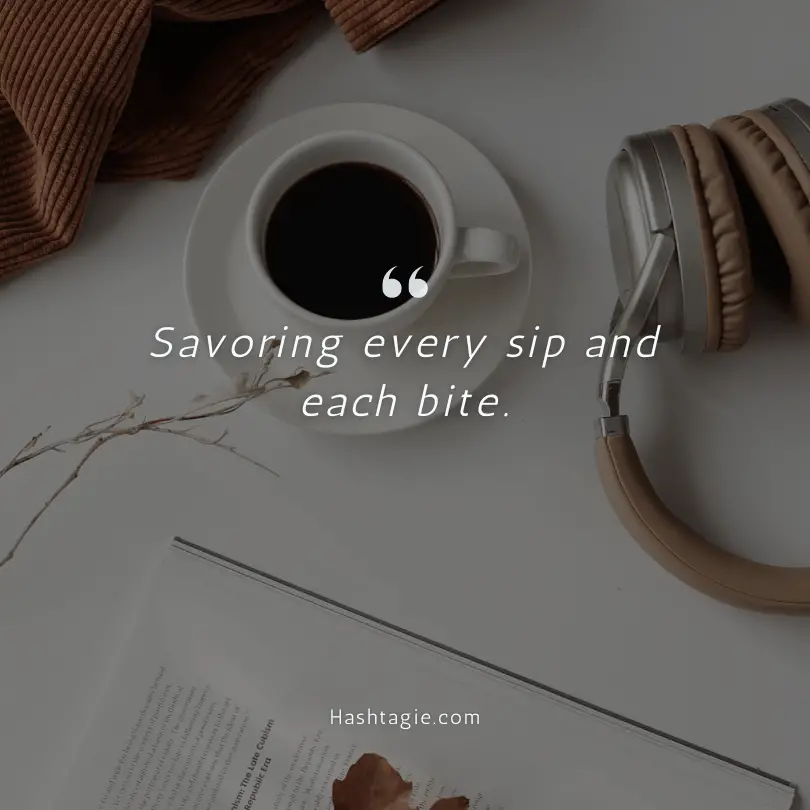 Savoring every sip and each bite.
Refuel the body and soul with coffee and brunch.
Brunch without coffee is like a day without sunshine.
Nothing brings people together like good brunch and great coffee.
A cup of coffee and a hearty brunch – the perfect duo.
Waking up to the smell of coffee and the sight of brunch.
The daily grind: A pot of coffee and a plate of brunch.
Dawn's blend: Sunshine, coffee, and brunch.
Coffee: the essential element of a leisurely brunch.
Rise and shine, it's coffee and brunch time!
Coffee sips and brunch bites, the perfect symphony.
Coffee and brunch – because adulting is hard!
Energize your day the coffee and brunch way.
Making memories one coffee and brunch at a time.
A yawn is a silent scream for brunch and coffee.
Life happens, coffee and brunch help.
Wake up and smell the coffee, brunch is ready!
Start your day the right way – coffee and brunch every day!
Chasing the sunrise with a coffee and brunch delight.
Brunch without coffee is a half-done affair.
Pour a cup, fry an egg – make every day a coffee and brunch kind of day!
Easing into the morning with a cup of brew and a hearty brunch.
There's always time for coffee and room for brunch.
Meeting mornings with a cup of joy and a plate of happiness.
Treating myself to the little joys of life – coffee and brunch.
Instagram Captions About Black Coffee
In this section, we'll delve into captions specifically tailored for your Instagram posts featuring black coffee.
From its bold hues to its robust flavor, black coffee offers abundant inspiration for engaging and creative captions.
Let's explore how to perfectly articulate your love for this classic, no-frills caffeinated beverage.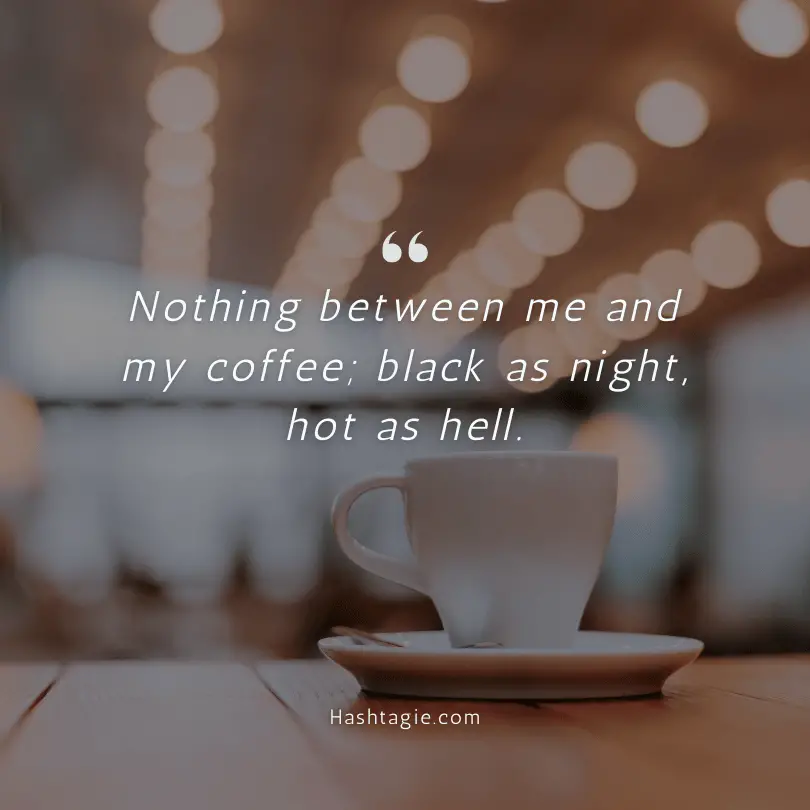 Brewed to perfection: my black coffee.
Black coffee – the best way to start the day.
No cream, no sugar, just strong black coffee.
Good ideas start with a great cup of black coffee.
My morning ritual: A cup of black coffee and the sunrise.
Life happens, black coffee helps.
Wake up and smell the black coffee.
Tastefully bitter, deliciously strong, that's my black coffee.
Simplicity in a cup, that's my black coffee.
Nothing between me and my coffee; black as night, hot as hell.
Feeling the Monday blues? Nothing a cup of black coffee can't fix!
Black coffee, spurring conversations since forever.
Wake up. Brew. Pour. Sip. Ah, black coffee!
Sip on black coffee and seize the day!
Lost in the world of black coffee and morning thoughts.
When in doubt, go for black coffee.
A cup of black coffee a day keeps my worries at bay.
One does not simply wake up without black coffee.
Coffee first, the world after.
Strong and bold, just like my black coffee.
Black coffee: the timeless classic.
Sipping black coffee, dreaming in color.
Sunny mornings and hot cups of black coffee; the perfect blend.
Keep calm and drink black coffee.
Got my black coffee and my dreams, I'm ready for anything!
Instagram Captions for Coffee Dates
Moving on, let's delve into something more specific: Instagram captions for coffee dates.
This section will provide you with a myriad of clever, pithy, and unforgettable captions to enhance your posts about that delightful cup of joe shared with a special someone.
No matter the occasion, these captions will help you capture the essence and emotion of your coffee date moments.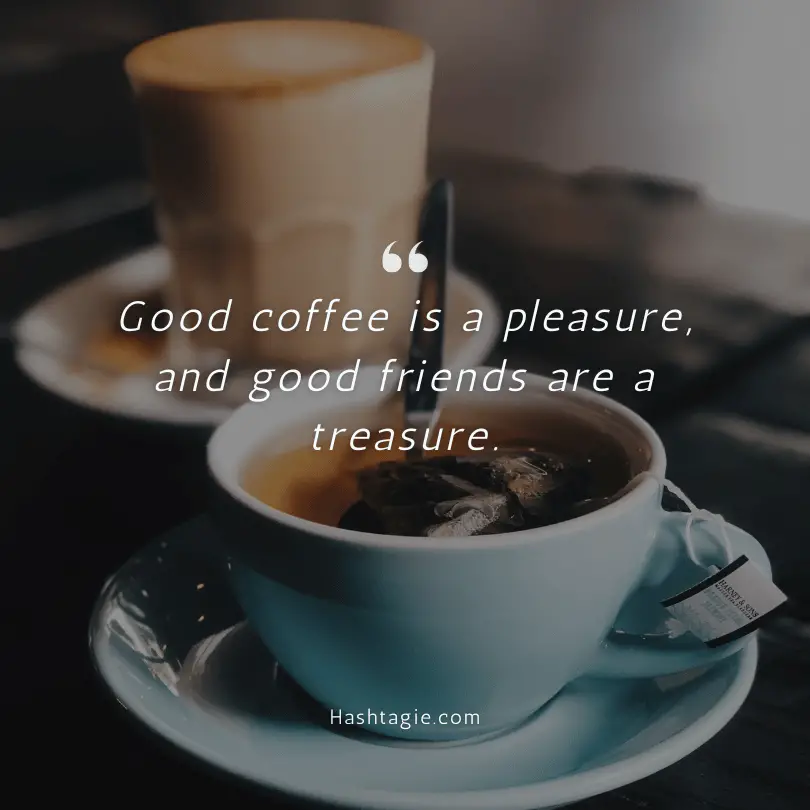 Bound by beans today, friends for life tomorrow!
When caffeine meets companionship.
Our dates are decaffeinated, our friendship, never!
Finding comfort in coffee and good company.
Getting my daily dose of caffeine and conversations.
Coffee dates – where sweet moments and bitter potions blend.
Today's forecast – 100% chance of coffee and smiles.
Savoring life, one sip at a time.
Life happens, coffee helps, especially on dates!
Here's to good coffee, great company and unforgettable coffee dates.
Soothing sips and sentimental stories.
Just two coffee lovers navigating through life.
The secret ingredient to a perfect day – a coffee date.
A day spent sipping coffee with you is a day well spent.
Coffee dates: Because adulting is hard and caffeine is necessary.
Brewing moments, blending hearts.
Chasing dreams and lattes.
Creating memories, one coffee date at a time.
Love at first sip, friends since the last drop.
Hope your day is as rich as our coffee and as sweet as our dates.
Grounded and brewed, just like our friendship.
We go together like coffee and chilly mornings.
Our story started with a coffee date.
Good coffee is a pleasure, and good friends are a treasure.
Espresso yourself, coffee dates are meant for sharing.
Warm coffee, warmer heart.
Coffee dates – because sleep is overrated.
Two souls, one love, and one shared coffee.
Captions for Coffee at Sunrise
The following section will illuminate unique and creative caption ideas for those early morning, coffee-fueled Instagram posts.
These suggestions have been designed not just to reflect the joy of sipping on your coffee at sunrise, but to also suit various moods and scenarios.
Let's dive into what the morning brew has inspired.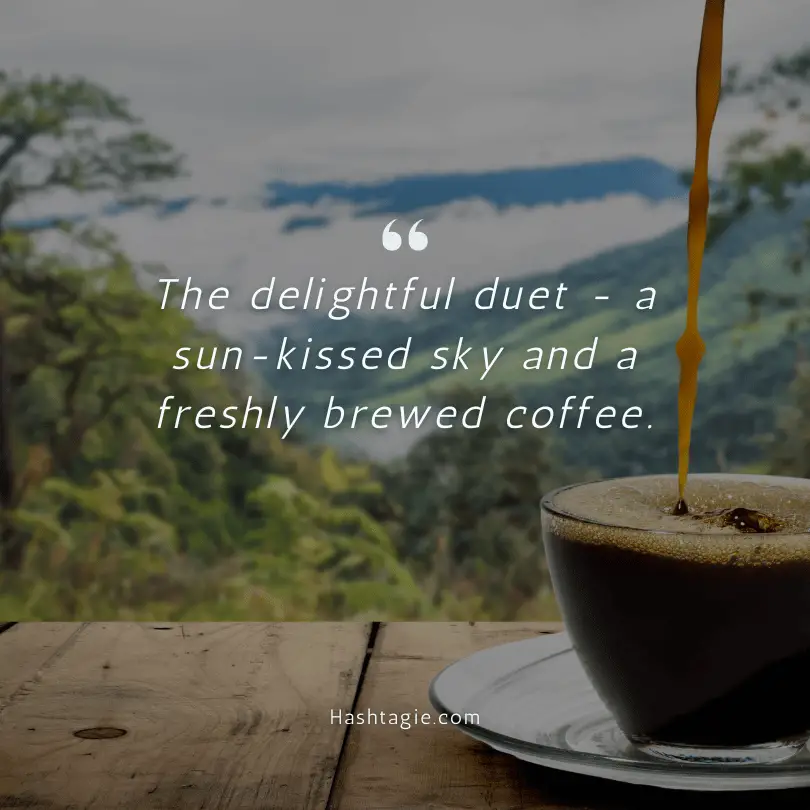 Bringing in the dawn with a hot cup of tranquility.
Sunrise serenades, one sip at a time.
Welcome the day with warmth in your cup.
My morning symphony: sun rays and coffee beans.
Uncovering the day, one brew at a time.
A match made in heaven: sunrise and springtime coffee.
When the first light of day meets the first brew of the day.
Awake to the world through the aroma of morning coffee.
Greet the sun with coffee in hand.
Wake up to the whispers of the sun, hand-in-hand with coffee.
Sunrise and coffee: the remedy to any morning.
The delightful duet – a sun-kissed sky and a freshly brewed coffee.
Mornings shimmer when coffee and sunbeams collide.
Morning glory, highlighted by the rise of sun and aroma of coffee.
Potent brew, potent beginnings.
Nothing ordinary about a sunrise soaked in coffee.
A new day, a new brew, a new chance.
Catching the morning light, one coffee mug at a time.
Tasting dawn in each cup, relishing the unlimited possibilities.
The day breaks, the coffee brews, the world awakens.
Steaming mugs under a blazing sky – my antidote to morning blues.
The dawning sun, my devoted companion to morning solitude and well-sipped coffee.
Liquid courage meets the first light.
Sparking joy, one sunrise-soaked coffee at a time.
The first inkling of dawn, the first hint of caffeine.
Coffee Captions for Rainy Days
In this section, we are targeting all coffee-lovers who find comfort in a hot mug on a cold, rainy day.
We will provide some clever and catchy Instagram captions that perfectly encapsulate these cozy moments.
These will be particularly useful for those who wish to share their love for coffee and precipitation within their social media circles.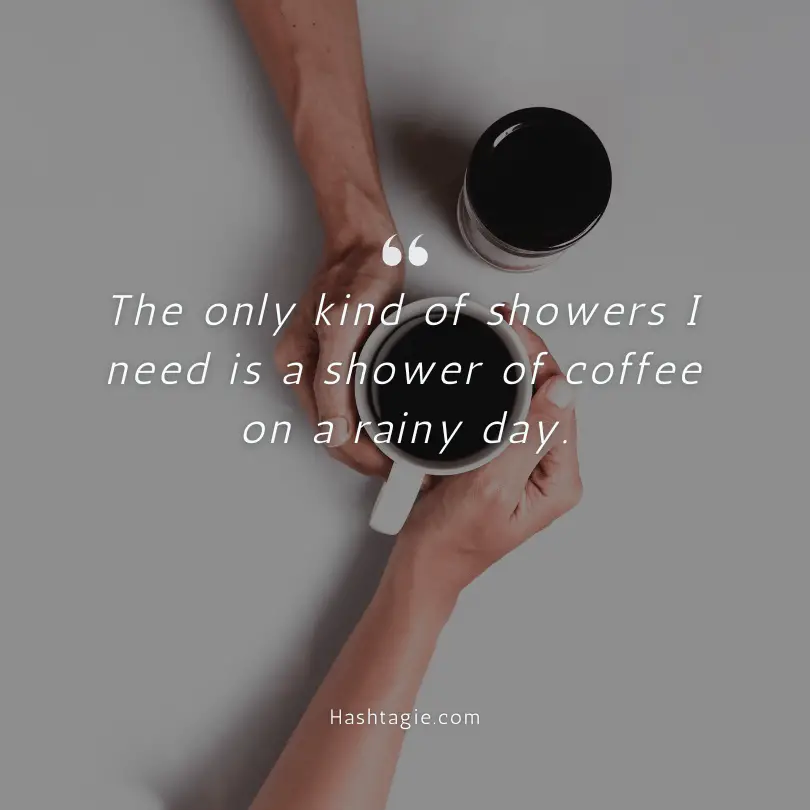 A rainy day, a cozy cup of coffee. Perfect bliss.
Steaming coffee on a cold rainy day – the essence of comfort.
Coffee in hand, rain in the background – this is my kind of symphony.
When it rains, it pours…a pot of coffee.
The only kind of showers I need is a shower of coffee on a rainy day.
Rain tapping on windows, coffee brewing in the kitchen – that's my melody.
Rain drops and coffee sips – a harmonious symphony.
Just add coffee to the rain for a perfect day.
Let the rain kiss you, and the coffee warm you up.
Coffee is the silver lining of a cloudy rainy day.
Enjoy the rain outside, and the coffee inside.
Rainy days should be spent with a cup of coffee and a good book.
Sipping on coffee, listening to the rhythm of the rain.
Coffee makes my rain-soaked heart happy.
I'm just a coffee lover, standing in the rain.
The other type of liquid sunshine – coffee on a rainy day.
The magic of rain is in a cup of coffee.
Pitter patter raindrops, clinking coffee cups.
Rain and coffee – nature's way of washing away worries.
When rain falls, my coffee cup rises.
When life gives you rainy days, just brew some coffee.
Coffee: the answer to all rainy day blues.
Smelling the rain, and savoring the coffee.
A warm cup of coffee – the rainy day's friendly companion.
Rainy days were made for coffee lovers.
Coffee-Inspired Captions for Work Meetings
In the following section, we will focus on captions specifically suited for work meetings powered by your favorite brew.
Whether it's a casual brainstorming session or an intense presentation, these coffee-fuelled captions will help you share your work life on Instagram with an added dash of fun and caffeine.
So let's dive in and find the perfect tag to pair with your coffee mug snapshot.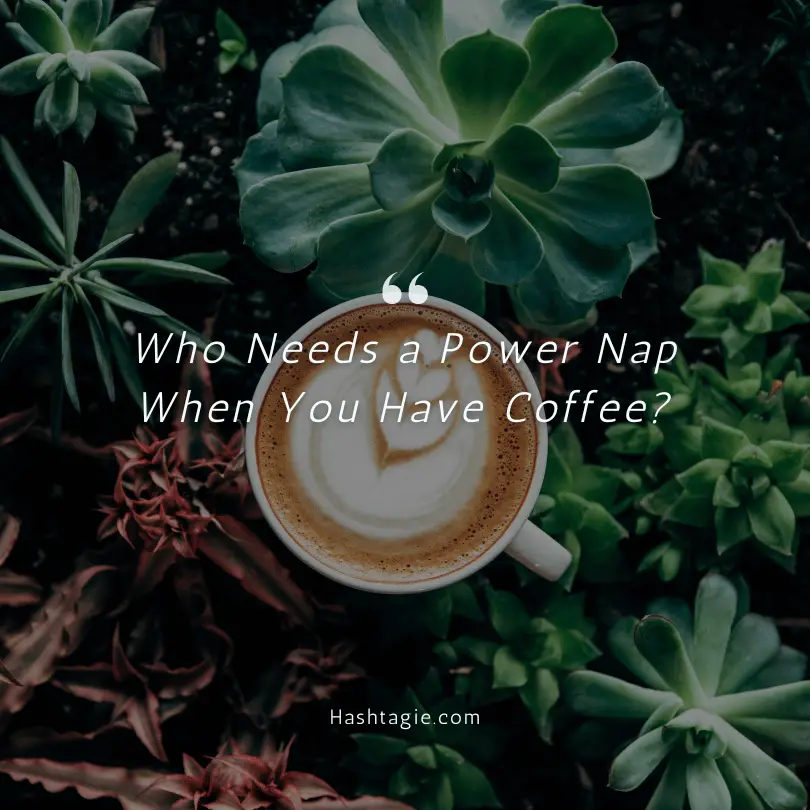 Coffee: The Secret Ingredient to Successful Meetings
Running on Coffee and Ambition
Espresso Yourself: Powering Through Meetings
Cappuccino Conversations: Let's Talk Business
Jumpstart Your Meeting with Java
Brewing Ideas Over Coffee
Sip. Plan. Execute. Repeat.
Decaf? Not in this Meeting!
Grind Beans, Then Goals
Potent as a Double Espresso: Our Meeting Agendas
Strong Coffee, Stronger Decisions
Wake Up and Smell the Strategy
Coffee: Helping Us Perk Up Productivity
A Hot Cup of Success Brewing
Another Round of Coffee, Another Round of Innovation
Charged Up with Caffeine and Creativity
Coffee Fuels Our Brainstorming Sessions
First We Drink the Coffee, Then We Do the Work
Who Needs a Power Nap When You Have Coffee?
Lattes and Leadership: The Perfect Blend
Jumpstart the Day with Java and Teamwork
Where There's Coffee, There's Inspiration
Before the Grind, We Grind
Coffee: Brewing Motivation into Meetings
Caffeinated and Ready to Achieve
Roasted Beans, Roasted Problems
Romantic Coffee Date Captions
Moving on from catchy phrases, next up in the article are captions perfect for the coffee-loving couple.
This section is dedicated to captions that reflect the warmth and sweetness of a romantic coffee date.
Let's dive into some phrases that may perfectly encapsulate your caffeinated moments of love.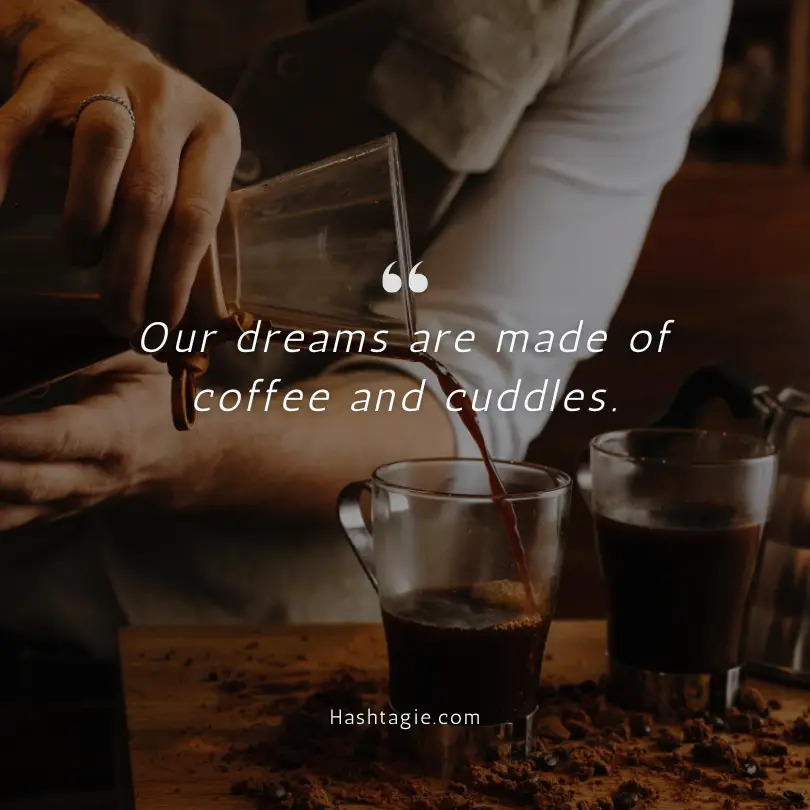 The perfect blend of love and coffee.
Falling in love, one sip at a time.
Our dreams are made of coffee and cuddles.
Who needs sugar when you're already so sweet?
Brewing memories over coffee.
You are the cream in my coffee.
You mocha me crazy.
Espresso-ing our love over coffee.
Baby, it's brewed between us.
Love is in the air, and it smells like coffee.
Our love story started over a cup of coffee.
In coffee, we found love.
Nothing beats a cup of coffee with you.
Every coffee I share with you becomes my new favorite.
Latte love for my sweetheart.
Our bond is as strong as the coffee we drink.
Every sip carries a memory of us.
Sipping coffee with you is my favorite part of the day.
Everything gets better with coffee and you.
A day without coffee and you is like… just kidding, I have no idea.
A yawn is a silent scream for coffee, and you.
Cozy coffee dates with my favorite human.
First Coffee of the Day Captions
In this section, we'll delve into the exciting world of 'First Coffee of the Day' captions.
These captions are ideal for coffee aficionados who love to start their day with a caffeinated post to Instagram.
The morning brew is not just a drink, it's a ritual, and these captions will help share your ritual with your followers.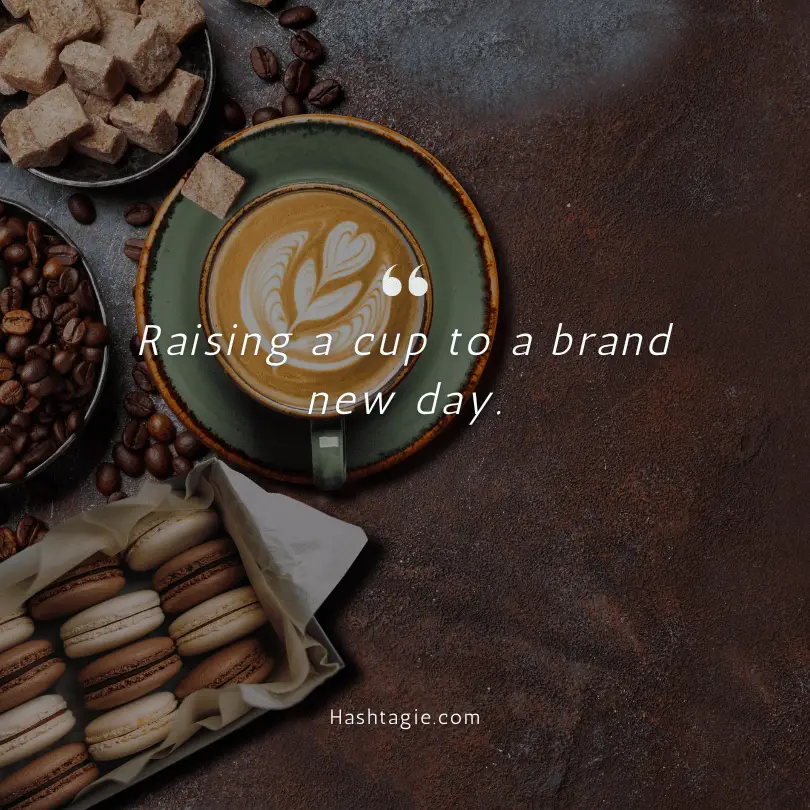 Waking up to the aroma of fresh coffee.
Jumpstarting my day with my favorite brew.
First sip of coffee, the silent cheer to a new day.
Welcoming the day with a warm coffee hug.
Coffee – the best morning alarm.
My first cup of coffee, a love story.
Raising a cup to a brand new day.
First coffee, then life begins.
My first cup of coffee, the dawn of creativity.
With every morning cup, I brew new opportunities.
My first coffee – setting my day on a positive note.
Interrupting the morning silence with a sip of coffee.
Where there's coffee, there's a way – good morning!
Warm cup, bright day.
Coffee – my morning sunshine in a cup.
With my first coffee – the world makes sense.
The perfect start to any day, a cup of coffee.
Start the day with coffee and end it with confidence.
There's morning magic in every coffee sip.
Fuel for the day – my morning cup of coffee.
The secret of a good day – a well-brewed morning coffee.
Starting the day right with my favorite cup.
Good days start with coffee and you.
With my coffee, I'm ready to conquer the world.
My coffee, my morning ritual.
End of the Day Coffee Reflection Captions
As we transition into the topic of end-of-the-day coffee reflections, we'll dive into captions that encapsulate those tranquil moments with your final cup.
This section will focus on expressions that beautifully capture the reflections and thoughts accompanying the soothing ritual of winding down with a delicious end-of-day coffee.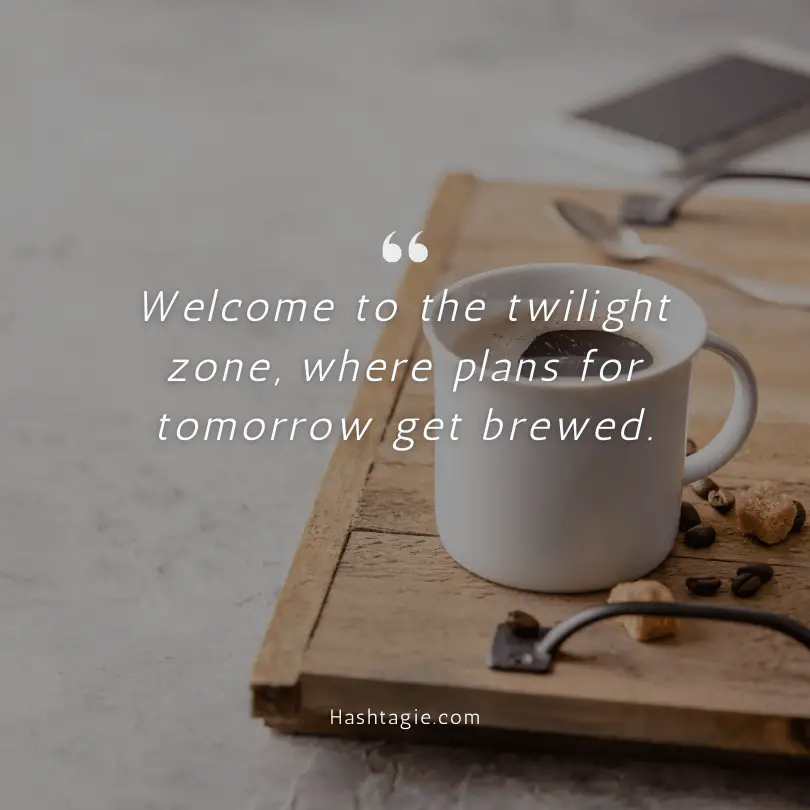 Savoring the faint whispers of the day's end in my cup.
Reflecting on the day's victories with a warm blend.
Coffee and contemplation, the perfect way to end the day.
As the day winds down, the thoughts perk up with coffee.
The sunset hue in my cup ignites inspiration.
Nothing heals a busy day, like the aroma of a fresh brew.
My daily grind ends with grinding coffee beans.
Day's end is best served with a dash of sweet reflection and strong coffee.
Easing into the night with my loyal coffee mug and abundant thoughts.
My coffee is dark, my thoughts are deeper.
Day's end demands some caffeine-induced introspection.
Steaming cup of reflection as the day concludes.
Evening coffee, recommendations for tomorrow brewed today.
A designer needs their coffee, just like a car needs fuel.
Welcome to the twilight zone, where plans for tomorrow get brewed.
End of day wisdom dispensed, one coffee sip at a time.
Drawing the curtains on the day's drama with a cup of coffee.
With every sip, an old memory fades and a fresh thought brews.
Comfort found at the bottom of the coffee cup.
Lessons of the day sugar-coated with a caramel latte.
Dusk and coffee, a blend of tranquillity and delight.
Nightfall, where everyday hassles dissolve into the dark coffee brew.
As the chaos subsides, coffee provides a welcome embrace.
The Bottom Line
To wrap up, mastering the art of writing coffee Instagram captions can greatly enhance your social media game.
Using wordplay, humor, or simple expressions of love for coffee can make your posts more engaging, inviting interaction from your followers.
So, whether it's a morning ritual post or an afternoon delight shot, your next coffee caption has the potential to stir up likes and comments in your community like sugar in a steaming cup of joe.
A dash of creativity coupled with some plain old love for coffee is all it takes to brew delightful captions ever time.
Remember, it's not just about capturing the perfect shot; how you frame it with your words matters just as much.e