Maximizing your online visibility and engagement has never been more crucial in this digital era.
Platforms like Instagram and TikTok are rapidly transforming how businesses, particularly in the coffee industry, engage with their audiences.
These platforms thrive on trending tags, racking up significant impressions and interactions.
As a coffee business owner or enthusiast, hashtags present an invaluable tool for amplifying your reach and connecting with your targeted audience.
This tool, if utilized effectively, can significantly propel your brand's online presence.
However, merely throwing any coffee-related hashtag won't cut it.
There's a method to the madness and that's what we're here to discuss.
Many people use coffee hashtags every day.
Just alone, this is how many posts have been published until the time of writing this, using the hashtag coffee.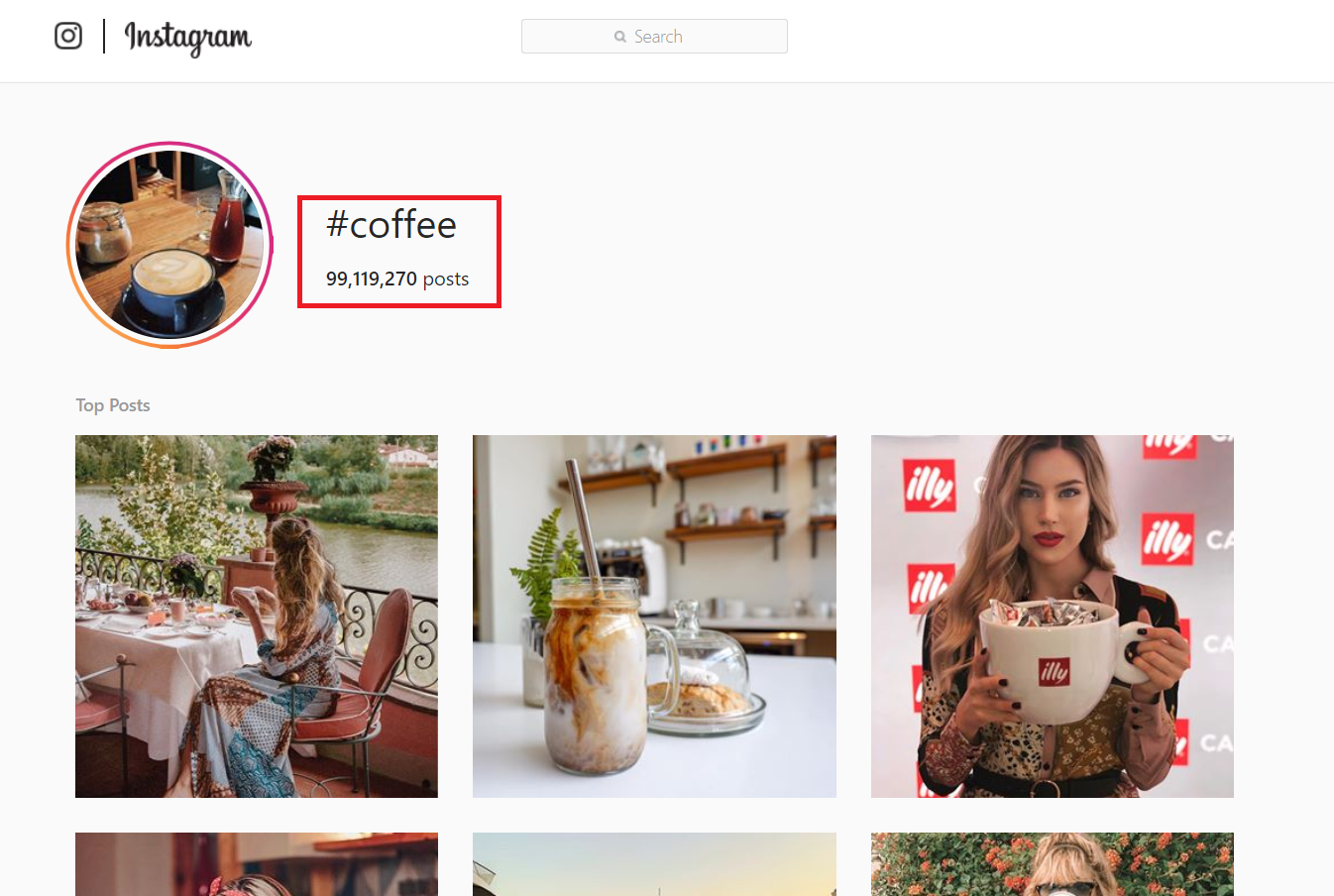 There are many people publishing photos and videos every day in this niche and related to this keyword.
Just this alone, tells us that there are many ways to get discovered with this type of content and that there is a big audience that is ready to find whatever you publish.
Take a look at this post by @thetrendybarista, for example: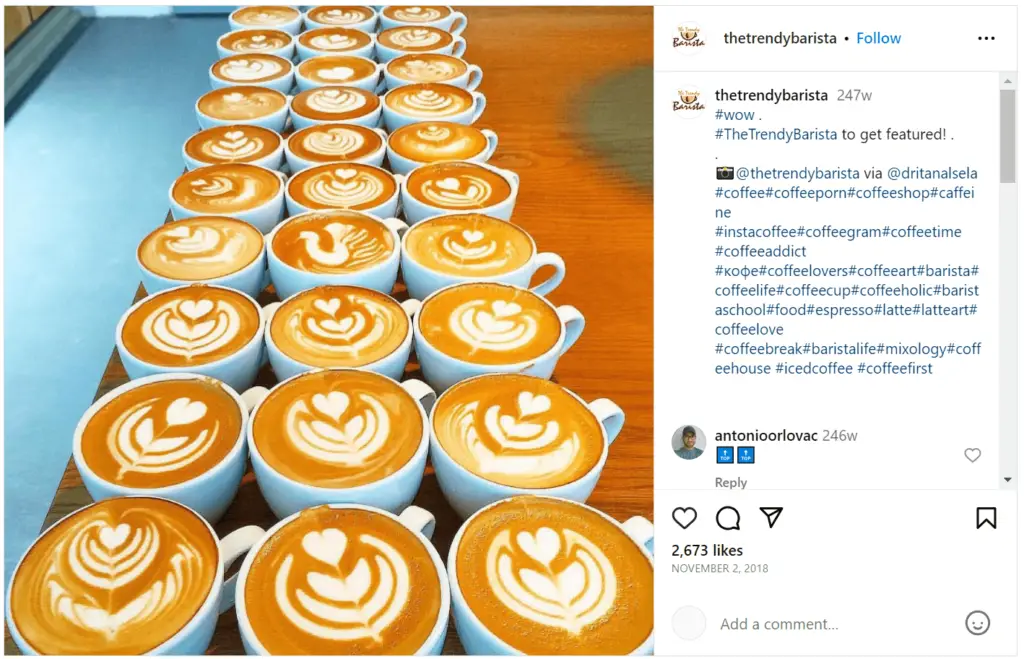 They are using a lot of coffee-related hashtags; we found their photo because it was ranking in the #coffeeart.
In our opinion, they could be doing much better if they change the structure of their posts a little bit.
For example, as we always say, maybe put the hashtags in the first comment, which will work as if they were in the caption and will keep others from always seeing them when your content is on their timeline.
It just looks better and allows you to focus more on giving your followers value with each and every post rather than just wanting to get followers.
Take a look at this post by @coffeestation_latteart: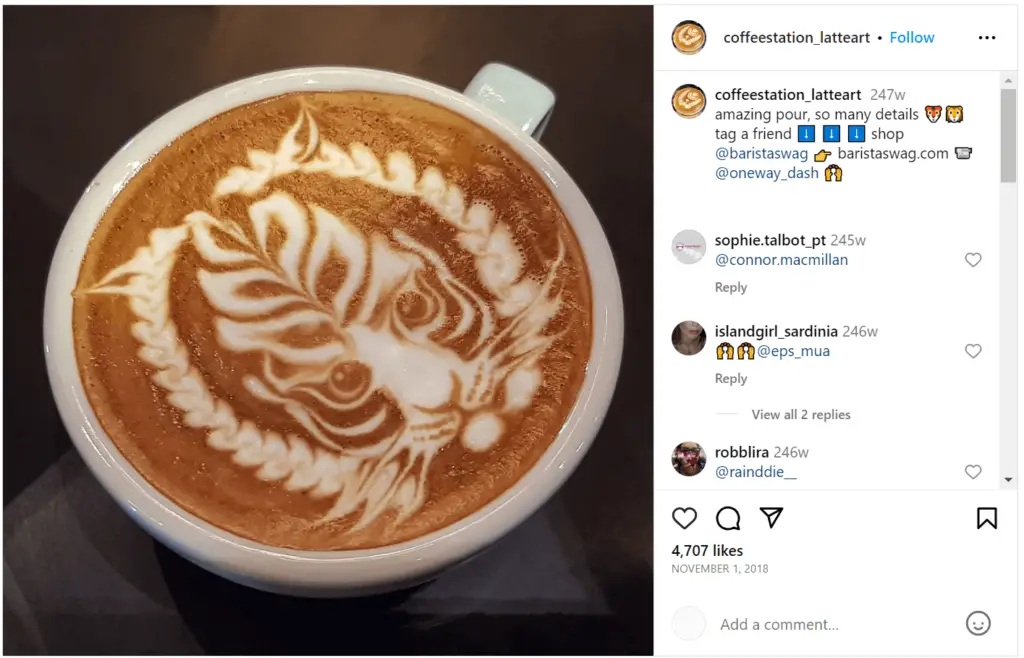 You might even think that they are not even using hashtags because we cannot see them on their post caption.
The awesome thing about it is that they are using 30 hashtags actually, and are showing up for all 30 of them.
As we stated above, they did the first comment thing in which you put all your hashtags there to clean up your timeline. 
Unless you open the comments section, you won't even notice it.
This post also has a very important element, which is the "tag a friend" call to action.
What this simple sentence will do is that will encourage others to tag more users, and ultimately this will bring free marketing for any Instagram page that does it.
Another way to go about it is to simply ask a question, or share the story behind the picture.
Why was the picture/video taken in the first place?
Why are you posting it on Instagram?
What can your followers get from the post?
Things like that will allow you to write a longer caption and engage with your followers more.
If you want to check more ways to give value to your followers with just one post, I encourage you to see what @coffee does most of the time.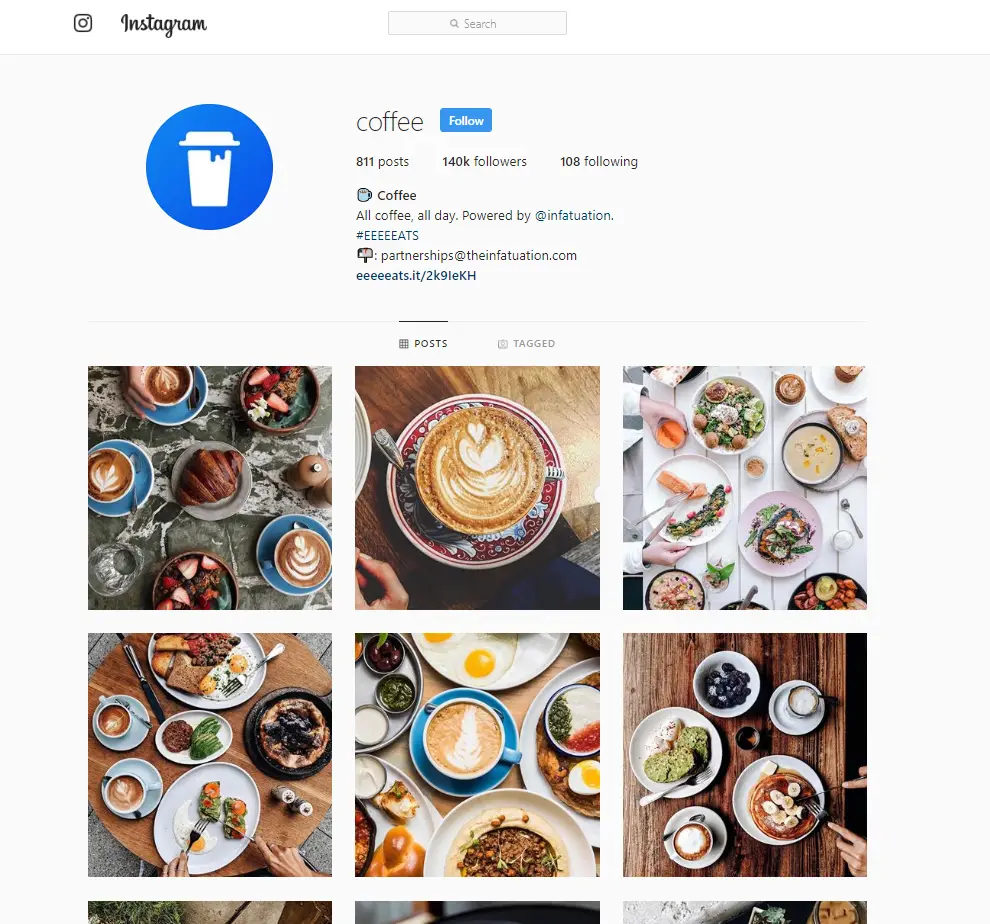 Their feed is perfectly put, and each and every picture has something different to say.
What can you do if you cannot rank on a certain coffee hashtag?
Ranking on #coffee, for example, will be extremely hard if you don't have a big following.
For just that reason, we always include low-traffic hashtags on each list.
That way, you will still get the high-traffic impressions from some hashtags, while at the same time, get the ranking benefits of others.
For example, take a look at #coffedaily: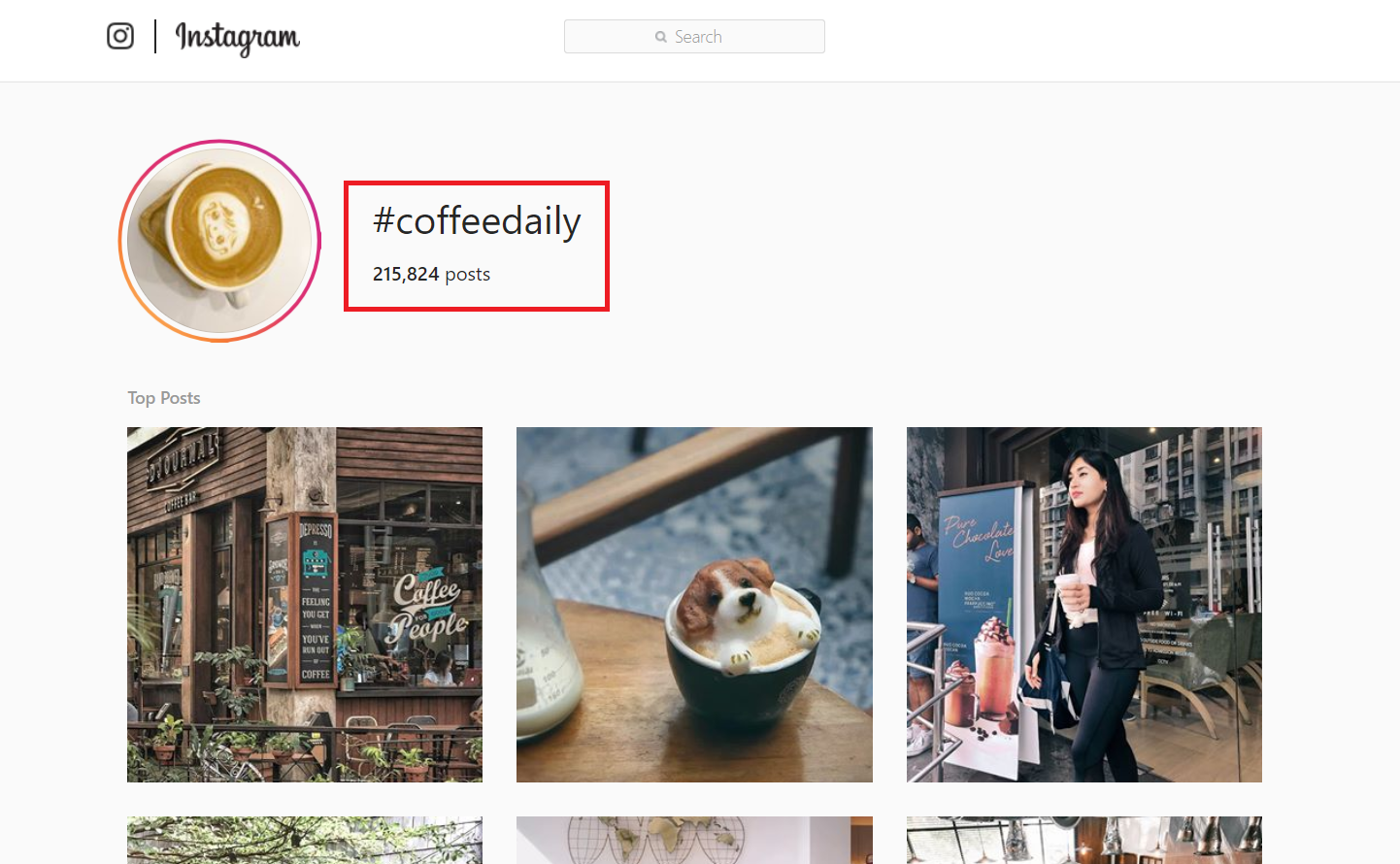 Just that hashtag has a lot of posts.
Is really not that many in comparison to other big hashtags, but people still search through them from time to time.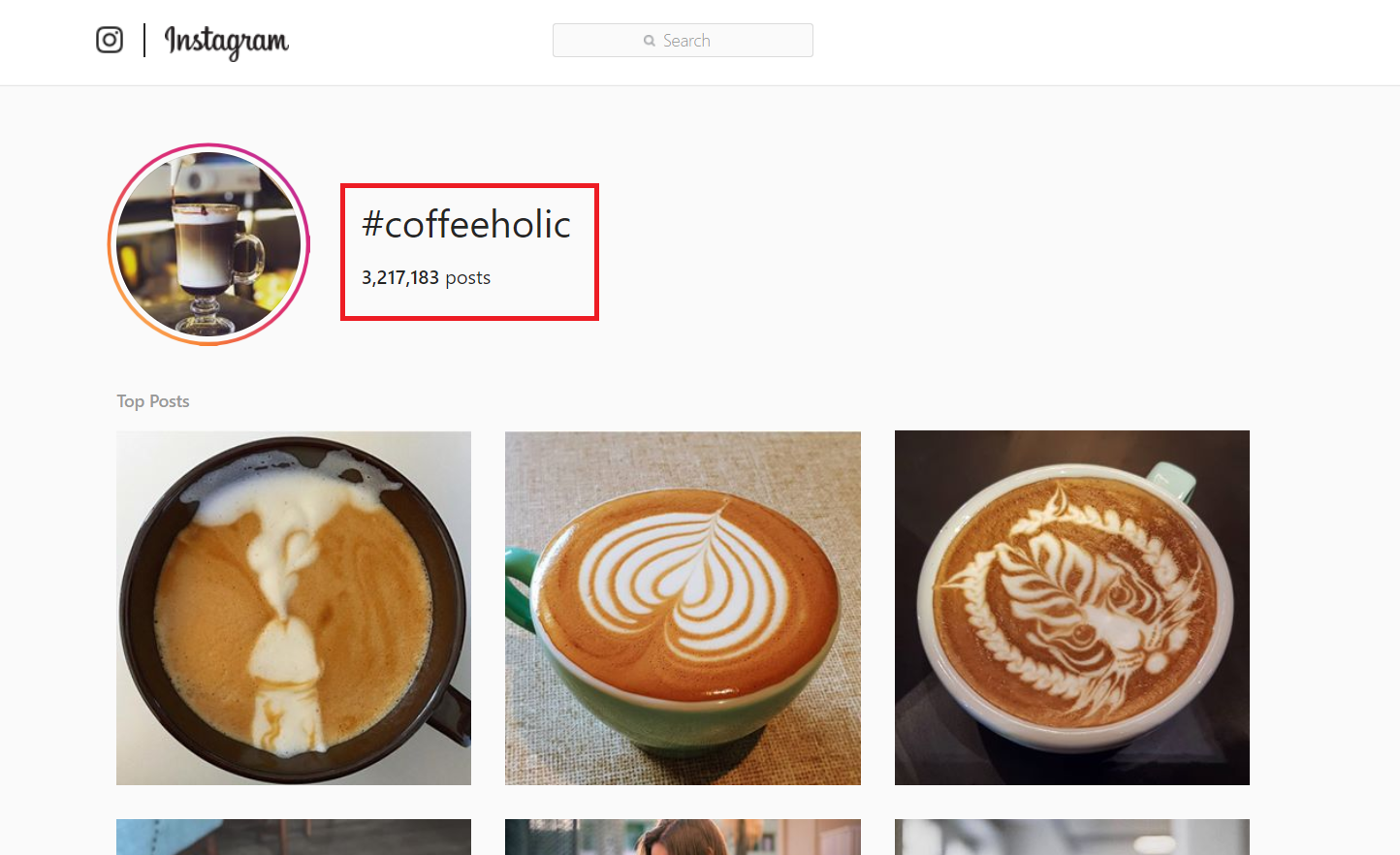 Again, these hashtags don't have millions and millions of published content, but they still get traffic.
These are the ones that will allow you to stand out from your competition if you do the right thing.
The right thing being: publishing high-quality, engagement-worthy photos and videos.
See this photo by @seandalt: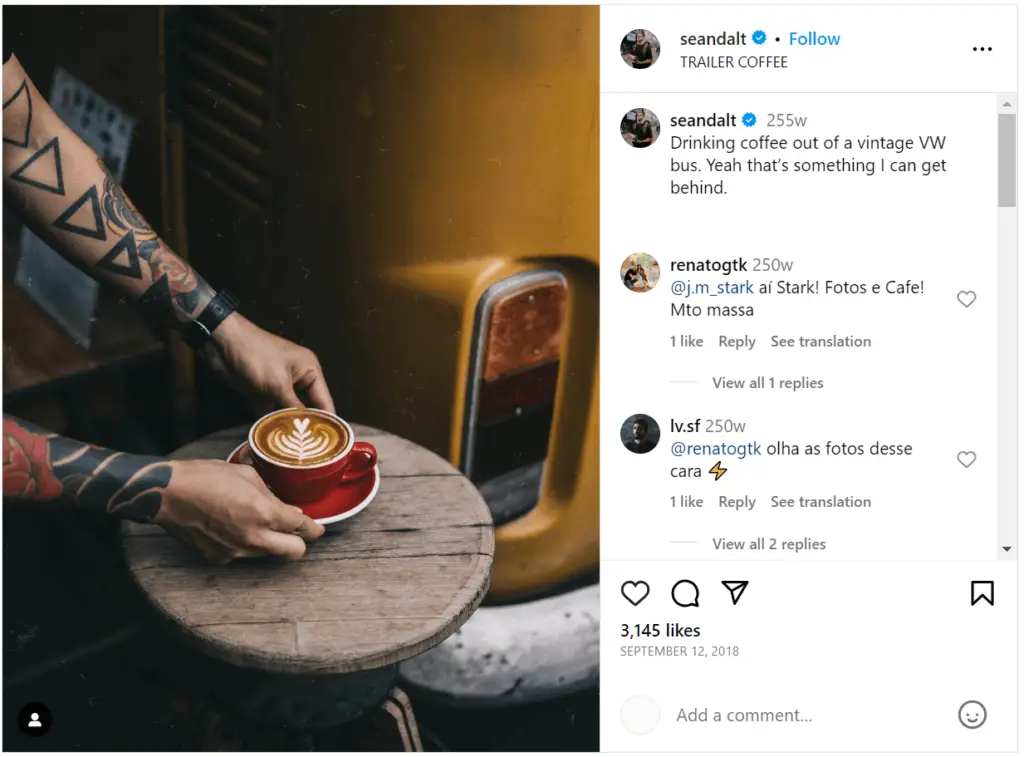 As you can see from the example above, the post doesn't show anything that is spammy, and the caption is actually related to what the image is all about.
And again, just like we said before, anyone would think that they did not use any hashtags, but take a look at this first comment on that same post: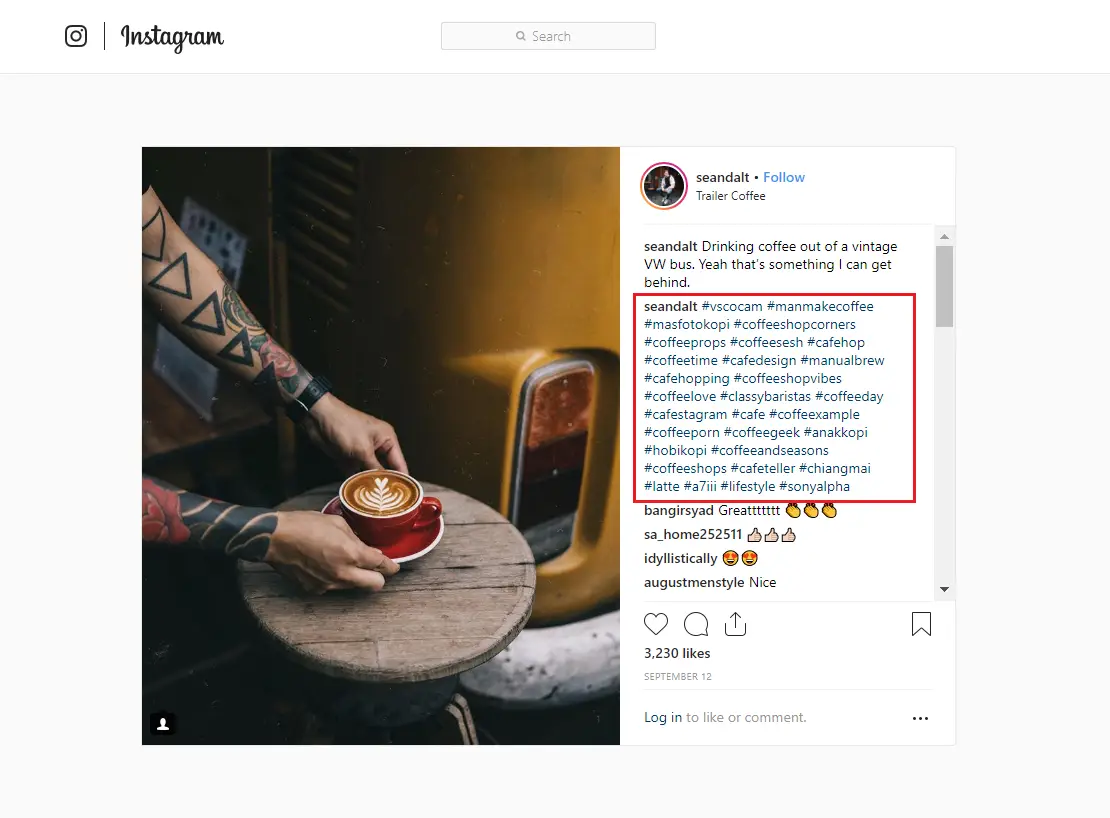 You will see their 30 hashtags, doing what they are supposed to do: get the post to as many places on Instagram as possible.
You must post relevant content as well.
For example, on Instagram, if you use hashtags, you will need to make sure that whatever you publish is related to them.
This will help you build and grow more engagement as opposed to just copying and pasting irrelevant hashtags in there.
The good thing is, we have put them into groups of 30.
This makes it easy for you to come back, and copy a different group every time you are posting in the same niche or about the same topic.
Always remember that any of your posts can get featured in the top section of a certain hashtag on Instagram.
This will dramatically bust your post impressions and will increase the chances of getting more followers, likes or comments, so be prepared for that in case it happens by always posting high-quality content.
How to grow a coffee page on Instagram?
There are many ways to grow a coffee-related page on Instagram.
Let's talk about the ones that seem to be actually working for others:
As we always say, if you are here, then you are already doing something right.
Just scroll up, and copy any of our selections of 30 hashtags, and then paste it on your post.
Make sure you do it in the first comment right after you post, and not in the caption.
They will still have the same functionality, and most people won't even notice that you are using hashtags.
Plus, it will look more professional and neat.
2- Promote your page outside of Instagram
This one is really easy to say, but hard to do.
What we mean, is that you should maybe have another source of traffic, maybe Twitter, Pinterest, or even Youtube.
You can create a blog and talk about what you do, and then get people through SEO.
The idea is to have various platforms, and all of them sending people to check your page out on Instagram.
We mentioned having a blog and getting people through SEO.
But we must say that, yes, ranking on Google (or any other search engine) is definitely possible, but is not something you will accomplish too easily.
3- Engage with your followers
Engaging with who already follows you is something that you should be doing.
People like to be part of something.
So if they come to your page and see that you have a community with users talking to each other and sharing their thoughts on each and every post, they will be more likely to follow you just because of that.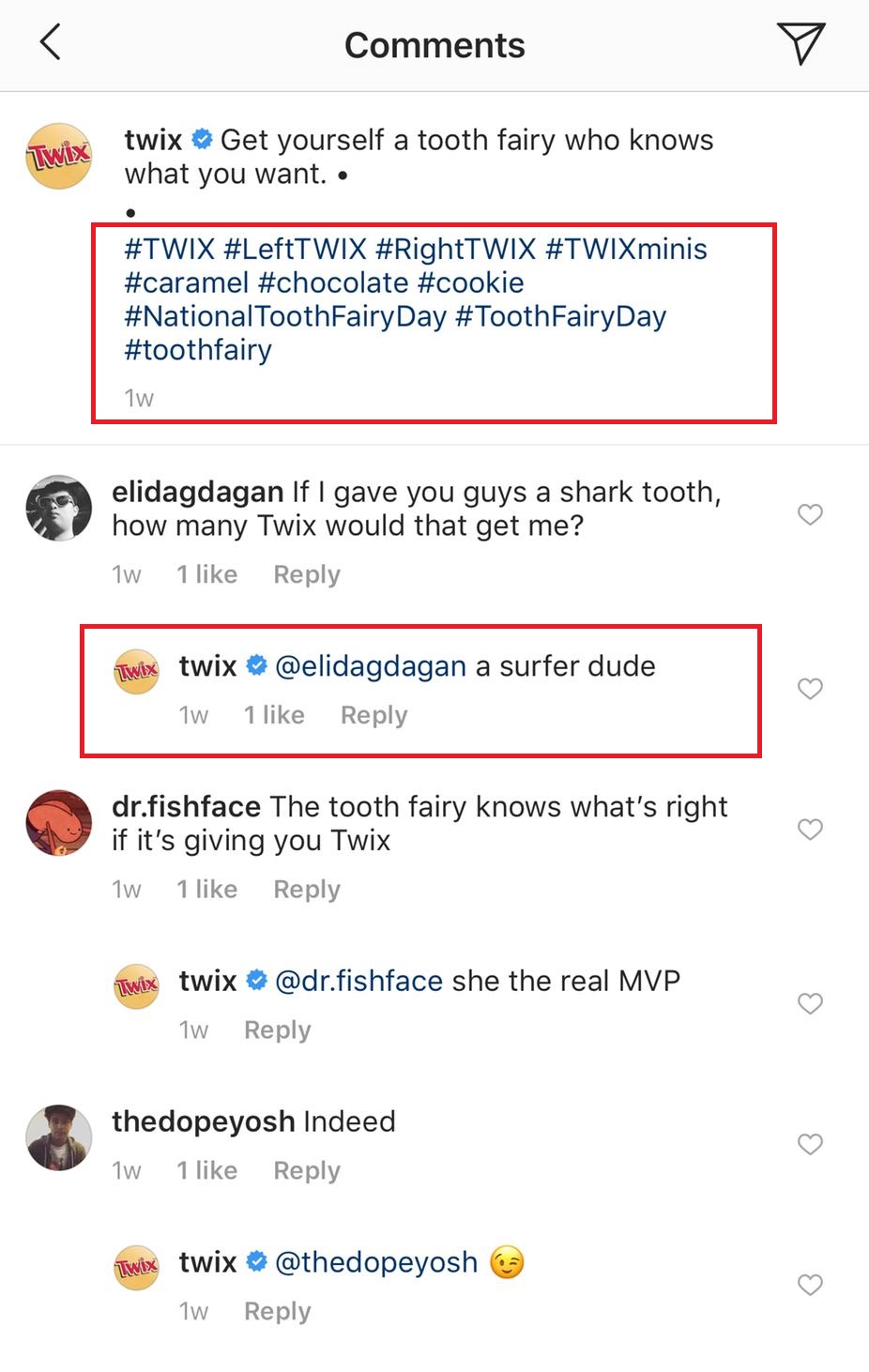 Even @twix is doing it:If people are taking the time to write something on your page, make sure to show your appreciation.
Plus, if Instagram sees that your posts get a lot of engagement, they will always bust it and show it to other users through the explorer page.
4- Give more value than your competition
If you see that other people are just posting their pictures just to gain followers through hashtags, then make sure to do it differently.
Share a story behind the post, ask a question, tell your followers how that photo was taken, etc.
The idea is to give them more than what they expect.
Think of location tags as your 31th hashtag.
Trust me, people look at l31stion tags maybe even more than hashtags sometimes.
So, be smart about it, and use places that get high traffic and people are always using.
6- Be unique
Just be you, and be different.
It is a good thing to look at what is already working for others.
But you don't want to copy anything entirely, just take ideas and make them better.
If you want to read more about how to grow on Instagram, check out our article 20 Clever Ways To Actually Get [REAL] Followers On Instagram.
In that article, we talked about our own personal experiences with Instagram and what has actually worked for other users that currently have more than 100k followers on the platform.
You will learn a lot about Instagram's algorithm and how they tell which post is worth featuring in the explore page.
You should aslo watch this YouTube video by Anubhav Roy, in which he shares 5 tips on how to grow on Instagram organically.
He mentions how sometimes you should like pictures and comment on other posts that are similar to yours.
We wanted to mention that doing this is a good thing as long as you don't do it excessively.
Make sure that if you engage with other users, you are doing it in a genuine way and not just copying and pasting irrelevant things in other people's posts.
Also, he says that Instagram's hashtags limit is 25, which is incorrect, it has always been 30 hashtags per post.