Everyone wants to know how to get more followers on Instagram or what are some easy ways to get real followers on the platform; these things are very common search queries on the internet nowadays.
More users are getting into the platform every single day and it has become a major goal for everyone to know how to get Instagram famous FAST. Everybody wants the perfect formula, but the truth is that regardless of what you do, it will be all about pure hard work and dedication if you want to do it the right way.
Having said that, a proper strategy is obviously needed; I will share them all with you below.
Ready?
Let's get started…
How to get more followers on Instagram? Clever ways to get real followers
Knowing how to get more followers on Instagram is something that goes beyond simply mentioning what to do, that is why we are going to explain each and every single one of them so you can have a good grasp and a better understanding of what we mean with each point.
In order to get more followers on Instagram, these are some of the best pieces of advice that seem to be working for the majority of people.
We all know hashtags, right? They are one of the most common tools of interaction that you are going to find on social media platforms, and they are a fantastic element to take into consideration because they can transmit simple and effective messages in a somewhat communal way, which is key for Instagram users.
In that regard, and in order to get more followers on Instagram, you should aim to use the right hashtags because they can be of great help to attract people interested in the type of content that you offer. What are the best types of hashtags for your account? Some of the following:
Hashtags related to your topic or niche: This one is self-explanatory, use those hashtags that can make any kind of connection with your content; this is one of the fastest ways to reach a target audience and will attract people that will actually care about what you post.
Popular hashtags: This one is a bit more challenging because you have to take what is trending right now and give it your own spin in order for you to have a logical reason to use it. If your brand is about hair products and the most popular hashtag right now is about the World Cup, then you have to take a moment to know how to use it in a way that makes sense. For example, maybe #worldcuphair (link to Instagram.com); you get the idea.
Use hashtags designed to get followers. This is one of those shameless tactics that could be useful and that you have to seize in order to get better results. DeMers (2015) explains it: "Use hashtags that are known to help increase followers: #FF (Follow Friday), #instafollow, #l4l (Like for like), #tagforlikes and #followback."
Hashtags are an inevitable medium for your content to have a wider reach than you might think, thus allowing you the possibility of gaining a lot more followers as the days go by.
Task: Go to our homepage and search for your specific keyword or niche; then bookmark that page so you can always come back to copy and paste those hashtags into your posts.
2- Know the best time to post
Like in every single aspect of our lives, timing is everything and it has a major influence on all of our endeavors, so Instagram is no different in that regard.
If you want followers, then knowing when to post is also a great strategy for you to apply; there are specific times during the day (and actual days) where it's recommended that you share content. Why? Because more people will be on the app at different times.
Some of the best times to post are:
Best Times: Wednesday at 8:00 PM, Thursday at 5:00 AM, 11:00 AM, 3:00 PM, & 4:00 PM, and Friday at 5:00 AM.
Best Days: Tuesdays, Wednesdays, and Thursdays.
Most Consistent Engagement: 9:00 AM to 8:00 PM from Tuesdays to Thursdays; mostly, Wednesdays at 8:00 p.m
Worst Days: Sundays and Mondays.
* Using Eastern Time Zone for all days
Interesting Fact: 9 a.m. Eastern Standard Time is when "the largest number of people in the world are likely awake", according to FastCompany.com.
All of these days can be applied to each country but always have in mind the time zone that we used.
3- Promote your page outside of Instagram
Another strategy to get more followers on Instagram is to not focus only on this social media platform; there are many other platforms that you can use in order to promote your account or link to your Instagram. For example:
Create a blog: Write about things that you find interesting and fascinating, and then move all the traffic that your website gets through search engines, to your Instagram page.
Email marketing: I know, I know, email marketing is not what it once was, but that doesn't mean it can't be of good use to you. If you have a website with, let's say 20,000 email subscribers, with just 1% of them following you on Instagram, that would be 200 new followers. Having a subscribers list can be a good strategy in order to present them your account and the type of content that you offer.
Connecting with Facebook: This is one of the easiest choices for you to get more followers, especially if you already have a lot of them on Facebook; these two social media platforms are connected in ways that no other two have ever been before. Simply make everyone you have on Facebook follow you on Instagram.
Twitter Tricks: If you are on Twitter, chances are you've seen a Tweet go viral, and then, right after that, the same person saying the classic "While you're here you might as well follow me on Instagram (link)". This can increase your exposure tremendously, so keep an eye on new opportunities that can hopefully position yourself in a situation like that.
Pro Tip: Make sure you share your Instagram link (Ex: Instagram.com/hashtagiecom) and not your username (@hashtagiecom). Most people won't even bother to type in your username. 
Upload YouTube videos: If you have what is needed to provide content through YouTube, then showing your social media accounts in your videos descriptions and pages is the natural way to go. Once you do this, you're providing people with the opportunity of knowing more about you and connecting in a more personal manner.
Favorite Ones: Creating a blog and uploading YouTube videos.
Why?
Because if you do these two things the right way, once it's done, you will have a passive source of traffic and thus followers forever.
4- Post regularly, but don't abuse it
Consistency is the key and it is one of those factors that you just can't avoid when working with a social media platform; without a proper idea of what you want to do, it is impossible to get more followers on Instagram.
Naturally, it's not posting for the sake of posting; there has to be a reason behind that in order for the content to be liked and to be entertaining. Therefore, here we have some pieces of advice so you can post regularly on Instagram and maintain a healthy income of followers:
Remember, the more you post, the more hashtags you can use, and therefore, the more places your content will be inside Instagram.
Research on your competition: If you are going to post on Instagram, then doing research on your competition is something that is really important since it can provide ideas and clues about what you should be doing and what you shouldn't. Very important: you should not copy from others, just adapt to what they are doing if it is working, and do it better.
Overall research: This is somewhat different from the previous point; here you are going to do research on Instagram in general. Know what is working and what is not, etc. Take new ideas and concepts and mix it with yours if possible. For example, IGTV.
Knowing who you are talking to: You're not a machine and you should not be posting like one. For example, DeMers (2018) has a pretty good thing to say about this: "Be consistent. Know why you're posting, and who you're posting for. Be consistent about how you use the platform and your follower count will grow organically."
Listening to your audience. Look, your followers are also capable of providing suggestions; it's very likely that they are going to post comments about your content. Read them all if possible, and see how well your posts are doing.
5- Always aim to improve your content; get better every day
We don't know everything and that is an axiom that we can't escape from; there will be various moments where we are going to look at our brand and say "Hey, maybe we should try this or try that!"
This is a pretty healthy thing to do, so it's important that you know that it's normal to criticize yourself sometimes.
While there are many aspects in which you can improve your profile, it's important you understand that you are going to get more followers on Instagram by constantly improving a wide variety of aspects related to your brand, such as the following:
Surround yourself with a capable working staff or if you are a personal brand, with other individuals who share the same passion. that can provide a great understanding of how social media platforms work (especially Instagram). Don't be afraid to talk to each other about new ideas.
After a certain period of time (it could be a month or two, for example) you should check your results on Instagram and ask yourself if you are achieving the goals that you established before starting this little period of time; this is a great way to determine whether your techniques or strategies are being properly useful. Set yourself for small steps, and you will see how everything will flow naturally.
People's reactions can always be productive for you because it can provide a greater notion of what you are doing and how everything working at a short, medium and long-term. Sure, you shouldn't base all your content on what people are saying, but it just depends on your purpose; Are you a business, a musician, or a blogger?
6- Follow others who are in your niche; this is not the "follow-unfollow" method
This is a pretty simple one. Instagram will always give you the possibility of following certain users by showing you a "suggested users" tab.
If you follow those who you are honestly interested in, you can then try to develop relationships with people that can really help you grow in the long run.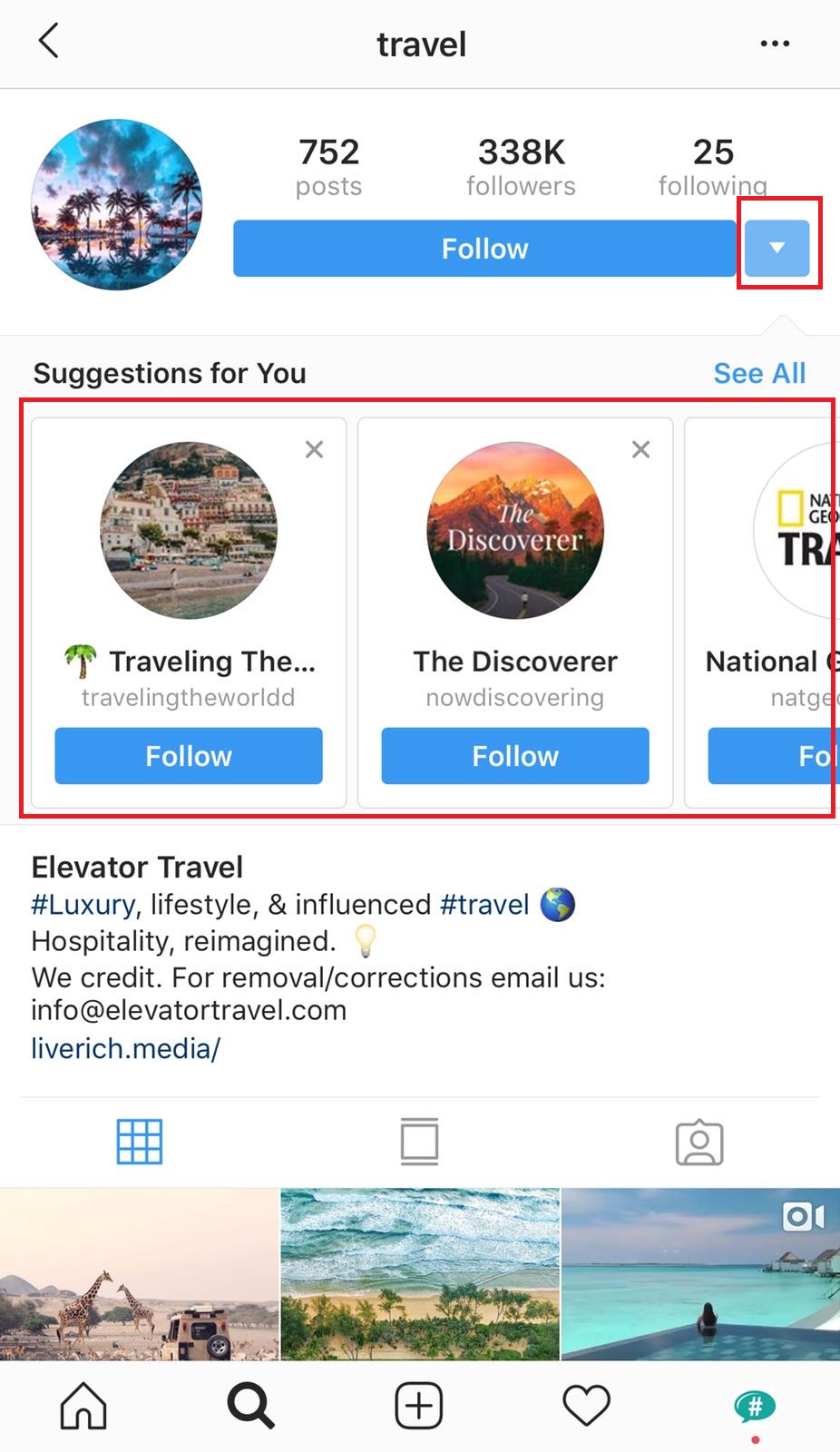 Let me explain myself…
Imagine you have a travel page. Then you would start following users with the same amount of followers as you (not too many accounts, 20 or 30 is enough), who you think would be interested in collaborating with you in the future.
You don't want to follow and then unfollow others, nor follow an extremely big number of accounts, you should be aiming to just grow your network and expand the number of people you can count with, in case you need help with anything marketing-related.
After time passes, you guys can exchange your audience by featuring each other's work, etc.
Remember, you are not following to then unfollowing, and you are not following regular users, you a just trying to connect with other accounts that do the same, just so you guys can help each other.
8- Publish high-quality content only
If your profile looks unprofessional, then almost nobody is going to stay. First impressions are important, and your whole brand will be based on what people see first from you.
Try uploading HD photos and videos, or at least make them look good enough.
No matter what you do, no matter how many hashtags you use, or how much you spend on promoting your page, if people don't like what you publish, they won't hit the follow button.
A few tips for uploading high-quality content:
Get yourself a good camera; most smartphones will do the job nowadays.
Play with the lighting of your photos.
Use filters, but don't abuse them.
If reposting content, try looking for the original source of the photo or video (also, always mention the original creator)
9- Try to keep a consistent theme, or make your account visually pleasing
We have seen it a lot lately, the so-called Instagram themes.
What's a theme?
A theme is just a type of vibe, color, or even a filter that somebody uses it to keep all their posts the same.
For example:
Let's see this two posts by @lizakoshy
https://www.instagram.com/p/BeRt_pSh_OB/?taken-by=lizakoshy
As you can see, they have many things in common. For example the white background and a mix of black and grey.
https://www.instagram.com/p/BdMGCQphJ1c/?taken-by=lizakoshy
Notice how all of her posts share the same vibe and colors when they are side by side.
And in this specific example, the organization is really on point since she has a picture of herself, then a picture of something else, and then another picture of herself, and so on.
These small details will always make a big difference.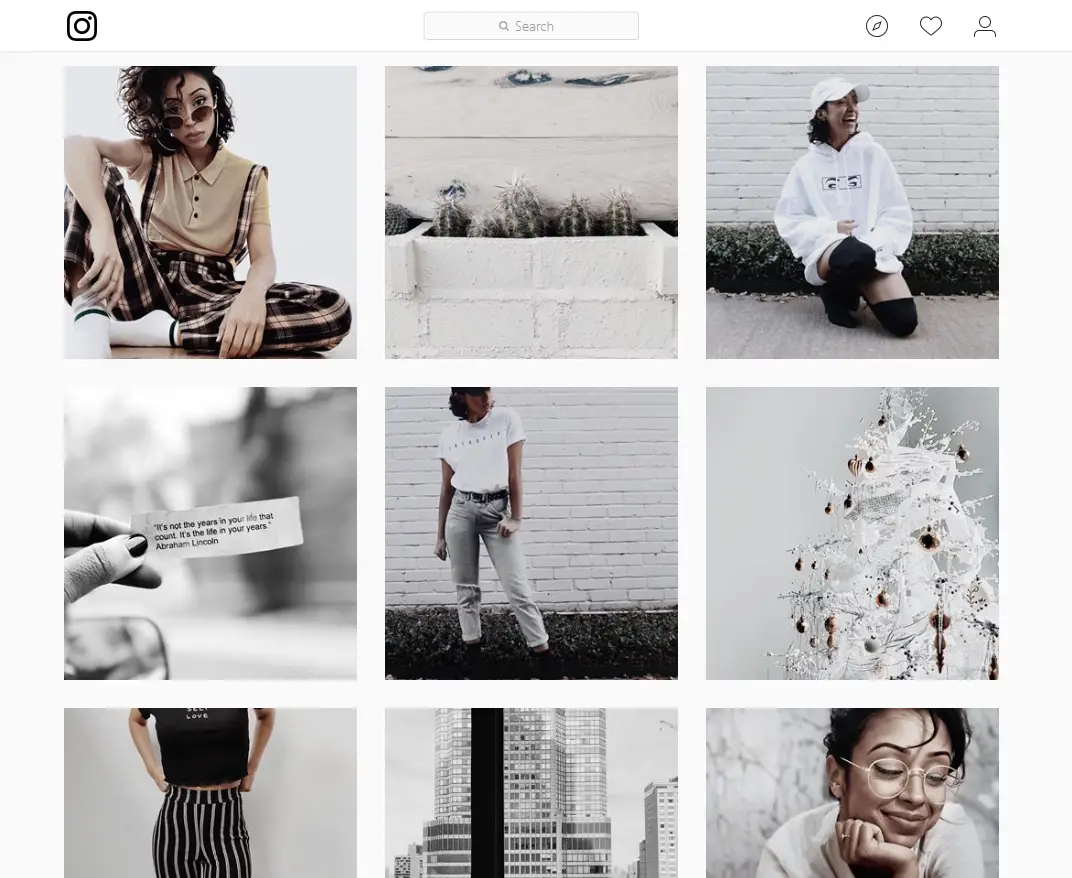 This is what it's meant when people talk about "Instagram themes". People like seeing this type of account.
10- Pick a niche or a small audience and then expand if necessary
If you start out small, you will always do better than anyone else since you will have less competition than, well, anyone else.
For example. let's say your account is about Memes.
Yes, you can post whatever memes you want, and yes, you could get a few followers, but imagine for a second having a small topic that only you would cover, something that nobody else is doing.
Take a look at this account: @kanyedoingthings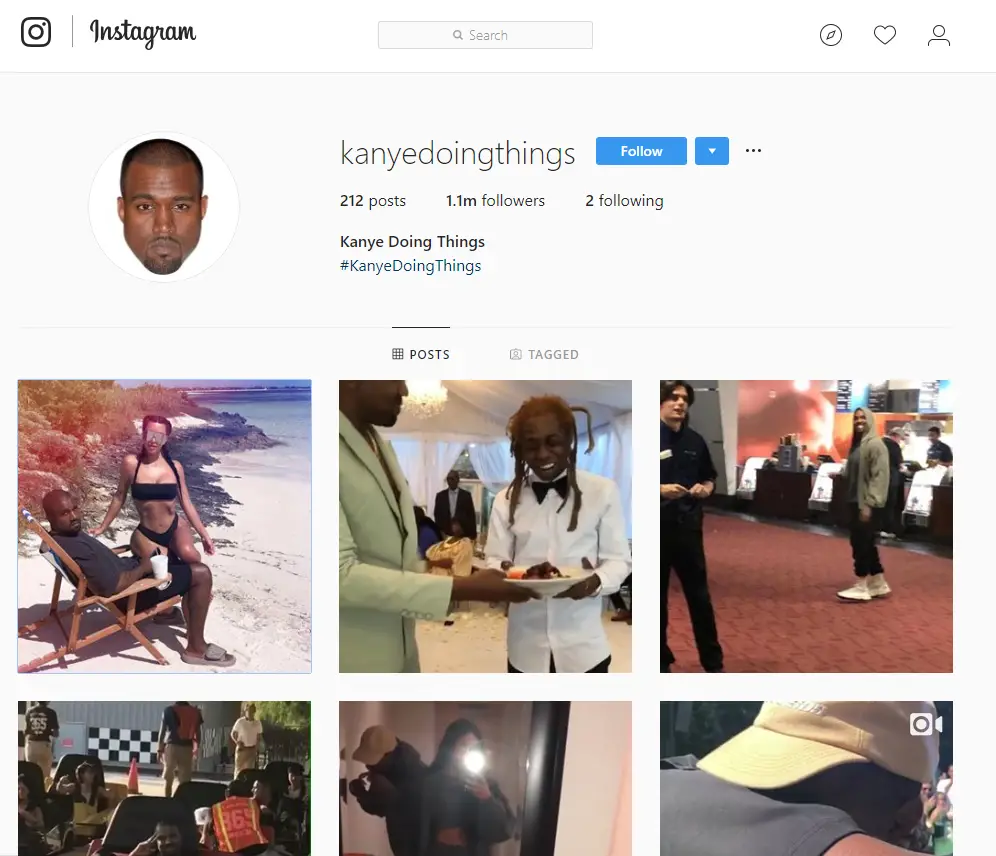 This page is meant to be funny, but not abusive, and it is only about Kanye West doing things, that's their topic or niche.
Can we agree that this account is successful in what it does? I would say yes.
See the difference between a workout page, and abs workout page for example:
Notice the number of followers they have, and they type of content they publish.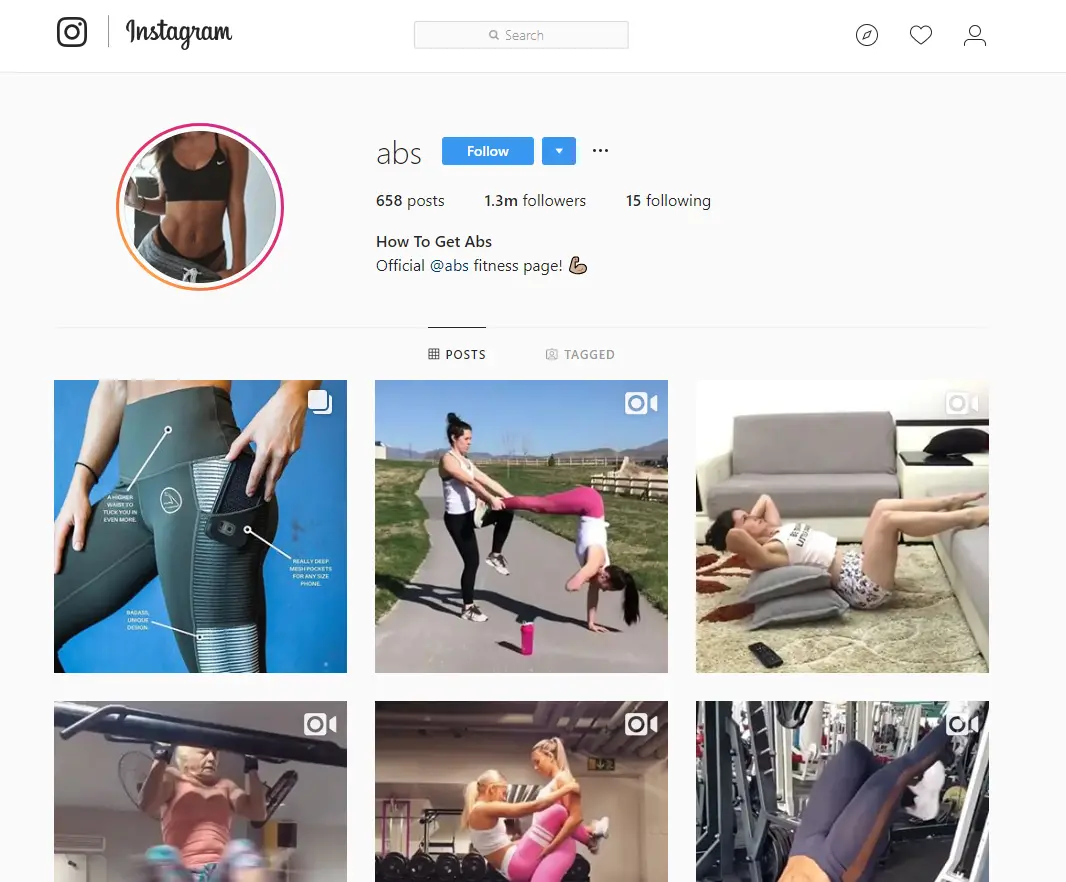 As you can see, covering small topics can be beneficial if it's done the right way.
So, never be afraid of having a small niche, you can always expand later on.
11- Connect with other users; create relationships and collaborate with people
Just as we talked about following others in your niche, this is the part where you would actually create a relationship with them.
Talk to them, and see what their plans are as content creators, and maybe ask for a collaboration from which both of you would benefit from.
If you post guitar videos for example, then make a cover together and post the videos on both pages, referring each other's traffic to the other person.
That is the sole purpose of having connections:
To give each other value and to get helped and help with whatever questions or problem arrive along the way. Is not about being better or having more followers, is about everyone going to the top, together.
12- Join a DM or engagement group or create one
A DM or engagement group is an Instagram group chat in which accounts or pages would like each other's content and comment something positive in every single post just so that Instagram pushes everyone's photos or videos into the explorer page.
Instagram's algorithm is based on how well people are enjoying what you publish, so if you have about 20 accounts with 1M followers each leaving a positive feedback and liking everything you have, then the app will obviously have you featured everywhere.
That is why people do this, and is also why you see big meme accounts getting the same comments from the same accounts seconds after they publish something.
How can you get in a DM or Engagement group?
You can create your own, but chances are you don't have anyone doing the same thing around where you live.
Now…
There are many ways, but the most effective so far is to DM other people in your industry that are trying to grow an account.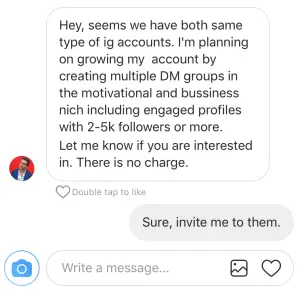 Image via [growthhustlers.com]
You can easily tell who is trying and who is not by whether or not they use hashtags.
13- Try getting shout-outs from big pages or whoever can provide the value that you need
For the most part, you will have to pay, but hey, is a great way of getting followers.
How it works is that you contact big pages that are doing promotions (they usually say it in their bio), by either their DMs or Kik. After that, you can just say something like:
Hey, love your stuff.

My team and I been thinking about doing business with you guys. How much do you charge for a shout-out on your page?

Best regards!
Or if you don't really know if they are doing paid promotions:
Hey, love your stuff.

I wanted to ask you if you would consider paid promotion on your page.

My team and I have been thinking about new ways to reach a bigger audience and we would love to work with you guys.

Best regards!
Not everybody will answer, and that is why you just need to try until you find one that is willing to do it.
Risks: Be aware of fake followers, likes, and/or comments, you don't want to just throw your money away.
Compare the number of followers and the number of likes and comments, and you will get a clear idea of whether or not it is worth the deal.
14-Engage with who already follows you
People like to feel like they are being part of something.
If you get comments on your posts, you are already doing something good. Answering to other's comments will make them feel special, and if somebody who doesn't follow you yet sees that you are engaging back with others, there is a good chance they will want to be part of it.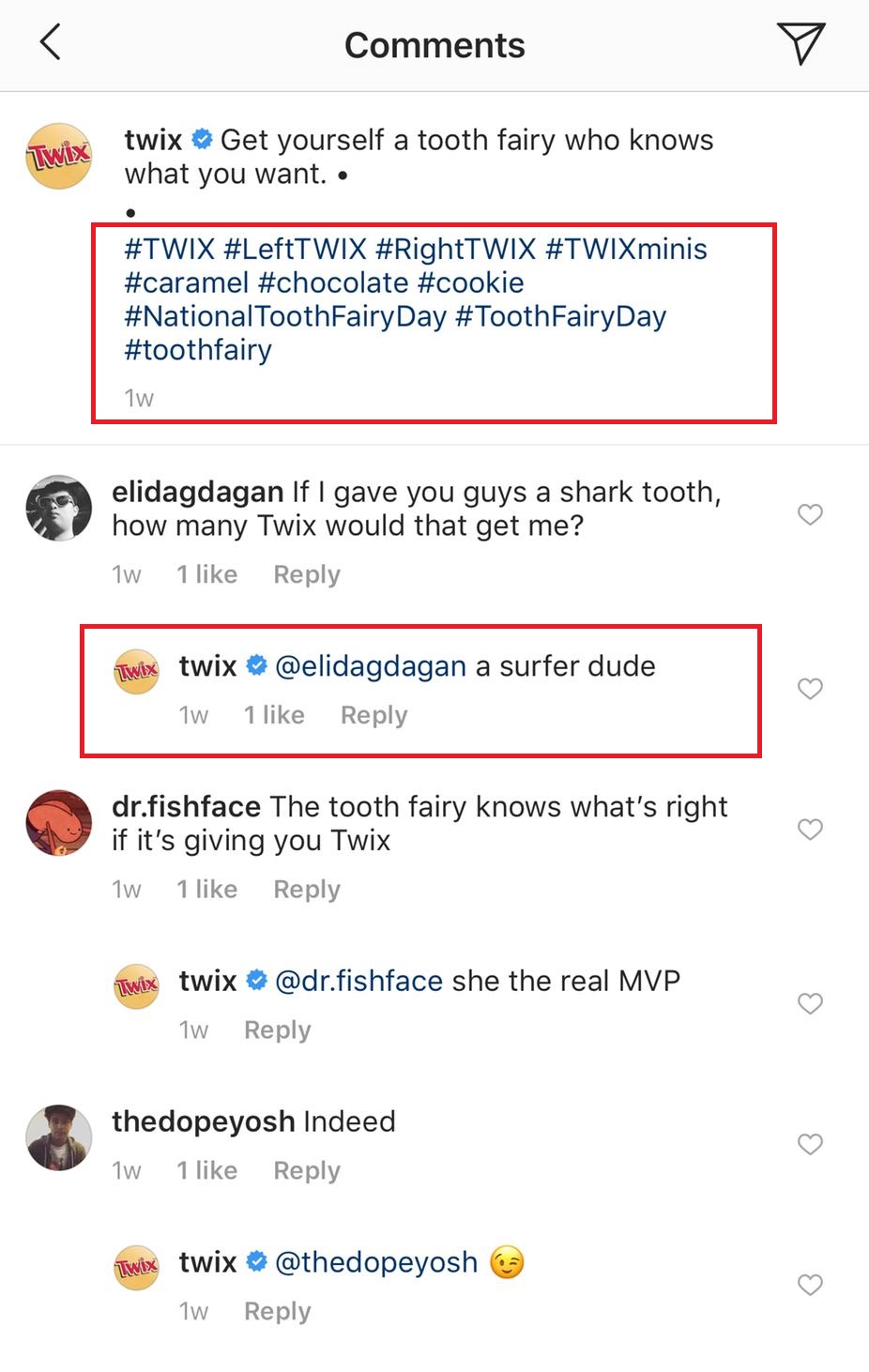 Keep it as a family, for the most part.
Now…
It also depends on the type of content and page that you have; there will be huge differences between personal accounts and business accounts. Usually, the tone and professionalism will change.
@twix has 659k followers at the time of writing this and they still do it, why can't you?

The whole idea is to make others feel welcome on your page.
15- Comment on other people's posts
I'm sure you have noticed that Instagram now puts the best comments first (only on mobile for the moment).
Well, by commenting on other posts and being the top comment, your account will get a lot of exposure to whoever is following the account that you commented on.
At the same time, if you don't want to try to be the top comment, then you can simply go to the first comment directly, and the reply to them.
Note: People with verified accounts have an advantage over anyone else since their comments will always show up, mostly first, in every post they comment on. Even when they reply to other comments, their account will show up.
See this next example from a @therock's picture: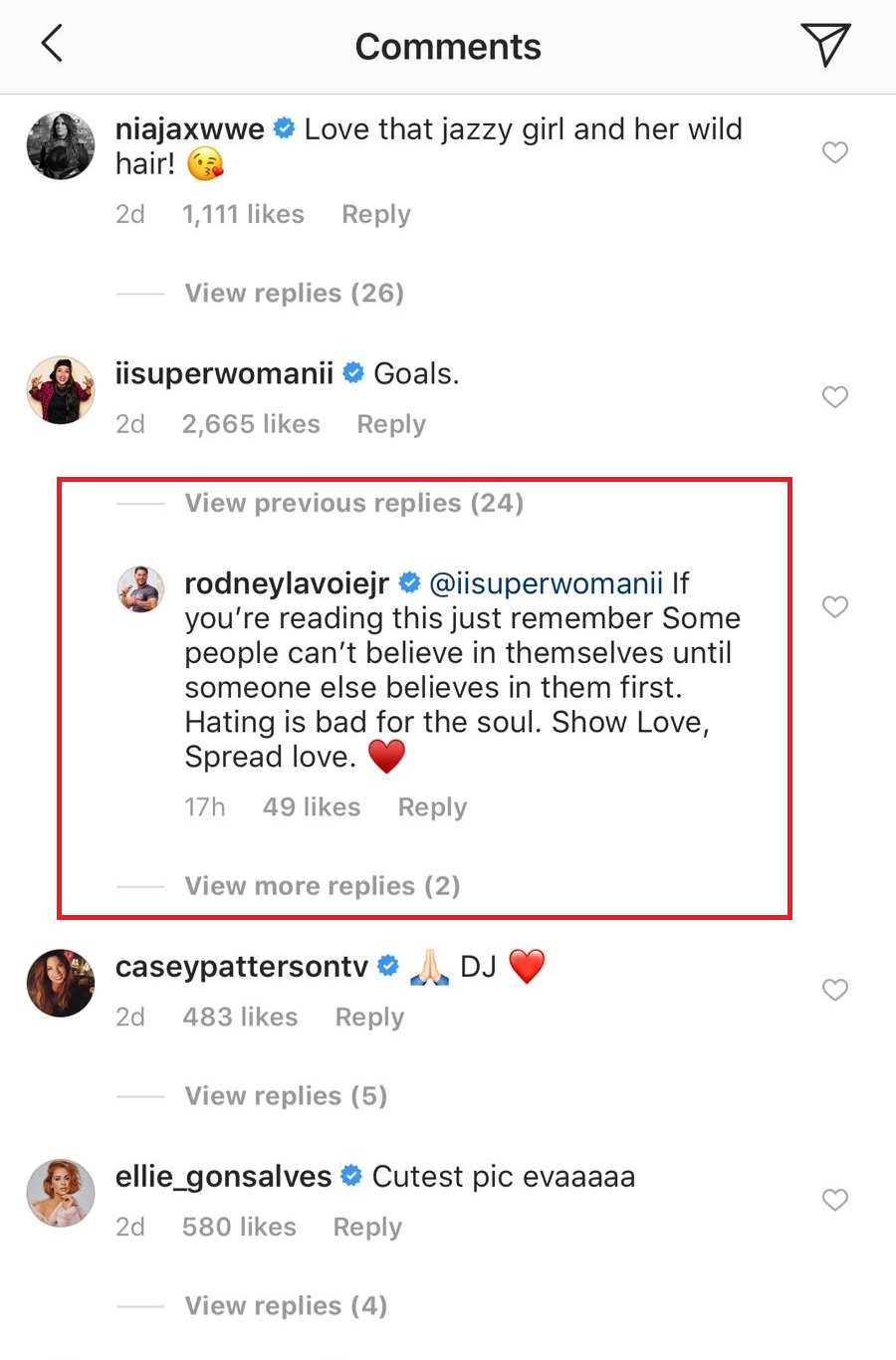 As you can see, @rodneylavoiejr is not even replying to @iisuperwomanii, he is simply saying something that he finds interesting.
Just like that his reply is right below the comment that he selected to respond to, and for that reason, everyone is going to see his account every time they open the comments section.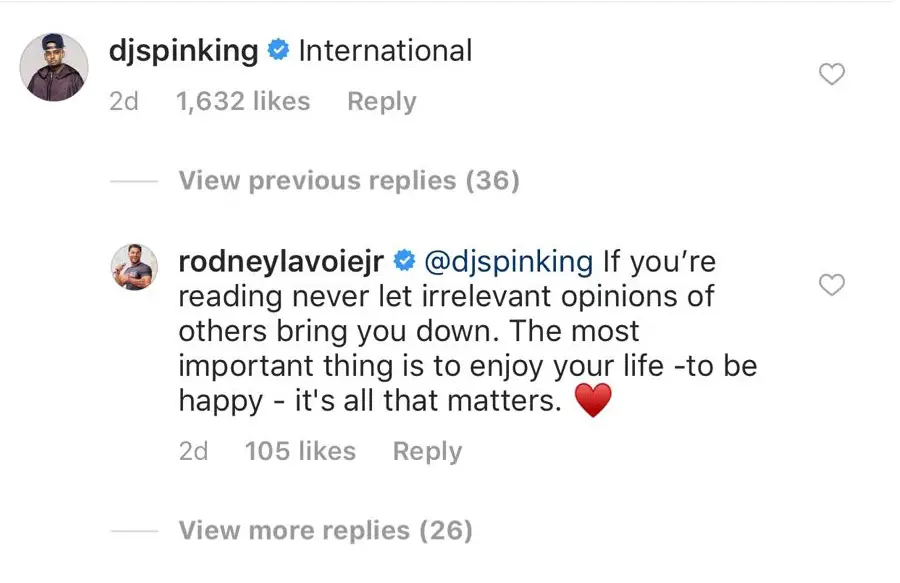 He does it in every other celebrity account.
@rodneylavoiejr, if you are reading this, we are just using you as an example but you were picked randomly. Others are doing the same thing, and what should I say? You guys are on top of the game, nothing wrong about it.
Now, for you that are reading this, try doing this, and you will see how your numbers will naturally go up.
Pro Tip: Say something relevant at least, because otherwise, people will see what you are clearly trying to do.
16- Try doing influencer marketing
According to forbes.com
One of the biggest misconceptions about influencers is that they are someone with a large social media following. This thinking confuses influence with popularity. The act of influencing requires a specific result: a change in thinking or behavior. An influencer, therefore, is someone who has the power to influence the perception of others or gets them to do something different.
What does all this mean? 
With influencer marketing, you will be working with people with large followings who are in a way or another, connected with their followers on a more personal level.
They will be able to inspire and guide them in, for example, using a certain makeup product.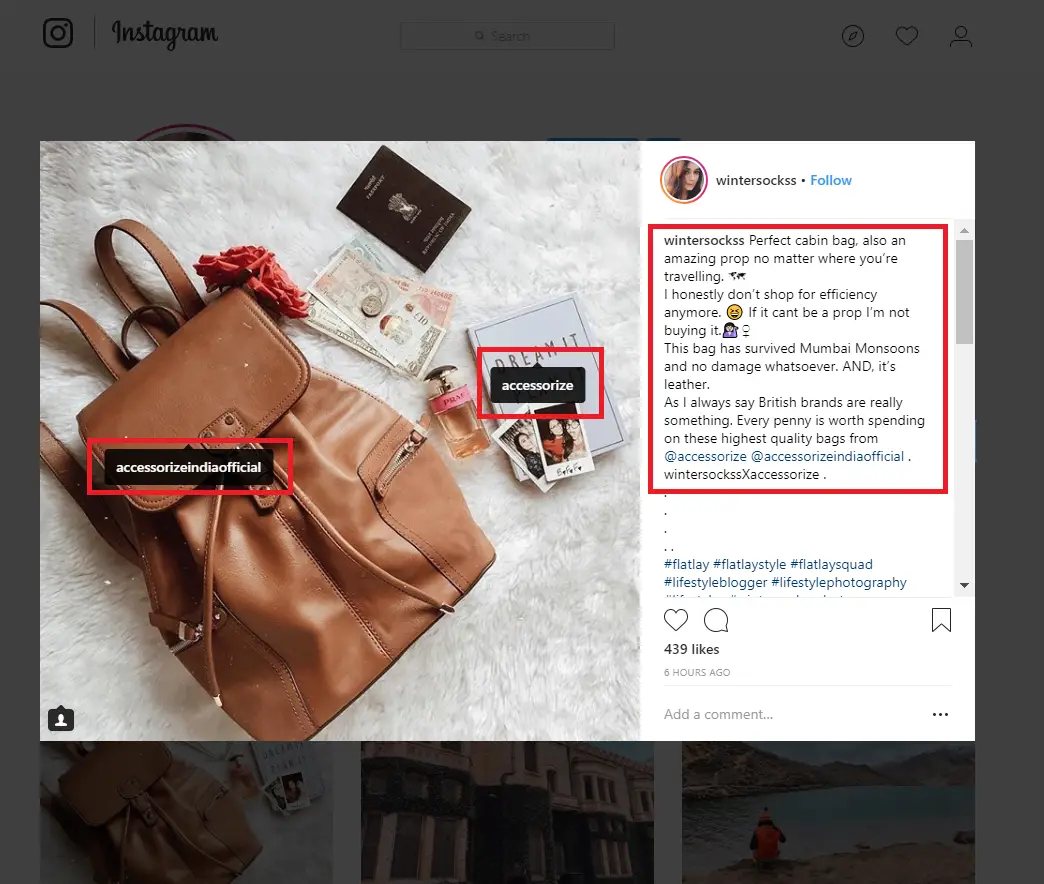 As you can tell from this image above, @wintersockss was promoting @accessorize.
It usually goes as a way to make others be aware of the brand being marketed.
What can you do if you are a brand? 
If you are a brand, then influencers will be working on promoting your business and products. They will be posting pictures of them using your products, and will generally give a positive feedback about it.
What can you do if you are not a brand? 
If you don't have a product or are just a personal account (which it still is a brand) then in a sense, you will be just promoting yourself. The influencer will then just tell every follower what you do and will advise them to check out what your content.
That's the point of doing influencer marketing.
Note: For the most part you will need to pay for this.
I see a lot of people not taking advantage of this, and is crazy!
Yes, your post will get noticed by all the different hashtags that you use, but most people don't realize that the same also applies to location tags.
What's a location tag? 
Location tags are simply the location of your photo that Instagram gives you the option to put before posting, and even to edit after.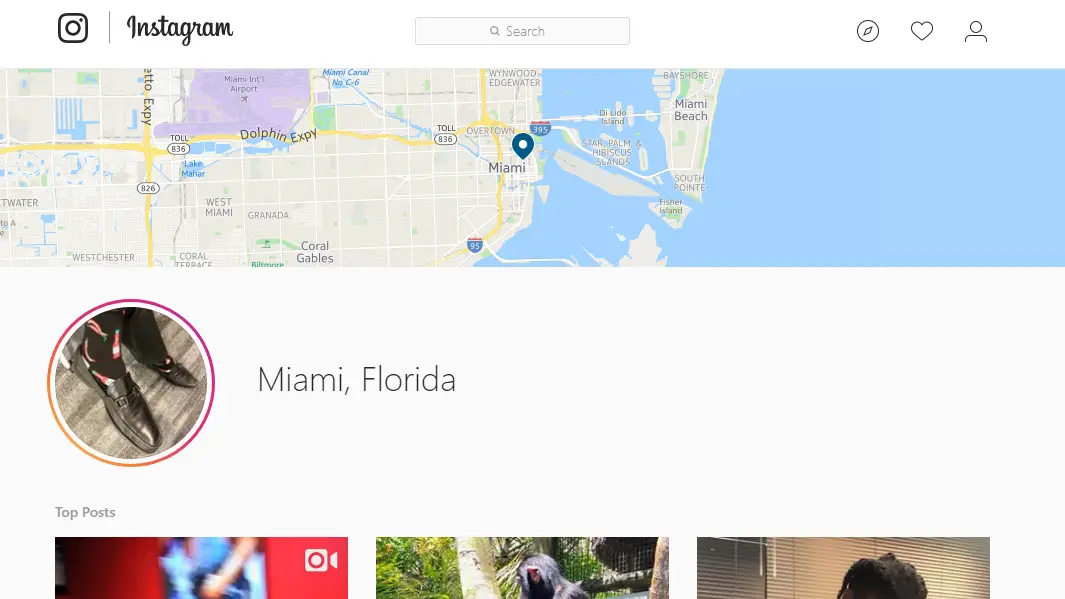 Just like hashtags, it will make your photo be discoverable by others on the app. For example, Miami, Florida; everyone that is searching for photos in Miami, Florida will see your post as long as you use the tag.
Some people abuse it and use it to their advantage, though.
For example, using the most popular locations will always give you more impressions since more people will always be interested in what is happening around that place; you can simply put any location that you want without even being there at the time, or even having the picture or video be taken there.
What can you do about it?
Don't make me tell you this, just be smart about it!
Use popular locations tags and places that people seem to be interested in the most.
18- Tag other users on your pictures; make them be relevant to your content
When you tag another account, your post, if they have the option enabled, will also appear on their account.
What's a tag?
According to Google.com, a tag is:
A label attached to someone or something for the purpose of identification or to give other information.
Instagram will give you the option of tagging other users on your pictures.
As you can see from the image below, anyone will be able to see the tags and even click them to be taken directly to that other person's page.

The awesome part is that you can get a lot of exposure from these tags if you do it the right way.
For example, let's take a look at @nike

As you can see, the same image that we were talking about before, is being featured on @nike's Instagram page at the time I'm writing this.
They are getting exposed to all the million people that follow Nike just by tagging them in one post.
What do you mean by "make them be relevant to your content"?
You don't want to be tagging every single big brand on Instagram, it will make your users think you are spamming on the app, which will have a negative effect on your credibility.
What you want to do is make the tags be another resource for them to learn about what you do.
Let's say you have a Photography account.
Then it would make sense to tag brands such as the ones you are currently using (say, Sony, Canon, etc) and maybe other pages on your niche.
19- Plan a massive giveaways
Everyone loves giveaways; we are seeing it on Instagram more and more every day.
But what is the correlation between giveaways and getting followers on Instagram? 
Well, when you promote it, you have to make it clear that the only way to enter, or maybe one of the ways, is to follow your account.
And that is basically it.
You can give away anything, but generally, the more expensive and valuable the price is, the more people you will get to enter it.
Dude, how do I even get people to know that I'm doing a giveaway?
That's the trick, and it's where most people fail.
You will need, just as in many of the above ways, to contact big accounts who would be willing to promote you on their page (Keep reading to know how to contact bigger accounts).
It usually goes the same way as shoutouts, but this time, people will have one more reason to check your stuff out.
Pro Tip: Try giving as much value as possible and make people like you for what your page is all about, aside from them just following you for the giveaway. Having a high-quality page with a very defined model will help you a lot.
20- Be unique
You can do everything we have said, but nobody will follow or like what you do if you are just copying somebody else.
"Be Unique."
What we mean by that is that you should always try to come up with new things to offer on the platform.
Instagram is based on creativity, so that will always help you.
People like seeing new ideas, and you have all the opportunity in the world to make a change.
We totally recommend you to watch this YouTube video by Girl vs Globe in which she talks about the different tips that have helped her grow her Instagram.
We found this video right after we wrote this article, and I have to say that she is a very intelligent young lady.
Every single advice that she gives in this video will totally help you if you want to grow your account; we agree 100% with what she says.
*Most people don't know about her tip#22
Now, we will answer some of the usual questions that we see people having very often:
Should you use bots to gain more followers on Instagram?
Easy answer: No.
If you want to get REAL followers then no, don't do it.
I'm sure you have seen that one friend that out of nowhere has 10k+ followers, and he or she only gets 21 likes on each picture with 1 comment from that only real follower on the account, which is maybe you, or even themselves.
It does not look good, and it will damage your reputation for life.
Try having people that actually care about what you do.
I would rather have 100 people liking and commenting on EVERY single post that I publish than to have 10k followers that don't care about what I do.
That's the bottom line.
Is it safe to follow and then unfollow other users?
Instagram knows what you are doing, and even the people that you follow know what you are doing.
You can get your account blocked if you play with this too much, so I would not recommend it, AT ALL.
It's annoying, plus when somebody sees you following 6k people and only having 200 followers, then something about your profile is not inspiring others to trust you, and that is these number's ratio.
How should I try to get followers on Instagram, starting from scratch?
Starting from scratch is hard.
To begin with, try posting a lot at first without hopefully sacrificing your overall content quality.
Use hashtags every time, and you will see a few people coming in and liking your stuff right away depending on which hashtags you choose.
Then go on, and try one or two other ways that we just talked about, and keep going until you have tried them all (or at least some of them).
In about a month, set your goal to have at least 100 followers (which is doable in any niche), and then keep growing from that, increasing your goals every time.
If you want to get 500 followers a month, this is the math you need:
500/30=16.6666667
That's about 17 followers every day, I know you can do that, and more.
I see a lot of people talking about how 30 is not a good thing to do, and how you should do 11, or 15.
Look, if Instagram itself has officially said that they only allow a total of 30 hashtags, is because they are okay with you using 30 hashtags.
That's it…
They won't see it as spammy, and they won't penalize you for anything.
So, yes, 30 hashtags is a good thing to do.
Pro Tip:  Put your hashtags in the first comment, it will do the same job as if they were on the caption. After a week, or maybe a month, remove them because they won't really bring you any traffic since the algorithm always will put the newest posts first (if you are using small hashtags, then ignore this because they can still be a useful source of traffic).
How to contact bigger accounts?
Big accounts will usually say how they want you to contact them on their bio.
Look for something like:
For promotions: DM or KIK:*kik username*
One thing you need to consider is that they get people trying to promote on their pages every day, so, to be honest, they don't need your deals that much unless you are giving them serious numbers.
What do I mean by that? 
They will give you a price that will be usually higher than the one they are willing to accept.
Is a marketing thing:
You ask for a big favor/price first, and then smaller deals will become easier to persuade others to get into.
If you both don't get into an agreement, then move on to the next account, I'm telling you that it will be a waste of time.
Note: I once contacted an 11M followers account that wanted around $2,000 for a 30-minute post, that's how this business is running nowadays.
Conclusion
How to get more followers on Instagram is something that doesn't happen by casualty; at least if you want to get a proper raise of followers in that regard. Therefore, a proper strategy or set of strategies is going to be required in order to get much more meaningful results.
As we said, consistency is the key; if you decide to apply these pieces of advice, we can assure that you are going to get much more followers and your brand is going to get a lot more impact every single time you publish.
Instagram for brands is not the easiest thing to do in this particular aspect, but if you are willing to work, to dedicate yourself to this particular field and you keep improving, the results are going to be there and you are going to gain a much higher level of influence in this social media platform.
Before you go
We are a website dedicated to providing the best hashtags for any market or niche.
See our list of Fitness hashtags or Makeup hashtags, for example.
If you like what we do, make sure to bookmark our homepage so that you can easily access our content anytime you want to.
Thank you for reading,
The Hashtagie Team