Frequently, individuals and businesses struggle to expand their reach on popular social media platforms, like Instagram and TikTok.
One powerful method for amplifying your online visibility is incorporating nature-based hashtags into your posts.
Hashtags, after all, serve as a digital tool for categorizing content, making it discoverable to new audiences.
This is particularly effective in popular niches such as nature and the outdoors.
Our aim is to guide you through a constructive system to utilize these hashtags strategically.
By incorporating our advice into your social media strategy, you can elevate your online presence.
Read on to understand the strategic importance of nature hashtags and how to use them effectively.
Nature Hashtags For Instagram & TikTok
How can you use these hashtags effectively?
You will have to publish relevant content too.
For example, on Instagram, if you want to use hashtags, make sure that your pictures and/or videos are related to them.
This will make it extremely easier to build engagement in comparison to simply copying and pasting irrelevant hashtags in there.
The good thing is, we have separated them into groups of 30.
This will make it more convenient for you to come back and pick a different group every time you are posting about the same topic or in the same niche.
Have in mind that any of your posts can get featured in the top section of any Instagram hashtag that you use.
This will increase your posts impressions and will bust your chances of getting more likes, comments or followers, therefore be prepared for that in case it happens by posting high-quality content every time.
Let's take a look at what others are doing.
For example, this post by @arg.photos: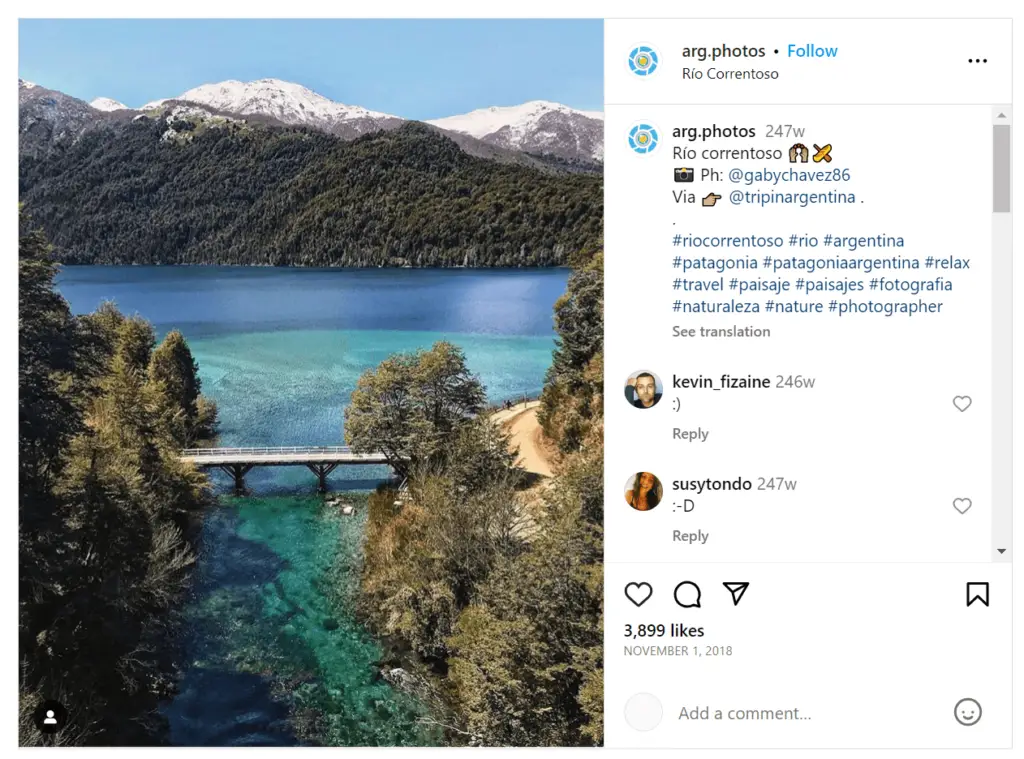 They feature a great high-quality image, that fits very well with their overall theme.
The hashtags are in the captions, which is something we never recommend.
What they can do is put them in the first comment of their post right after they publish the image.
It will all work the same, and most people won't even notice that you are using the hashtags.
Another good thing that they could have done differently is to engage with their audience a little bit more by maybe asking a question.
Sometimes we don't really see that many comments on new posts because there isn't really much to say.
If you encourage people to leave a comment or to share what they think of the picture, they will be more likely to do so.
Maybe say something like:
*story behind the post*. It was taken by *original creator*, what do you think of it? Would you go there?
You can even tell others to tag "somebody that would like the post", and just like that, you will have others do the marketing for you.
Take a look at this other photograph: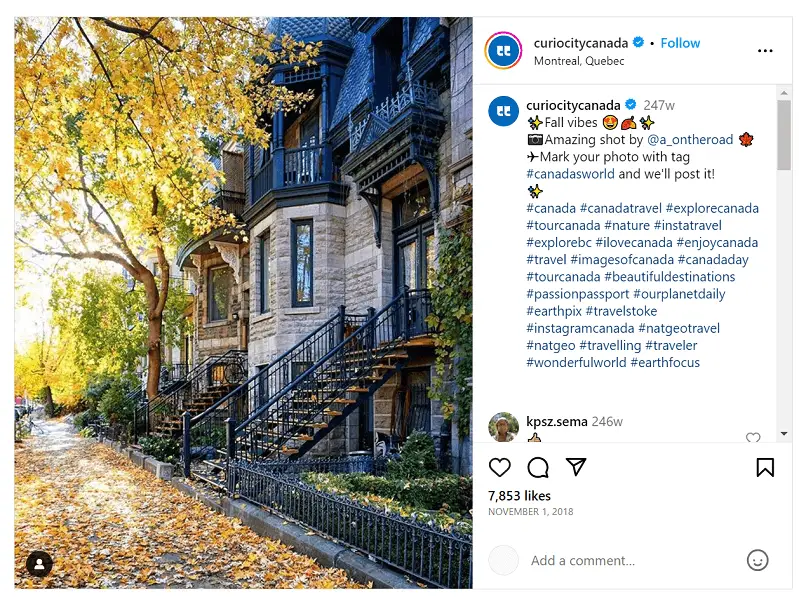 As you can see, another great photo.
One thing that we wanted to talk about is the hashtag nature.
As you can see, at the time of writing this, it has about 369M of posts; that is a lot.
That tells us that a lot of people are posting in this niche and using that hashtag. Your post could be seen by many people if you do the right thing.
On this instance, @curiositycanada was doing a re-post, and they had the original creator plus a short caption.
They are also raising awareness of their own hashtag, which is #canadasworld, they are encouraging people to use it, in order to get featured.
If you have an Instagram page in the nature niche, and you sometimes want to feature other creators, then you can do the same thing.
Create your own hashtag and make others use it every time they want you to re-post their photos.
It works well if you want to create a community and others to get more involved in what you do.
See this post by @nature_photobook: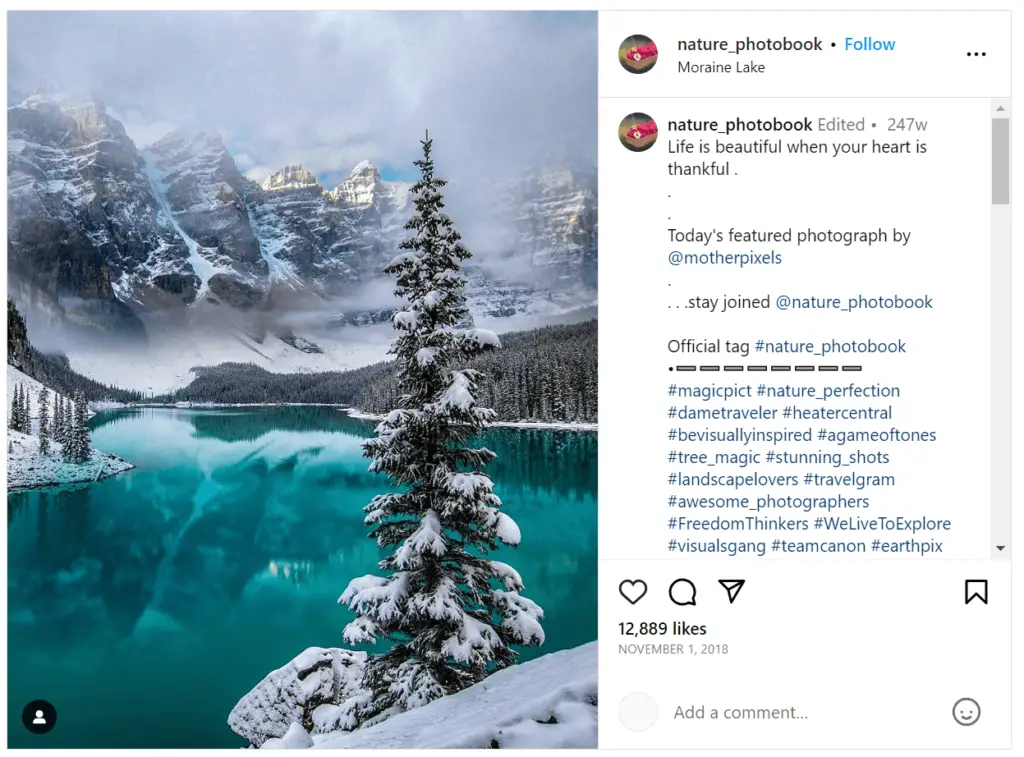 The reason why we are choosing to talk about this post in specific was that they are using #naturephotography and other sub-hashtags of #nature.
Take a look at how many post #naturephotography has: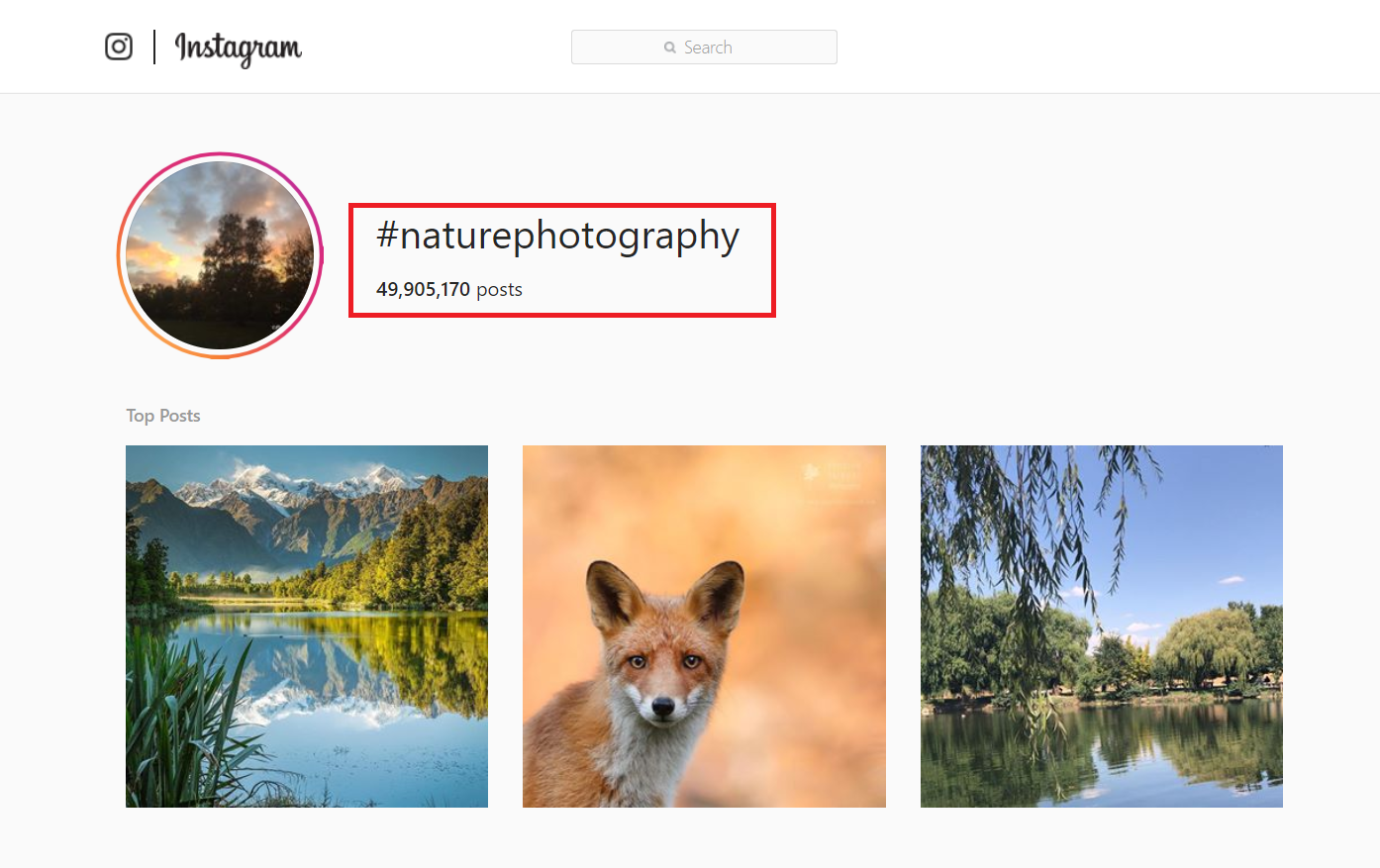 It has fewer posts than #nature and many others but this is why it is still important to us…
Sometimes it will be harder to rank on hashtags such as #nature, and that is why is important to always include low traffic hashtags such as #naturephotography and even #naturelovers and #natureseekers.
People still use it, but not that much, and that's a very good opportunity to stand out from your competition.
Let take a look at @igworld_global's post: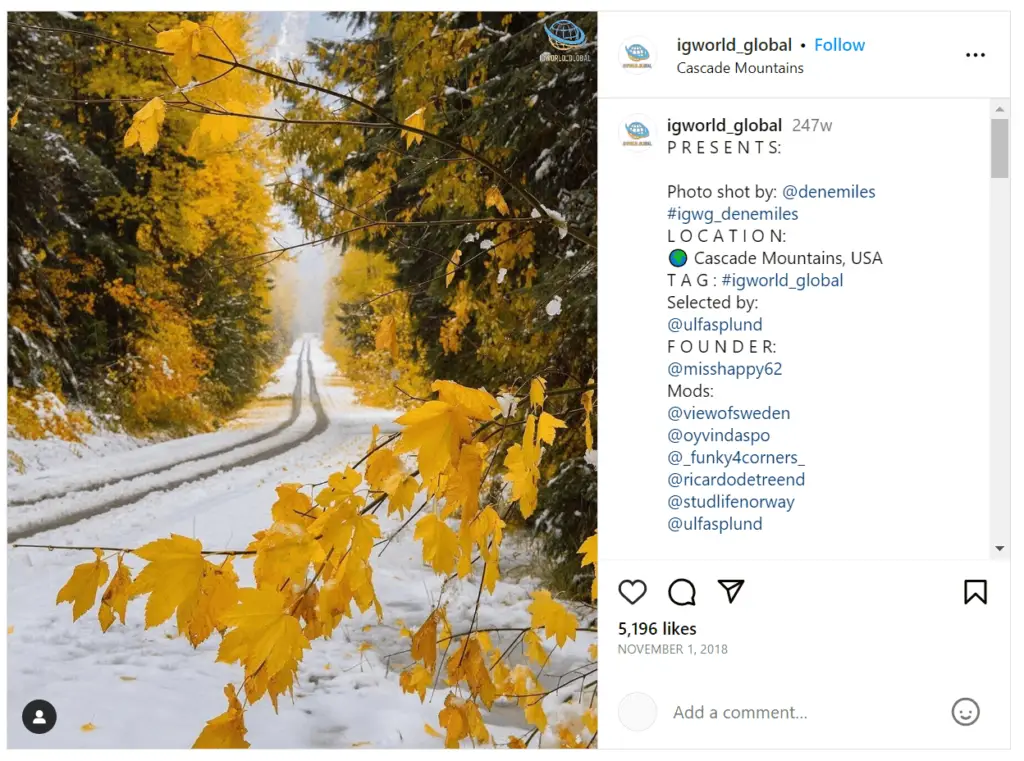 They are obviously doing something that works for them, but a lot could be done to improve their image.
Their captions are overwhelmingly long and contain a lot of information in a very monotonous manner.
They simply copy and paste a list of their founders, who selected the picture, "recommend friends hubs", and finally the hashtags, plus also the location, and the USA tag.
If you think about it, there is nothing wrong about sharing this type of information, but if you do it in every post, then it can get a bit boring.
If I was them, I would put the hashtags in the comments section, and maybe share who the founders are every once in a while.
The problem is that they are focusing on these things instead of sharing something about the picture or giving people value.
Almost every comment comes from a big page with more than 50k followers, which really tells that they are using a lot of engagement groups to grow their following.
In general, they have the audience, but not all of them are engageing with them like they should.
See how @nowdiscovering is doing it:
In our personal opinions, they are doing a great job in giving out value to their followers and also reaching out to new people.
If you take a closer look, their caption is full of knowledge and things that their audience is interested in.
They are actually talking about the photo and why they are posting it.
Notice how they are also raising awareness of #thediscoverer and #nowdiscovering, which are their own personal community hashtags.
Important: When using the copy and paste hashtags, the list will include 30 hashtags. But if you put 2 hashtags on your caption, you will have 32 hashtags if you then copy ours, which is not allowed by Instagram. Simply delete hashtags from our list untill the total equals 30.
Their caption includes 2 hashtags and their first comment, the other 28 hashtags to complete the 30 hashtag limit.
Instagram won't ever let you post with more than 30 hashtags in total; have that in mind.
Make sure to watch this YouTube video by Evan Ranft in which he talks about "Why your Instagram isn't growing" and what you can do to grow even more on this platform.
He talks about the different ways in which Instagram's algorithm has changed, and what you should know about it.
One thing that he mentions is how Instagram can provide you with analytics to help you grow even more.
We highly recommend you to watch it.