The world of social media has revolutionized the way we share information and connect with others.
Among all the buzz, pet influencers, particularly dog influencers, have carved a significant niche for themselves on platforms like Instagram and TikTok.
From fashion-forward pups to rescue dogs with a compelling backstory, the fascination for our furry friends has generated a booming industry.
However, navigating this crowded space and expanding your dog's online reach requires strategy and knowledge about how to use relevant keywords and tags.
One excellent tool that guarantees visibility is the use of hashtags.
When used properly, they can drive traffic to your dog-related content and increase engagement rates.
To help you maximize this tool's potential, we've compiled some tips and insights on using dog-specific hashtags effectively.
All these results were carefully picked and ordered for you by our team.
Just because most people want to copy and paste the hashtags into their posts, we made it easy for them to do that with the copy-to-clipboard buttons.
What these buttons will do, is that they will automatically save the hashtags to your clipboard, so the next thing you will need to do is just paste them wherever you want.
You must post relevant content as well.
For example, on Instagram, if you use hashtags, you will need to make sure that whatever you publish is related to them.
This will help you build and grow your engagement as opposed to just copying and pasting irrelevant hashtags in there.
The good thing is, we have put them into groups of 30.
This makes it easy for you to come back, and copy a different group every time you are posting in the same niche or about the same topic.
Always remember that any of your posts can get featured in the top section of a certain hashtag on Instagram.
This will dramatically bust your post impressions and will increase the chances of getting more followers, likes or comments, so be prepared for that in case it happens by always posting high-quality content.
Let's take a look at how other people posting in this niche are going about it.
Take a look at this picture by @mydogiscutest: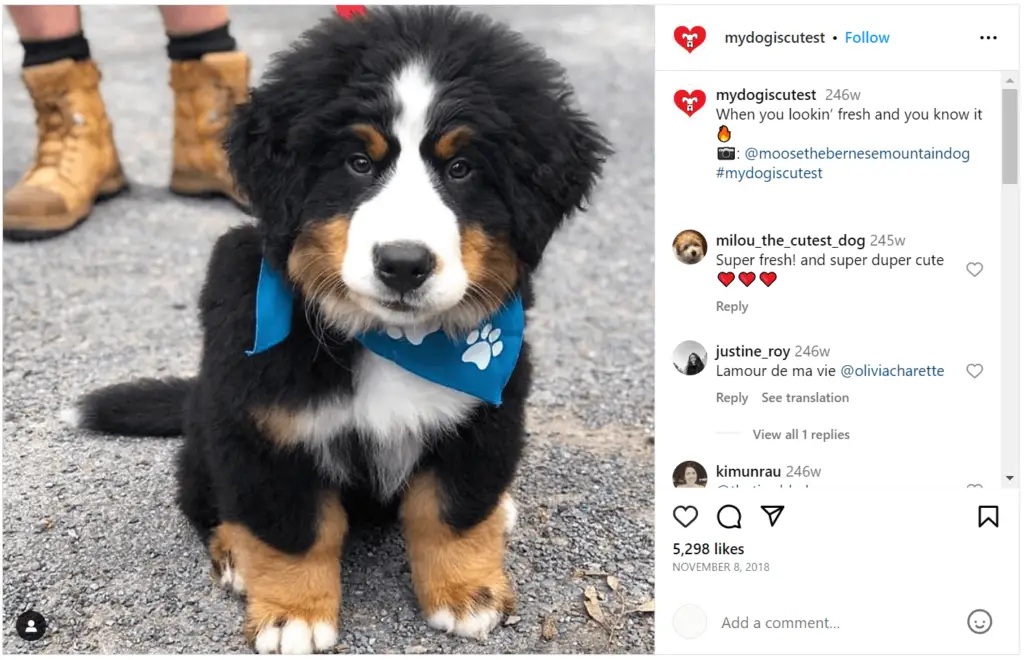 As you can see, the picture is a re-post from somebody else.
They have included a funny caption, and have given the proper credits to whoever took the photo.
You might think they are not even using hashtags, but take a look at their first comment: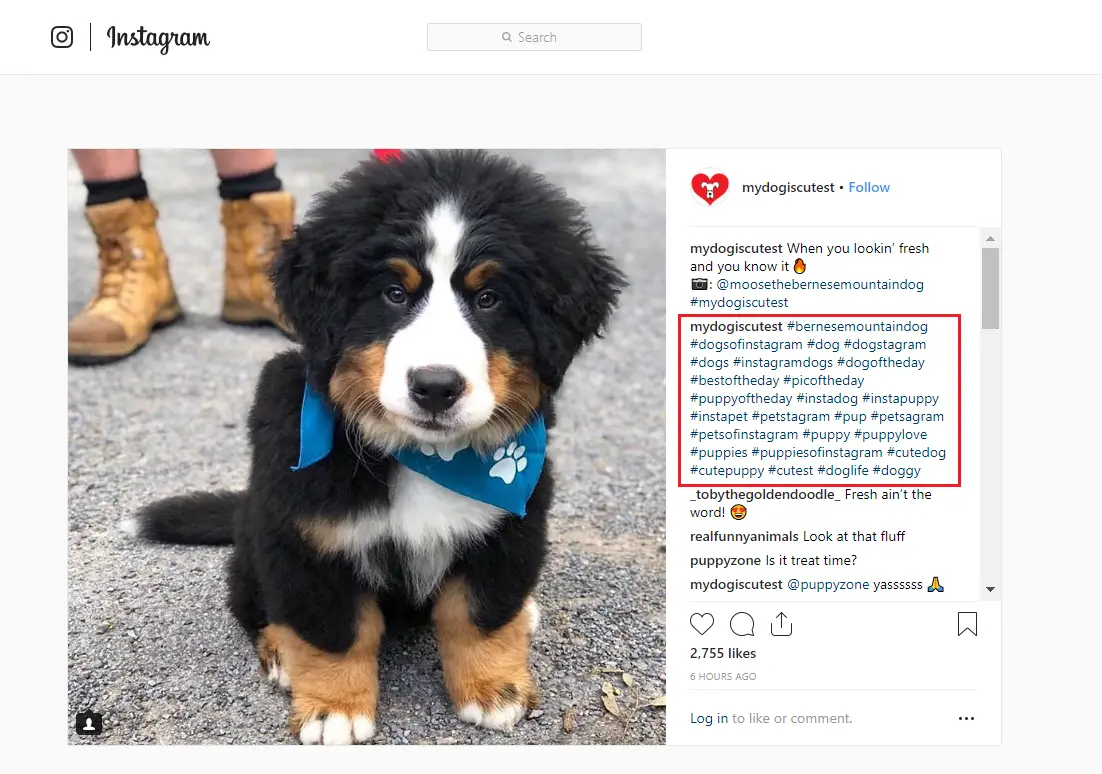 That's actually a great thing that you should do too.
Most people think that hashtags just work on captions, but the truth is, they work just as well in the comments section.
How should you do it? 
As soon as you publish your post, paste your dog hashtags as a comment. Notice how I said "as soon", and this is because these hashtags sections work in real time, meaning that photos will automatically organize themselves in a chronological order.
If you put your hashtags, say 30 minutes after you publish your content, that same content will still as if it was posted 30 minutes ago.
Then, fewer people will see it since it would take time for them to scroll all the way down to your posts.
Let's take a look at #dog: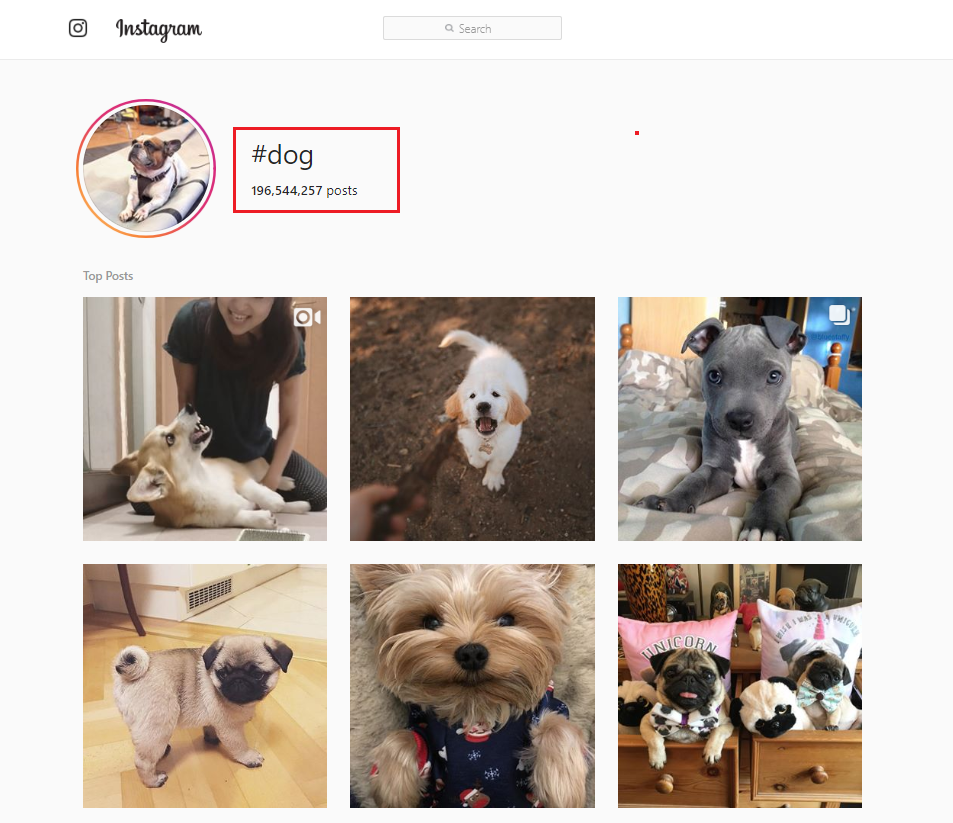 This hashtag at the time of writing this has approximately 200 million posts.
As we always say with big hashtags, that's a lot of content.
And at the same time, is good for whoever is posting in this niche, is good for you.
It tells us that there is an audience waiting out there to see your content.
Now take a look at #dogsofinstagram:
Again, another big hashtag with a lot of content.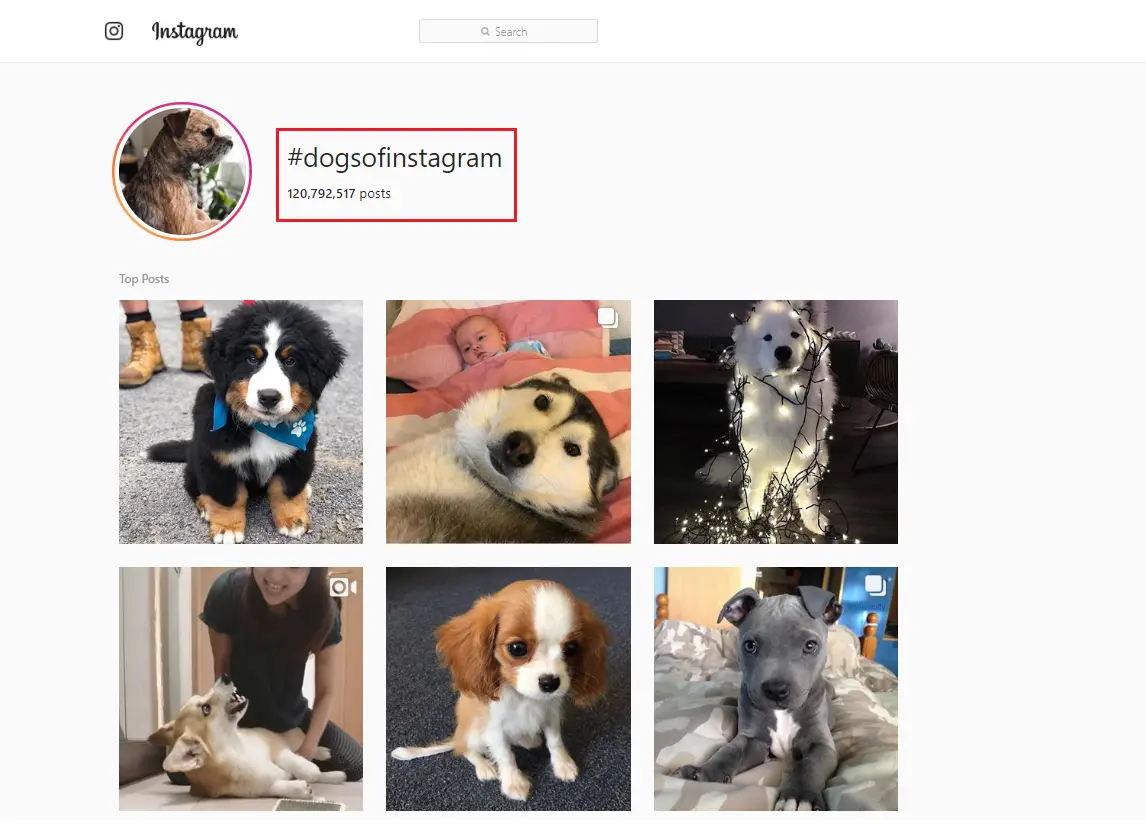 People are constantly posting pictures of dogs and anything related to them.
How do you stand out from everyone else?
The number one thing that we tell others is to not only focus on big hashtags.
There are many other hashtags out there that still get a lot of traffic, and have fewer posts.
These are the ones that will allow you to be in the top section, and maybe even get featured in the explorer page.
We have included them in our lists, so you don't really have to worry about any of this.
We just mention this just in case you see that we have put small-traffic hashtags and wonder why.
It is better that way and it will allow you to rank higher and have a higher chance of getting discovered.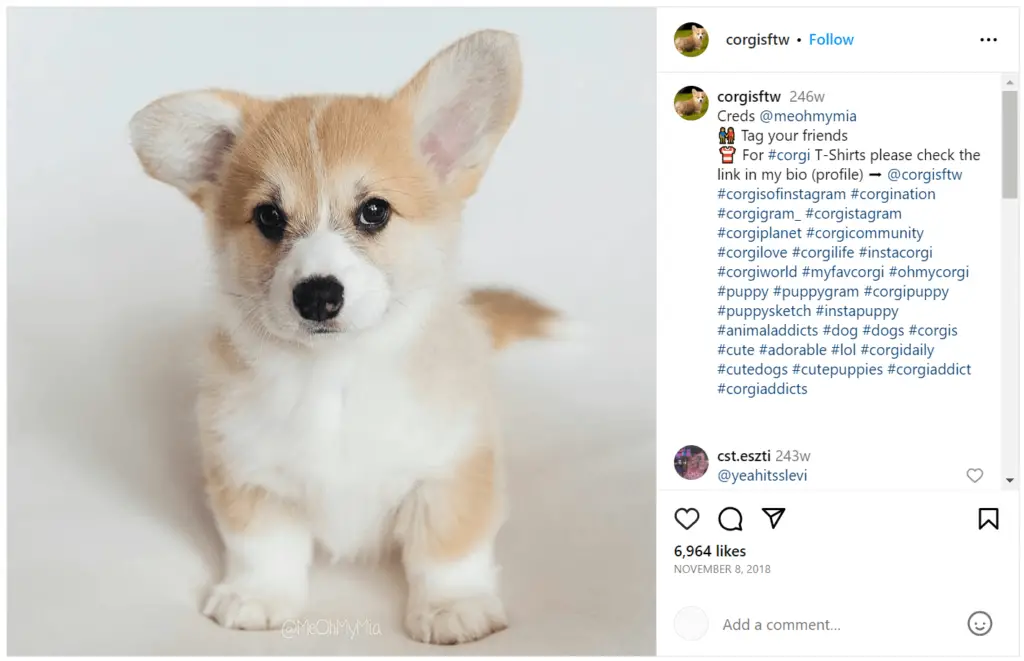 On the above post by @corgisftw, you can clearly see the difference between having your hashtags on the comments section and having them in the caption.
As you can see, it almost takes all the attention from the picture and the message that they are trying to share.
They did something that we always tell everyone to do, which is having a call to action or encouraging others to tag their friends.
It's basically free marketing; none of your Instagram posts should lack this part of the equation.
If this account wanted to increase the value that they give to their followers and maybe change the way they are currently going about it, we would suggest sharing a background story of the photo or simply talking about the dog in specific.
And then at the end of the caption, a simple…
What do you think about this? Let us know in the comments section below! Also, tag somebody that should see this.
… could always work.
Take a look at this post by @dogs_of_day: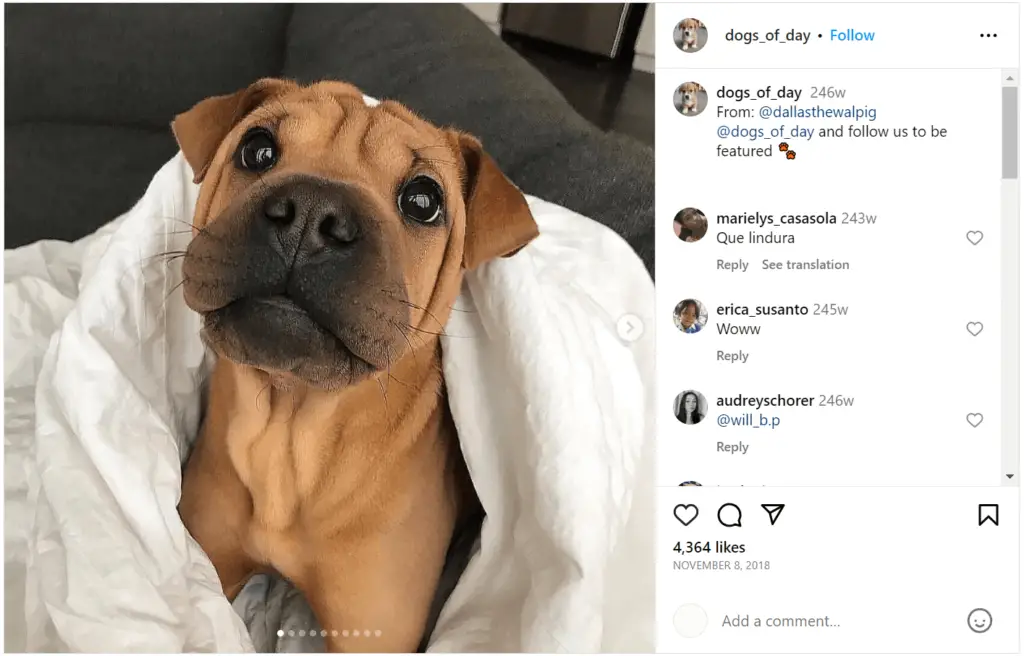 Again, a great post, with its hashtags in the comments section, and doing a re-post from another account.
It looks like the big majority of pages in the dog niche, are re-post accounts.
Nothing wrong with that, it's just that if you are doing the same, then just know that your competition is higher than ever.
You need to find something that makes you unique and build your community based on that.
If you can come up with new ideas, then that's also great.
What I'm trying to say is that, while having a big competition could seem extremely bad for some people, it's not the end of the world, and you can still grow your Instagram page around it.
You just need to have in mind that there are others doing the same and that you need to set yourself apart from them in a way.
Have in mind that setting yourself apart shouldn't be hard to do, just bring something new to the equation.
How to be different from your competition in the dog niche?
For example, as I mentioned before, you can always:
Talk about the dog
Share the story behind the page that you are re-posting from
Talk about yourself and why you are doing this
Share a fact about the dog
Explain how and why the picture was taken
These are just a few, but it all comes down to the value that you give others.
Most of these dogs pages don't even have captions, they are just putting hashtags all over the place just to gain followers.
So, make sure that you do both, together with having a high-quality feed, and you will be doing better than everyone else in just a matter of time.
How to grow a dog page on Instagram?
There are many ways that you can grow a dog page on Instagram, let's just talk about the most important ones and what it's really working now:
If you are reading this, then you are already there.
Just scroll up, and copy any of our selected lists; just remember to post it in the first comment and always do so right after you publish your content.
2- Give value to your audience
We've talked about this before.
Just make sure to do something more than just posting a photo or a video.
Interact with your audience, share facts or interesting things about what you are doing.
Just give more than whatever they would expect, and you will be good.
3- Always post high-quality content
Nowadays this one is easy with the big number of people having smartphones on their hands.
If you are a re-post account, pick pictures that are high-quality and go with your feed, if you have a personal dog account, then try to take the best pictures possible.
Have good lighting, good frame, etc.
4- Have a searchable username
This is not really something that you should worry about too much, but it does impact how people perceive your page and how they find it.
See the difference between @dogpictures and @d0g.p1ctu_res3449.
Which one do you think would rank higher for the keyword "dog pictures"?
You guessed it, the first one.
I'm not saying that you should go crazy about having a good username or an exclusive one, but just make sure to have something professional and easy to write.
See @dog:

They rank on Instagram for many dog-related keywords, so they pretty much get free marketing and exposure in the app itself to whoever is searching dog content, without having to do anything.
If the username that you want is taken, try coming up with new words to include in it.
The longer the username the bigger the chances of that same username being available.
Just at the same time, don't make it too long.
5- Join a DM or engagement group or create one
An engagement group or a DM group, is basically that, a group of account with about the same number of followers that like and comment on each other's photos.
This is with the intention of making Instagram believe that their content is worth a feature on the explorer page or a bust on people's timeline.
The thing is, that it's sometimes hard to find these groups, and even harder to do it for free.
So, a good thing would be to create one yourself.
Find accounts with the same number of followers that you have or more, and ask them if they want to join your group.
If they are trying to grow on Instagram, chances are they will say yes.
So, DM about 20 different accounts, and then wait for about 5 of them to say yes, and create the group.
6- Get featured by other big pages
This one is easy and very effective, but it really works better if your account is a personal dog account, or if you are really the person who is taking the pictures.
Most dog accounts are re-post account that just ask for a mention or tag in your original photo in order to get featured.
So, do this, plus send them a DM, and you will see how most of them will be willing to featured and give you a shout out on their pages.
Have in mind that many people will want to charge you money for this; is up to you, a big number of them will do it for free.
Now…
Make sure to read our article called 20 Clever Ways to Actually Get [REAL] Followers On Instagram if you want to further learn more tricks and tips on how to grow an account on Instagram.
Or just click or press on the link box below.
I encourage you to read it, since we really talk about more than just one niche, and how we've done it ourselves in the past.
You will learn a lot, and you will hear things that most people don't talk about.
You should also watch this YouTube video by Chris Hau in which he talks about 10 tips to beat the (Instagram) algorithm:
One thing that you should really pay attention to, is where he mentions that you should always be consistent with your content and feed.
If you post about dogs, and your page is all about puppies and everything that has to do with them, then you should stick to it.
Just like that, people will always come back to you every time they want to see that same type of content.
Another thing that he says is that you should use about 25 hashtags. In our opinion, there is really not a difference between using 25 and using 30 hashtags.
Just make sure that they all make sense, and have something to do with each other; we have done that for you already.