The world of social media can be a complex maze for artists looking to grow their reach online.
Understanding how to properly utilize tools like hashtags is essential in navigating platforms like Instagram and TikTok.
These tags act as a free marketing tool, increasing visibility and influencing discovery of your art by potential followers or customers.
A well-chosen hashtag can significantly propel your content to broader audience pools.
However, integrating them into your social media strategy is not as simple as tossing random words after a '#'.
It requires a calculated approach and understanding of your targeted audience.
In this article, we delve into the power of art-related hashtags, sharing strategic advice to amplify your social media presence.
Art Hashtags For Instagram and TikTok
Why were these selected as art hashtags?
What we did is that we tried selecting the words that were used the most along with the word "art" and we matched them with the most popular Instagram art hashtags.
If you notice, a big majority of them won't specifically classify your art, which could come as a very useful thing to get more people to see your content.
As you will see, many people have seen success by using these hashtags and they have grown their accounts to more than 10,000 followers.
You could do this the same thing if you put the right effort and do the right thing.
Let's take a look at what others are doing to grow their accounts and what you could do to get noticed on Instagram too.
This photo for example: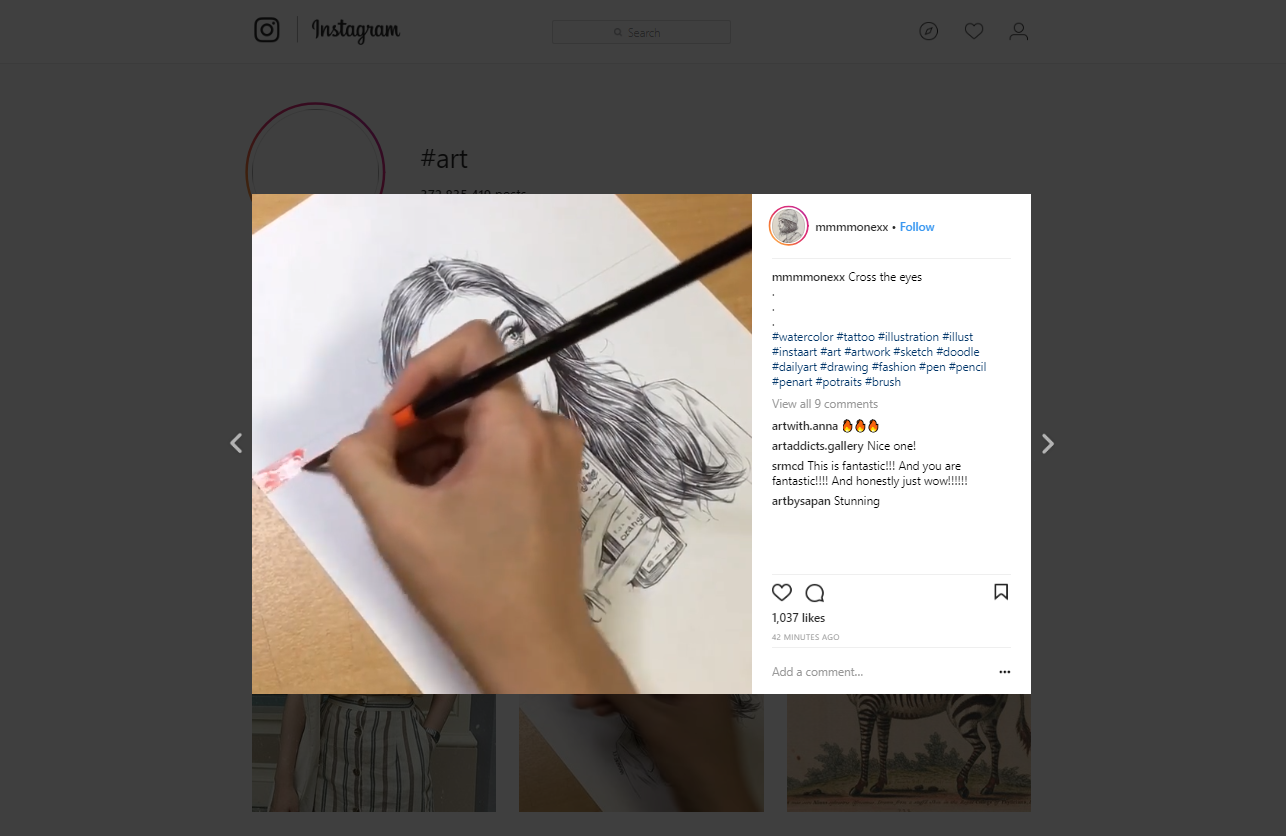 As you can see, they are not using all of the 30 hashtags that are allowed per post, so, that's a lot of potential engagement that is being lost, at least for that specific post.
They used hashtags such as #art, #dailyart, and #instaart (all included in our list), which I'm sure brought many impressions to that post, so this is something good that they did.
Now…
This account if we take a closer look, is fairly big: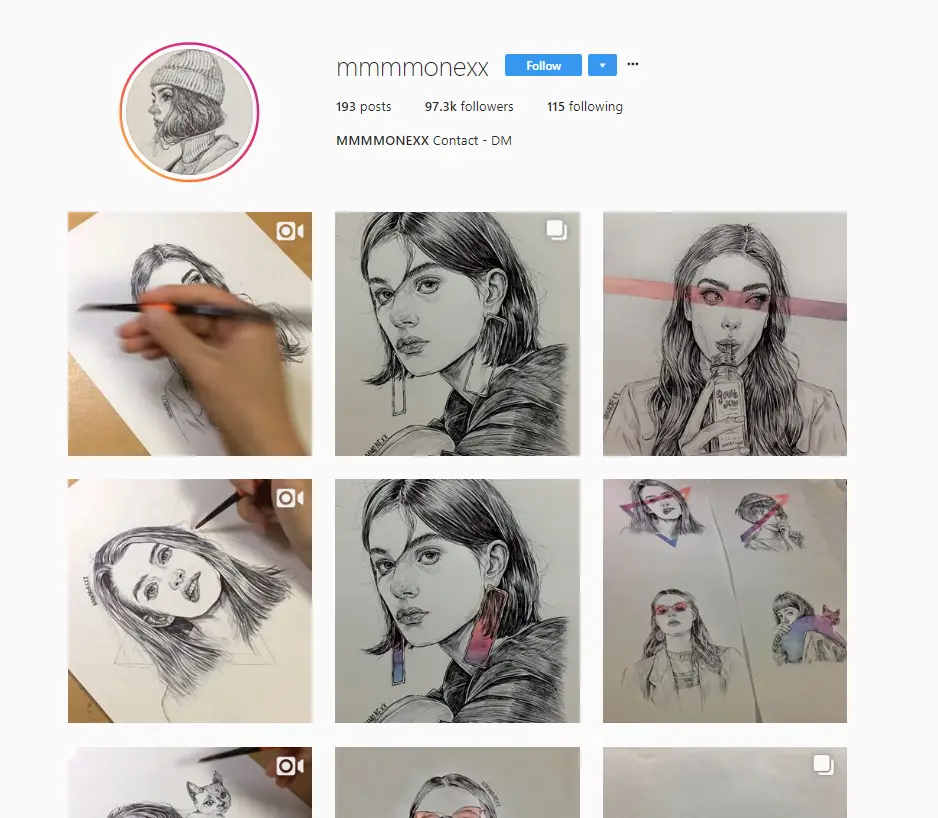 If you notice, in every single post, there are at least a few hashtags being used.
What this tells us is that there is a clear path to gaining an audience by using hashtags in the art niche, so we are not actually wasting time right now.
Instagram's algorithm works in a way that if it sees that people are liking a certain photo more than others, it decides to put that same post in the top section of whatever hashtags are being used.
This is eventually what engagement groups are for.
An engagement group is:
An Instagram group chat featuring many accounts that like each other's pictures right after they are published), so you could get featured regularly on the top section and gain even more followers.
As you can see, they posted a very high-quality picture, and ironically, they are asking their followers if they want a feature on their page (this is another great technique to get noticed faster on Instagram).
This next one is by cgjunkies: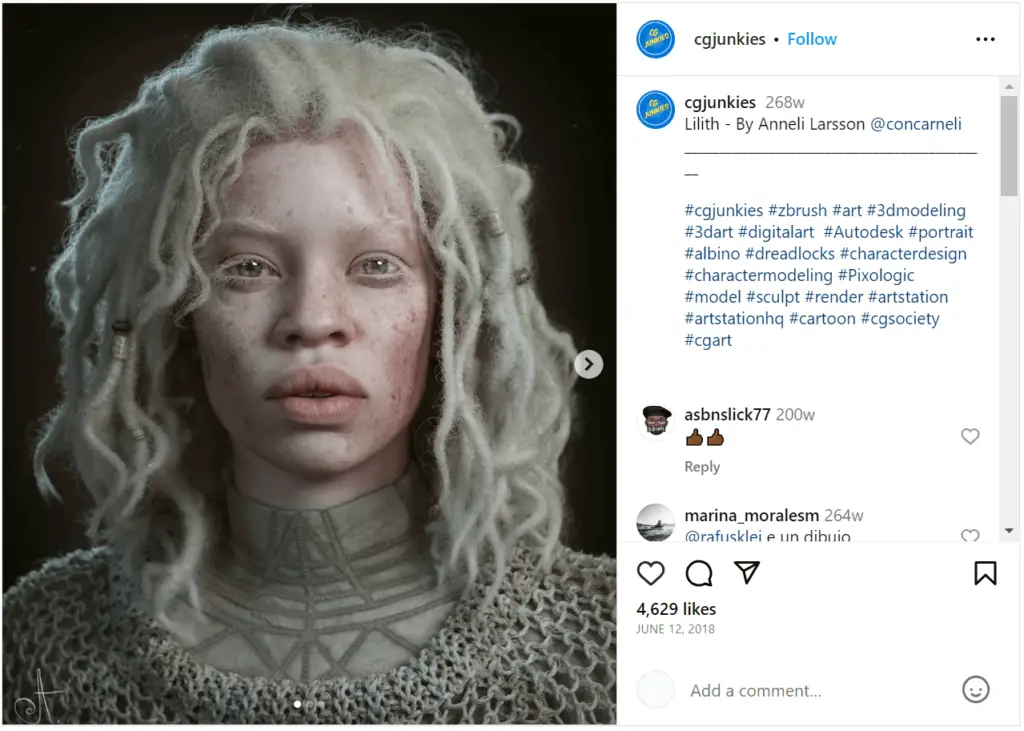 If we have to get something from this post, is how they also use targeted art hashtags.
This allows them to stand out even more because when you use less popular hashtags, yes, you will get fewer impressions, but you will also stay at the top for a longer period of time.
The caption is very simple. One thing we would recommend is always encouraging others to comment by maybe asking a question.
That same caption could turn to something like:
Lilith – By Anneli Larsson. What do you think about it?
Then people would actually feel like they are being asked to share their opinions.
Is a very small thing to do, but in the long run, it does makes a huge impact on how your audience sees you.
That, right there, sets you apart because you are not just posting and posting, you are also trying to create a relationship with others on the platform.
This next post is by thehappyevercrafter: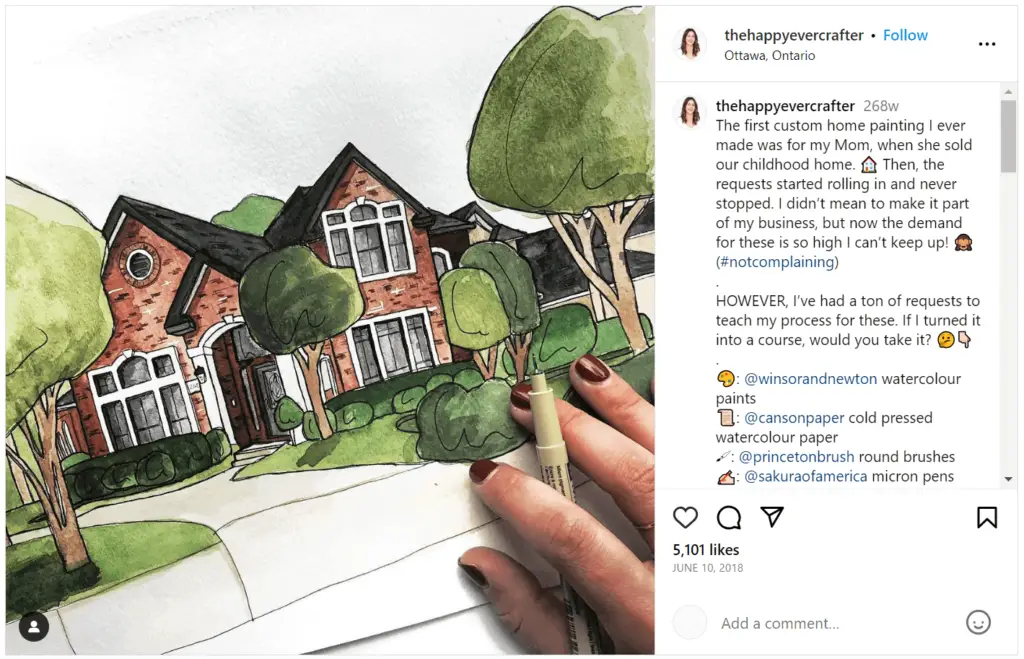 This post is very unique in many ways.
As you can see, is a very beautiful drawing and it is actually telling a story, which is something that compliments the post in a great way.
Judging by the caption, they weren't trying to include too many art hashtags, which came out looking very natural.
The hashtags are very specific, and one good thing that we noticed is how they describe the post, for example, #watercolor, #watercolourpainting.
If you search for this hashtags you would expect to see this post, and that's something important and clever to do.
This next post by cbcarts however, takes a different approach: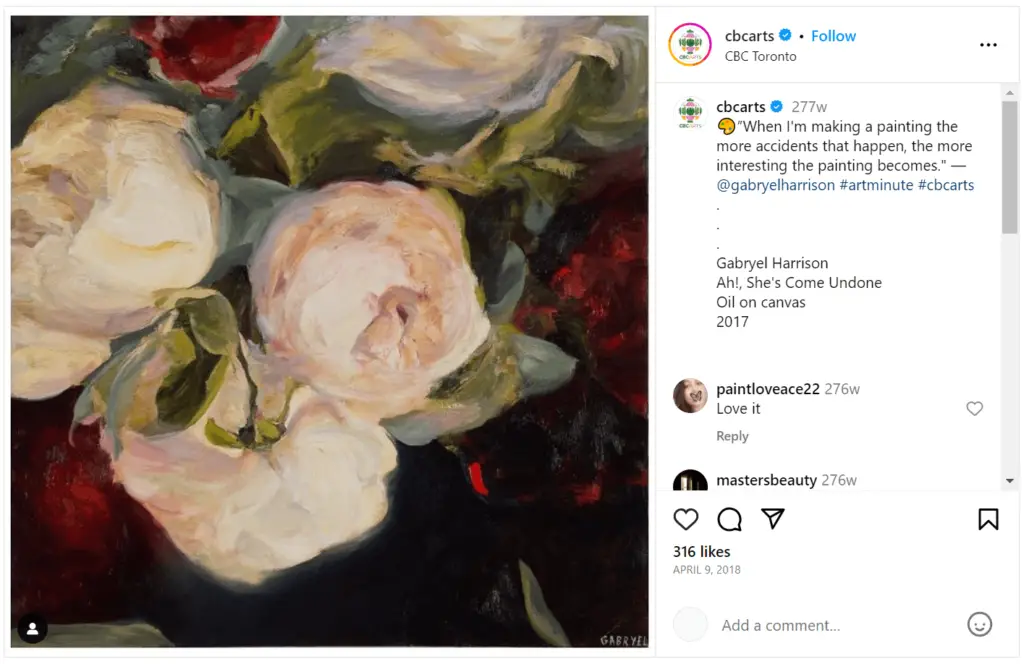 As you can see, this account is verified, which already sets it apart from many other small ones.
Whatever they post will have higher chances of getting featured in the top section of the hashtags being used.
They have put more attention into these two hashtags #artminute (included in our list) and #cbcarts (which is their own account username).
But if you read the whole caption, they have other hashtags that are also giving them impressions across Instagram.
I don't know what their intentions are, or their marketing strategy, but in our opinion, it seems that they are putting the most valuable information first, which is a great practice.
Now…
As we saw, all of these accounts use art hashtags, and some have also created and used their own brand name as a hashtag, this brings us to our next observation:
Creating or using your own hashtag: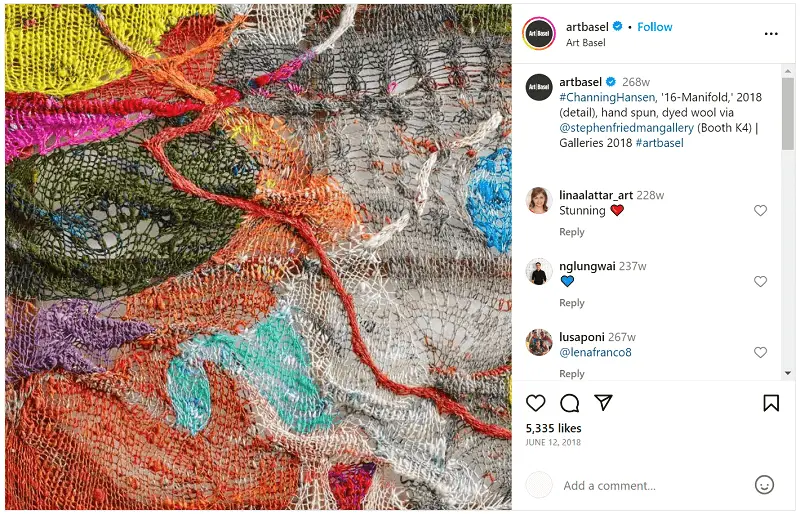 As an example, the popular account artbasel, in this post, is only using one hashtag, #artbasel.
They don't really pay attention to using 30 at this point, but they are trying to get people to use their own brand hashtag, which is ultimately what you want to do as well.
Especially if you have your own brand, or have any side hustles that you do on a daily basis.
Make people know you for a specific hashtag, and make them post using it, this will bring some free promotion to your page in the future.
Let's take a look at this YouTube video…
In this video, Sara Tepes goes over how to get noticed on Instagram with an art account.
We found this video very helpful to watch.
She ultimately says how she gained 50K followers in 3 months, and gives us tips on how to do the same.