These are the best hashtags for musicians on Instagram.
You can always use the copy buttons to copy and then paste them into your social media if you want to grow your online presence and build your brand.
Have in mind that things like what and when you publish will change the results you get.
Keep reading as we will give you what we think is the official way of getting followers this year as a musician.
And no, we won't sell you anything, is all here in this article for free.
Hashtags for Musicians On Instagram & TikTok
Tips to Know Before Using any of These Hashtags for Musicians
One of the first advice that we give people is to always post high-quality content or to always give out their best.
You never know who is going to see your stuff or when, so you better be prepared at any time.
Now, this year?
Videos are definitely taking over the internet if you ask me, and if you aren't posting your music on Instagram in a video format, you are definitely missing out on some really good things.
I will now be giving you various examples of how people are using these type of hashtags for musicians to get famous in the industry.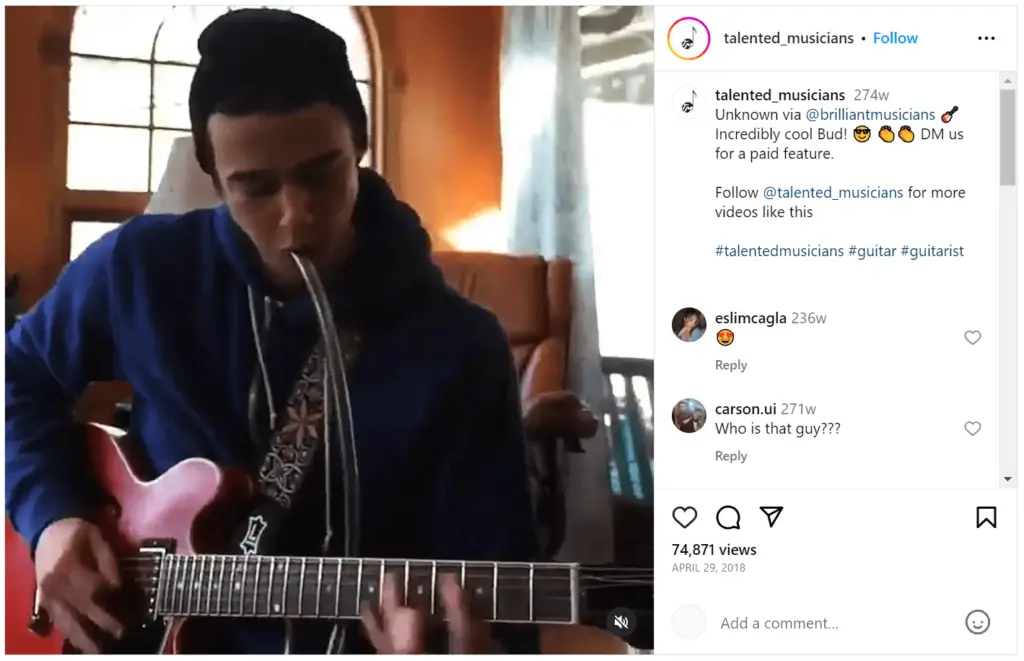 In this post by @talented_musicians, they make use of the hashtag that they are mostly known for (#talentedmusicians), which is their own username.
Aside from that they go ahead and do a mix of targeted hashtags with broad ones to create a balance that will eventually make them get better results.
This is why…
For example, #cello, #cellist, #bass, these are the targeted hashtags. Others like #musicians, and #string, tend to be broader and get more traffic.
When you mix them you will most likely get both targeted followers or people interested in cellos and babies, and musicians in general or people that are searching for a string instrument.
Since broad hashtags get more traffic, your post will get more impressions, but hopefully at the same time, with the help of the niched hashtags, you will also get people to engage with you.
Let's take a look at this video by @daily.musicians: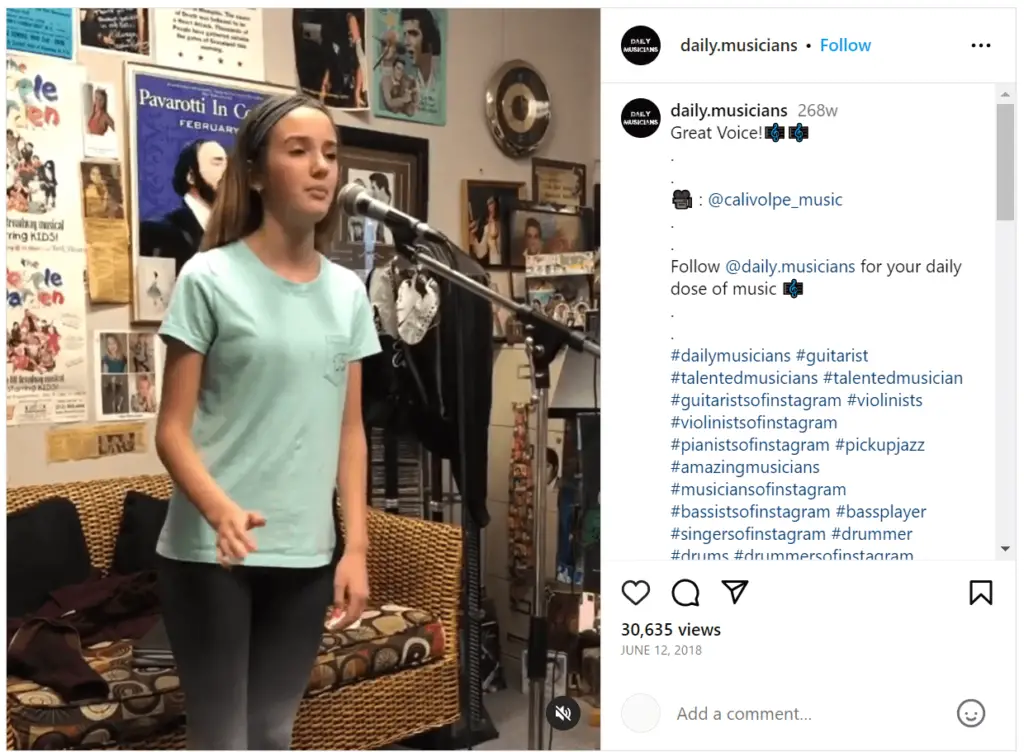 They made use of hashtags for musicians by doing what the first user also did.
The first hashtag is their own brand name and it's followed by many targeted-broad hashtags.
Now, I always talk about how there are only two categories of hashtags (broad or niched hashtags), but this time they have actually implemented both in many of them.
For example, #singersofinstagram.
This hashtag gets a lot of traffic, but at the same time, it is just about singers.
In comparison to #love, this one is doing both attracting a large number of people and getting targeted followers as well.
One thing to notice is how they used #drummer, #drums, #drummersofinstagram, but at the same time, there is nothing to do with that in the video.
This is just a heads up.
It is ok to do this every once in a while, for not every day, but for every post.
I'm really sure they are missing on a lot of good hashtags to use for their page when they include some hashtags that have nothing to do with their content.
Let's take a look at this video by @ig.musicians: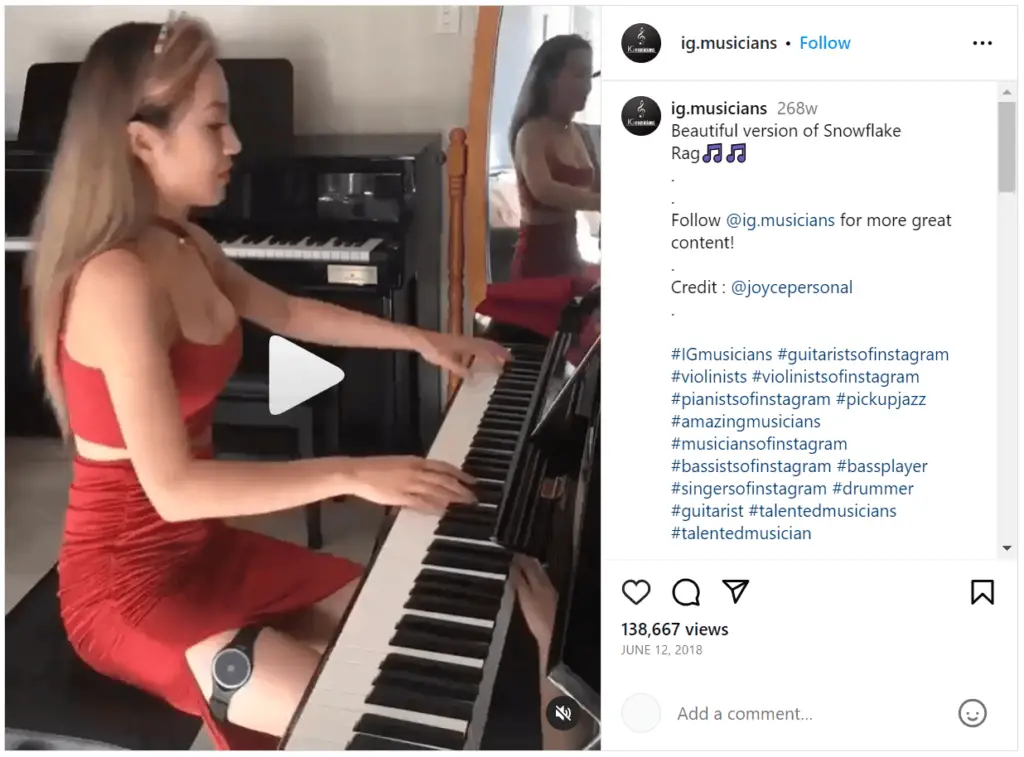 At this point is very clear that they all have already established their own hashtag, which is great.
The only thing I have to say about this post, and thinking about it, all of the ones I've talked about up to this point is the following.
None of them put the hashtags on their captions, and in my opinion, as you know, it looks very messy to have them in the captions.
Too many things are going on at the same time.
They are using hashtags such as #bassplayer without having any bass player in the video.
This is eventually one potential targeted audience that is lost.
This is because the people that are looking for #bassplayer won't really expect to see a piano in there.
This page is great, but these little details are making them miss on some extra success.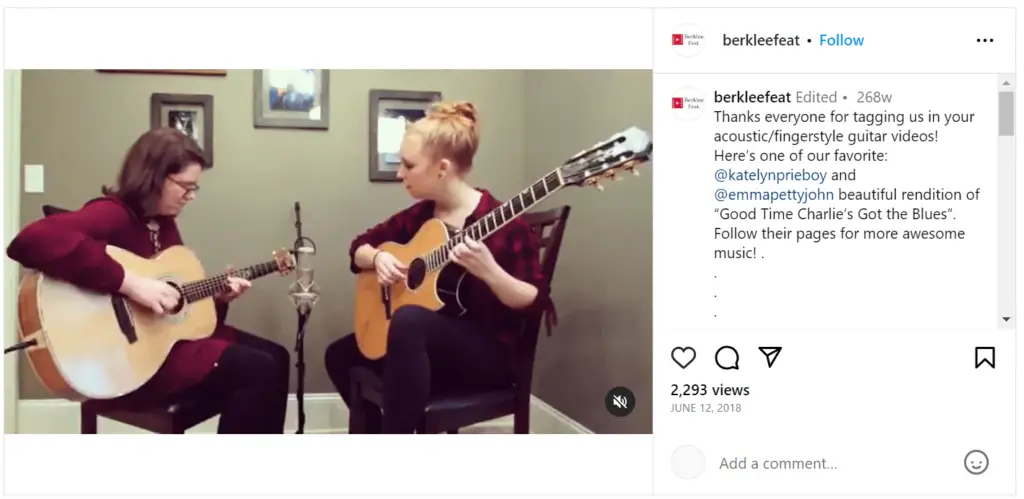 Good use of targeted hashtags for musicians, and also for their own brand.
For example, #berkleecollege.
People searching for that will want to see this video and will most likely engage with it by liking it, commenting on it, or even following the user.
I like that there is a background of why this video is getting posted (they got tagged), and how they encourage their audience to check them out as well.
Unlike many of the other pages that are just doing it to grow their brand, @berkleefeat is actually creating a friendly community and is sharing it with other users as well.
There is a huge difference between:
Awesome playing.

Credits: @whoever

Follow me for more (x3)
And…
Great playing by @whoever, go check their page out and comment what you think about this video in the comments section below.
As you can see, the second one comes off softer and is not simply encouraging others to follow the user, but rather engage with them.
This is a good practice if what you are trying to build is a long-term business.
Now, I will be showing you two different posts by @brilliantmusicians, and I will tell you what I think they are being great at, and what I think they are doing wrong at the time I'm writing this.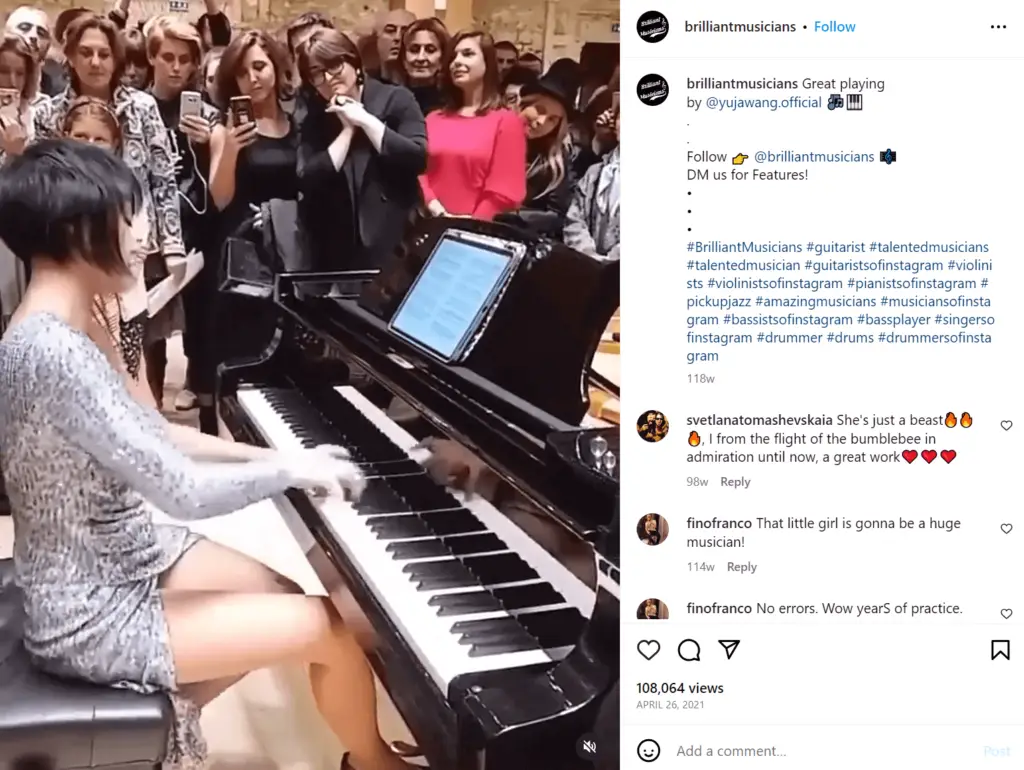 For this post, many things are going on:
1- They simply posted the video for the sake of it.
They don't try to interact with their audience.
A good way of fixing this could be to ask a question, or instead of saying which song the guitarist is playing, they could say:
Which song is this? I've been looking for it for years.
Now, even though they might know that he is playing Hotel California, people will comment saying what the song is.
The more recognizable the song is, the more people you will get to engage with you.
Then after they comment, respond to each and every one of the comments, and like them as well.
2- Hashtags in the captions.
I never feel tired of saying it, but they will always look more professional and appealing if they are in the first comment of the post.
When you post the video, right after, post the hashtags as the first comment, this will still work, and every hashtag will still give you the traffic you want.
3- Some hashtags don't make sense. 
Yes, they will still get impressions, but not really the ones you want to get.
For example, #violinists. This hashtag is on the other side of the picture.
I bet nobody looking for a violin wants to see a piano cover of a song.
Try mixing broad and niched hashtags for musicians, but make sure they make sense to what you are posting.
4- High-quality content
Not everything I have to say is negative, they do post content that even I would sit down and watch.
So, I really have to see that when it comes to content, this user is choosing everything that is very easy to watch and enjoyable.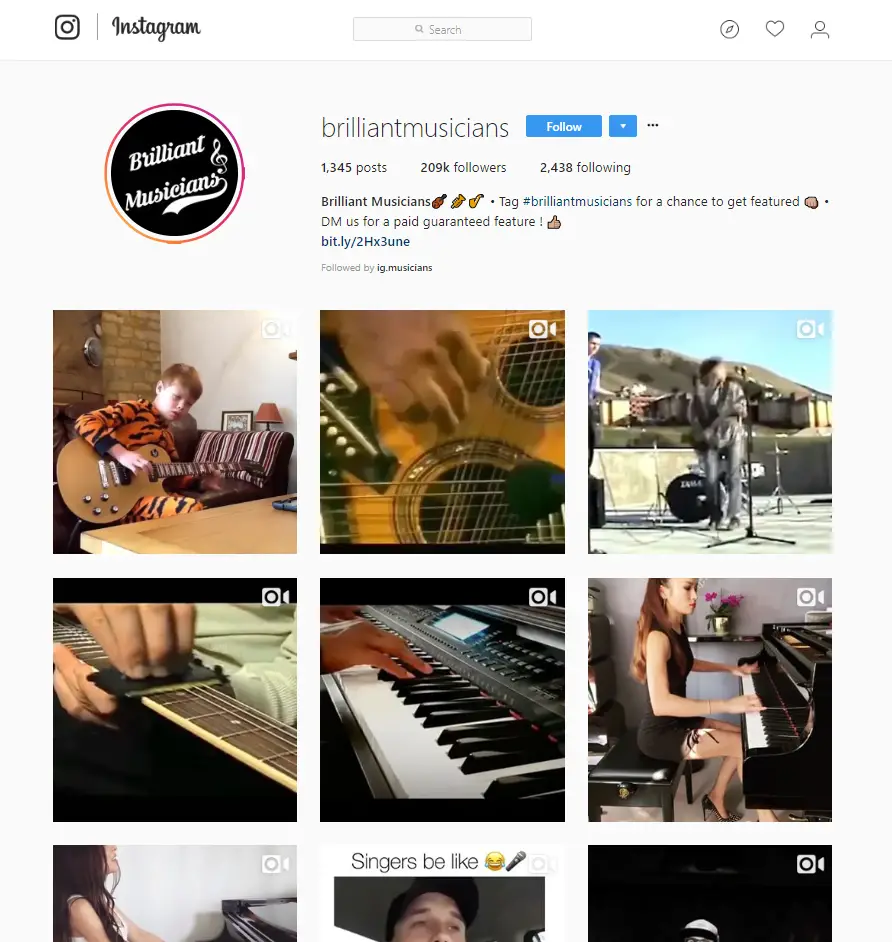 They are doing just fine like this, it is working for them.
They have for a few posts, at the time I'm writing this, +10,000 likes and 100 comments, that's great.
But I just think they could be doing better if they pay attention to these small details.
This second post is also by @brilliantmusicians:
As you can see, this one got fewer likes than the one above and fewer comments.
The video itself is very high-quality and interesting.
The hashtags were very light, which might be the reason behind having fewer likes than the other post, and again, their audience wasn't asked to engage or comment on the post.
The very big way of getting followers nowadays:
Instagram is the app for musicians, there is no doubt about it.
Now, in my opinion, this is how you can get thousands of followers.
Let others repost your content while they give you credit for it.
It is that simple…
Record yourself playing or doing your best work, put it to Instagram, and then tag every major account that is already reposting content from other accounts.
Some of them will tell you to pay, but some others will do it for free.
Many of these users have 100K+ followers on their accounts, which is insane that you could even be able to get exposed to that many people so easily.
Try sending them direct messages asking if you can get featured.
I will tell you right now, if you use this, together with using the right hashtags for musicians, you are on the path to great success.
In this video, by Alchemist Ventures, you will get a few other great Instagram advice to grow your account as a musician. 
I encourage you to watch the whole video since they are growing their pages themselves and know what has worked out and what hasn't for them.