This is our selection of the best makeup hashtags on Instagram. Many of you have been suggesting this list, so we finally did it. We based our research on what other words are commonly used in this niche and what's more relevant to it. Now, always remember that your success will highly depend on how you use them, the time of the day that you post, and of course the content itself. Keep reading for a few tips on how to grow a page in the makeup niche and some other things to consider.
#makeup #makeupofinstagram #makeuplook #makeupaddict #makeupworld #makeuppaint #makeupdolls #makeupwedding #makeuppassion #makeuptexture #makeuptutorial #makeupaccounts #makeuppowder #makeupmascara #makeuptime #makeuppro #makeupvideos #makeupvibes #igmakeup #instamakeup #makeupartist #makeupjunkie #makeuplover #makeupbyme #makeupparty #makeuponpoint #makeuponfleek #makeupideas #makeuplife #makeupoftheday
#facialmakeup #makeuppictures #makeupic #makeupstage #promakeup #prommakeup #summermakeup #makeuppost #makeupphoto #cosmetologist #televisionmakeup #makeupproduct #makeupportfolio #makeuptips #makeuptools #makeuptricks #makeuptraining #makeupevent #makeuptype #makeupgrain #makeupblood #makeupteacher #makeuptherapy #makeuptrial #makeupteam #makeupthings #makeuptalk #makeupacting #makeupmodel #makeuponline
#makeupoftoday #makeupofig #makeupdone #makeupobsession #makeupcream #makeupofthenight #makeupfortonight #makeuponthego #makeuponly #makeupcolor #makeupshop #makeupgiveaways #makeuponabudget #makeupcollection #makeupchat #makeupclip #makeupcollab #makeupclient #makeupclips #makeupshortvideos #makeupigtv #casualmakeup #makeupvanity #makeupblog #makeupbrush #makeupbrands #makeupbeauty #blushmakeup #makeupsteps #facepowder
Show More
These were carefully picked so that they all have, in one way or another, a correlation with the word makeup.
People use these hashtags to post pictures of themselves after they finish doing their makeup, and/or to promote products or anything related to this niche.
We tried separating them into groups of 30 (which is the limit that Instagram currently has) so that whatever is at the top, will be more relevant to the word that is being searched. Usually, you may find some words that are not necessarily relevant to what you are posting, but in a sense, they will all have something in common with makeup. A good practice is to actually go over what we provide you, and pick the ones that are most related to your brand or whatever you are posting at the time.
Many accounts have been seeing a huge growth by using makeup hashtags, and they always do even more if their hashtags are niche-specific, that's why this list will be helpful to you. For example, you don't want to have #table, in a photo of you showing people how to fix their hair.
https://www.instagram.com/p/BvVZyOAB3Xl/
As you can see this user is featuring a video of her doing her own makeup. She decided to put several hashtags related to makeup, and as a result, we were able to find this post in the top section of the makeup hashtag minutes after it was posted.
This means that it got exposed to every single person that searched for that hashtag at that specific moment.
Another example is this picture:
https://www.instagram.com/p/Bj6QEfohtYR/?taken-by=kristinaamcnabb
This one is different in many ways from the first post that we showed you.
Why?
First, is a picture of her makeup already done and secondly she decided to put the hashtags in the comments (which you should already know it as the best practice since it does the same job as if they were in the caption, and it does look way better than having them exposed to your audience).
If you go to this picture, she even responded to every comment that she got, keep reading to know more about why this is important.
This post was also featured on the top section of #makeup.
https://www.instagram.com/p/Bj6bBo5BMvs/?taken-by=milk1422
This one did put the hashtags in her caption, and as you can see all these posts are relevant to makeup. People will most likely engage with her content since that is what they are looking for after all.
Think about what people are searching for in terms of hashtags.
To explain this even more…
The hashtags that you use should be something searchable by others. Let's say, #makeupfordinner, #makeupforschool.
In comparison to that, nobody will ever look for #makeuptoolstobuy on Instagram, people do that on Google.com.
In this YouTube video by Girl vs Globe, this topic is further explained. She is actually growing its own personal brand with the help of Instagram so she does know what she is talking about.  
Ultimately, her point is that you should use hashtags that are appropriate for your account size, relevant to the picture that is being posted, and very specific to what is happening in the post.
Now, imagine you already posted your photo or video, and eventually, you have people commenting and liking your content.
What's something you can do to make sure they become your future followers or audience?
Respond to every comment even though some of them might be a bit spammy. Try engaging with every account that is trying to do the same.
What you want to do is create a relationship with them so they can come back every time and show you more love. Yes, there will be people that just want to get some followers, likes, comments, and ultimately grow their pages as well, and they will just comment on your post things like:
Hey, follow me (emojis)
Lovely post, like my recent
These can be annoying, we know that.
But…
You don't need to to be rude and tell them to get out, you can simply like their comment and that's it. You will eventually find that if you do this, people will actually keep commenting because they feel like they are being part of something.
In marketing, they teach you that people like to feel special, so try doing this, and you will see that your results will be just better.
This next page is an example of a makeup page with a big following, let's take a look.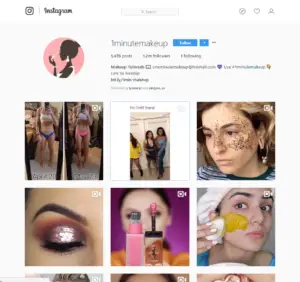 As you can see, they repost content from other people, so they don't actually own everything they post. What can we take from this?
If you want to provide your audience with something more than just your own photos or videos, reposting one or two posts from other accounts will keep your content fresh too (do not overdo this). This will hopefully make the other accounts do the same and repost your posts, which is basically free promotion after all.
By doing this you are doing something more than just creating content, you are creating a relationship with other people in your niche, which in the long run is always a good thing to do.
Should you buy shoutouts from them?
A shoutout is basically them telling their followers to go and follow you. This can be great, but there are many other things that go along with this, and you need to keep an eye on them.
Usually, you will have to pay, sometimes a lot of money for just one hour of them posting your photo or video. You need to be careful with them just having fake followers since then you will invest your money an lose it at the same time.
How can you prevent this from happening?
See what their engagement ratio is. See how many followers they have and how many of them actually comment or like what their pictures. This will give you an idea of what to expect when buying a shoutout from them.
Also, if you see that many other accounts are doing it already, meaning they are other users buying shoutouts every day, chances are, people are tired of these ads and will just take yours for granted.
This next picture is a screenshot that we took of a post using one of these hashtags in the makeup industry.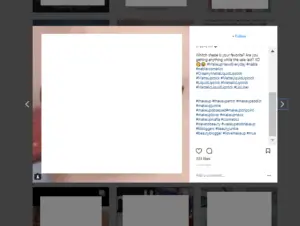 As you can see, they tried engaging with people by asking a question. After 3 days, they had no comments at all, just likes.
That one thing that you need to consider and see which type of content gets you the most people commenting and following you, from all over Instagram.
Notice that this post got a huge exposure since it featured many of the most trending Instagram hashtags, but for some, this was not a good engagement ratio. Which brings us to our next question:
When you use niche related hashtags, for example, #lipstick, you will target your audience in a better way because everybody that does a search for that term will expect to see posts related to lipsticks.
But on the other hand, if you use #love, people won't really expect to see lipsticks on their timeline.
The good thing about hashtags like #love is that they bring huge exposure to your brand since thousands of people use them literally every minute. What you should do is mix them so that you get followers that actually wanted to find you somehow, and a big exposure at the same time.
You can also try posting as many times as you can (without spamming your followers).
If you can allow yourself to post high-quality content without coming off as a spam account, then you should totally do it.
Why?
The more you post, the more makeup hashtags you can use, and the more places your content will go. This means more potential followers for you.
If you don't post too often, you can still see some good results from using hashtags, but it won't be as good as someone doing it, let's say daily.
Pro Tip: Be careful when doing this, it is very important that you respect your followers. Yes, new people will find you through your new content by using hashtags and the more you post the better. But think about whoever is already seeing your posts and following you, don't make them see you as a spam because you are posting every single minute. Do it moderately, and as said, always post relevant and high-quality pictures.
Before you go:
We want to hear from you…
Use our Suggest form under the resources tab and tell us what you think about this. We will always be working to improve our articles and will try to stay updated about any major change to the hashtags system.
Make sure you leave us with any feedback, positive or negative.
The Hashtagie Team.