These are the best Fortnite hashtags on Instagram. Use the copy buttons to copy and paste them into your social media posts if you want to grow your online presence and build your brand. Please remember that when and what you post will always have an effect on the results you get. On the other hand, do not forget that for example, Instagram only allows 30 hashtags per post. Keep reading for more.
Fortnite Hashtags
#fortnite #fortnitememes #fortniteclips #fortnitebattleroyale #fortnitebr #fortnitecommunity #fortnitegameplay #fortnitegame #fortnitenews #fortniteps4 #fortniteleaks #fortnitexbox #fortnitememe #fortnitedance #fortnitesolo #fortnitelovers #fortnitesniping #fortnitevbucks #fortnitewin #fortnitestreamer #fortnitepc #fortnitely #fortniteskins #fortnitefunny #fortnitechallenges #fortnitethegame #fortniteduos #fortnitebattleroyalememes #fortnitetoday #fortnitedaily
#fortniteshop #fortniteclansrecruiting #fortnitebattleroyal #fortniteaccountsforsale #fortnitemares #fortniteteam #fortnitemobile #fortnitesquads #fortnitemontage #fortniteitemshop #fortnitelive #fortnitepro #fortniteplays #fortnitecreative #fortniteclip #fortniteios #fortnitemoments #fortnitekills #fortnitewins #wtffortnite #fortnitefun #fortnitevideos #fortnitechristmas #fortnitegiveaway #fortnitebatrleroyale #fortnitesquad #fortniteedits #fortnitehighlights #fortniteclan #fortnitegaming
#fortniteconsole #fortnitechapter2 #fortnitesnipes #bestoffortnite #fortniteclans #fortnitefails #fortniteespaña #fortniteaccountforsale #fortnitefunnymoments #fortniteaccounts #fortniteedit #fortniteupdate #fortnitehalloween #fortniteaccount #fortniteseason9 #fortniteandroid #fortnitefr #fortniteskin #fortnitegames #fortniteduo #fortniteworldcup #fortniteplayground #instafortnite #fortniteinstagram #fortnitepictures #fortniteworld #igfortnite #fortnitetime #fortnitepower #fortnitepic
Show More
How relevant are these Fortnite hashtags?
These hashtags are all related to the word that is being searched. They all have something to do with the game and all the words are usually used in the same sentence or conversation as Fortnite.
We noticed that people just want to copy and paste the hashtags into their posts, that is why we made it easier for them to do that with our copy-to-clipboard buttons.
What these buttons will do is that they will automatically save the hashtags to your clipboard, so the next thing you will need to do is paste them wherever you want.
How can you use these hashtags effectively?
You must post relevant content as well. For example, on Instagram, you will need to make sure that whatever you publish is related to them. This will help you build and grow your engagement as opposed to just copying and pasting irrelevant hashtags in there; make people find what they are looking for.
The good thing is, we have put them into groups of 30. This makes it easy for you to come back, and copy a different group every time you are posting in the same niche or about the same topic.
Always remember that any of your posts can get featured in the top section of a certain hashtag on Instagram. This will dramatically bust your post impressions and will increase the chances of getting more followers, likes or comments, so be prepared for that in case it happens by always posting high-quality content.
How are others using these hashtags?
Many people use one Fornite hashtag, and others use 30, some others prefer to put them in the caption and others in the first comment.
Let's take a look at this post by @fortniteclips
As you can see, they are using a few Fortnite hashtags, but they are not doing it too much.
They could put the hashtags on the first comment of the post unless they are doing it so they create awareness of these hashtags so other people use it as well.
One thing that we liked was how they tried to make their audience engage with them by asking a question. And also by just saying "Tag your squad!" they make sure people show this post to others, thus increasing their overall exposure on Instagram.
This other post by @tfue_clips was also found because of the hashtags that were used
We found it by searching for #fornite; this hashtag is definitely working for them.
Just as the post above, they have a video with a simple caption, their Fortnite hashtags are in the captions and they just used a few of them.
One thing that they could add is a question of something to encourage other to do something more than just watch the video, maybe comment or share, just as we have seen it before.
Let's take a look at this Instagram video by @victoryroyale
This one is the perfect example of how to use Fortnite hashtags, and this is why.
This post is simply what everyone should be doing.
A nice short and relevant caption with a question that makes people want to comment and talk to each other, all their hashtags in the first comment and a high-quality video.
Just because they were reposting a video of somebody else, they gave credits to the actual owner of the content; that's always the right thing to do.
You can generally repost other people's content without getting in any trouble just if you mention them in your post.
This post by @forniteplayers looks very professional as well.
One thing that I want you all to know is that whenever you see an account that is not using any hashtags and have a lot of followers, one of the factors could be their username.
People will naturally look for something like @forniteplayers.
So if you have a page about Fornite, have this in mind and make others find you organically by having a great username.
Let's take a look at this post by the official Fornite account
I wanted to show you this post so you can do this one thing next time.
As you can see they have only one hashtag in the caption, that is #SummerSkirmish.
Think about how many people will be clicking that hashtags just because @fornite mentioned.
What can you do about it?
As soon as you see this type of opportunity, make sure you post something relevant to the topic and use the same hashtag; I can guarantee you that your post will get a lot of exposure if you do it fast, right after some big account uses it.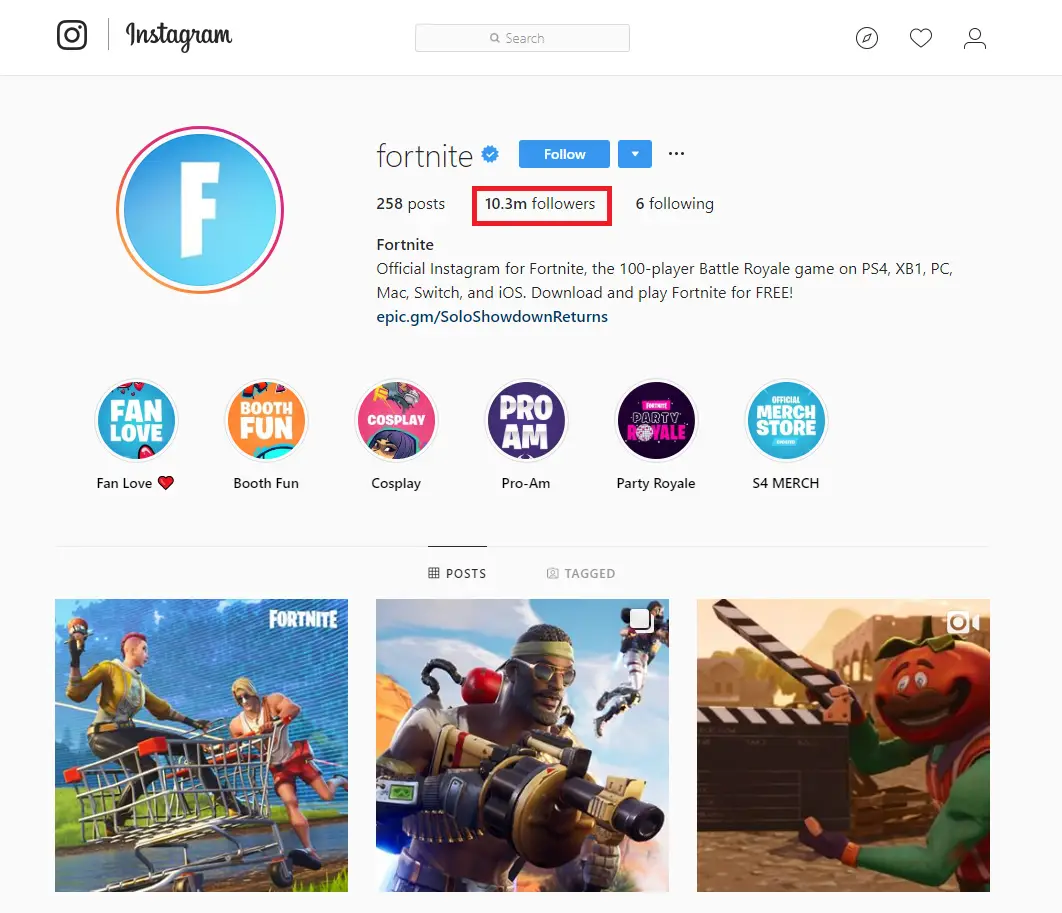 The Fortnite account has at the time of writing this, 10.3m followers. That is a lot of people that could be your potential new followers.
Try finding big accounts that have Fornite as their main theme or content, and be on top of whatever new trend gets started.
I encourage you to watch this YouTube video by Jeven Dovey in which you will learn how he and his friend are growing their Instagram accounts with the help of hashtags. 
One thing we want to say is that they mentioned that you should use 28 hashtags instead of 30 because that way you are under Instagram's radar, and you will prevent your account from getting flagged or taken down.
In order for Instagram to take down your account you must be doing a lot of spammy activities, and when I say spammy, I mean SPAMMY.
Instagram won't take your account down if you use 30 hashtags, and throughout the years we haven't seen any problem at all with doing so.
As I said, very recommended to watch this video since they talk about everything that's important to grow an Instagram account.
Before you go
Our website is primarily dedicated to proving you the best hashtags for any niche or keyword; just like this page, which is all about Fortnite hashtags.
If you like what we do, make sure to bookmark our homepage so you can easily access our content every time you want.
Feel free to check out other hashtags as well and share it with anyone that you think would benefit from it.
Thank you for being here,
The Hashtagie Team