Utilizing digital trends to boost your online presence has never been more crucial.
The impact of hashtags on platforms like Instagram and TikTok cannot be overstated.
They can attract followers, inspire engagement, and improve the visibility of your content.
Among the prevailing trends, meme hashtags are gaining momentum and are an inventive way to connect with your audience.
The trick lies in understanding which ones to use and when.
In this blog, we will delve deep into the world of meme hashtags, providing valuable insights to enhance your social media strategy.
All these hashtags have a similar and common ground with the word Meme.
All of them are the ones that are usually used by the biggest meme accounts on Instagram at the time.
We noticed that people just want to copy and paste the hashtags into their posts, and that is why we made it easier for them to do that with the copy-to-clipboard buttons.
What these buttons will do, is that they will automatically save the hashtags to your clipboard, so the next thing you will need to do is paste them wherever you want.
We all know that Instagram is full of meme accounts; the competition is very high.
Now…
That does not mean that you won't be able to grow your page really fast if you wanted to, it is just that a lot of factors will now be playing a bigger role on whether you will be successful or not.
Things like your username, your profile picture, your bio, and the quality of your posts will determine the number of people that will be following you from now on.
People are always looking for funny posts on Instagram and they are posting themselves as well, just take a look at #memes, for example.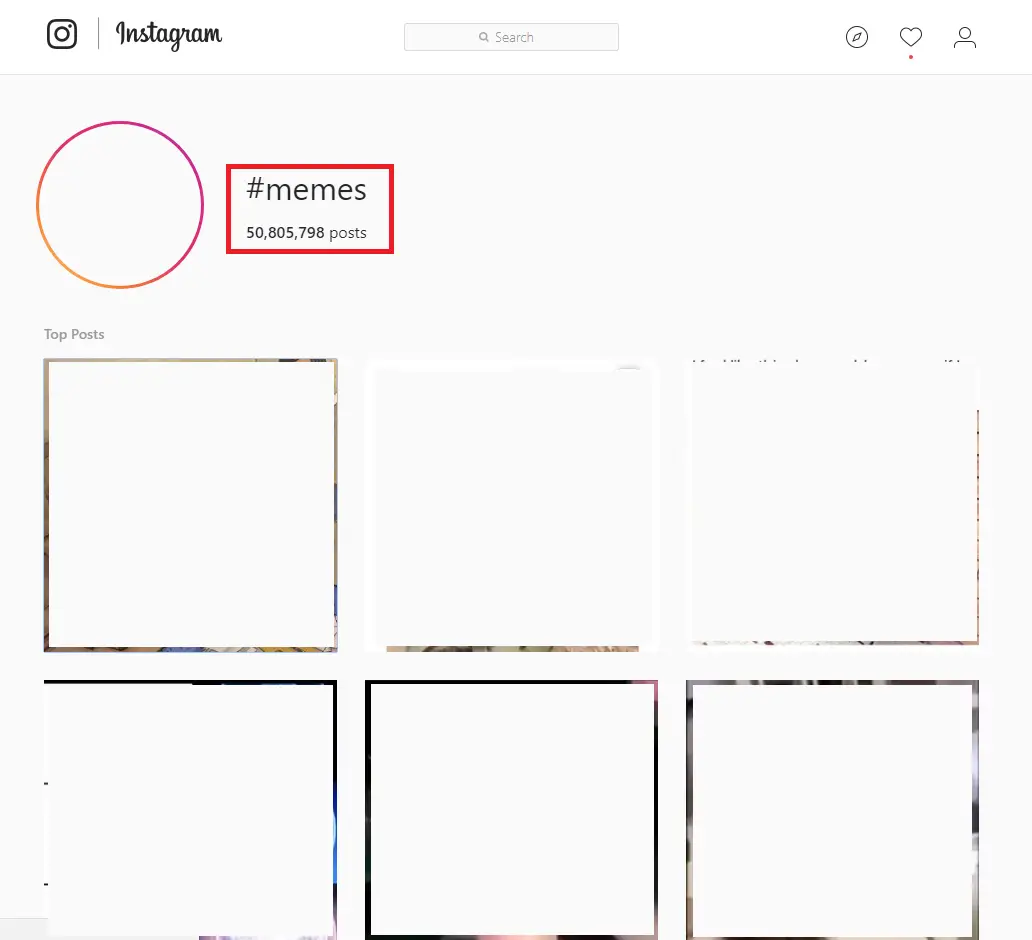 At the time of writing this article, this hashtag has about 50.8m active posts on the platform, that's a lot (2018).
Update, it's past 2023 and it already has 200+ millions of posts!
And what's more interesting about this type of hashtag is that they are searchable on Instagram, meaning you would expect someone to type it if they wanted to find your content.
To further explain this, see the difference between #funnymemes and #memesthatarefunny.
The first one is short and easy to remember, the second one is just too complicated, awkward, and long, almost nobody will type that to look for memes on Instagram.
You get the idea.
Let's take a look at this post by @armtheanimals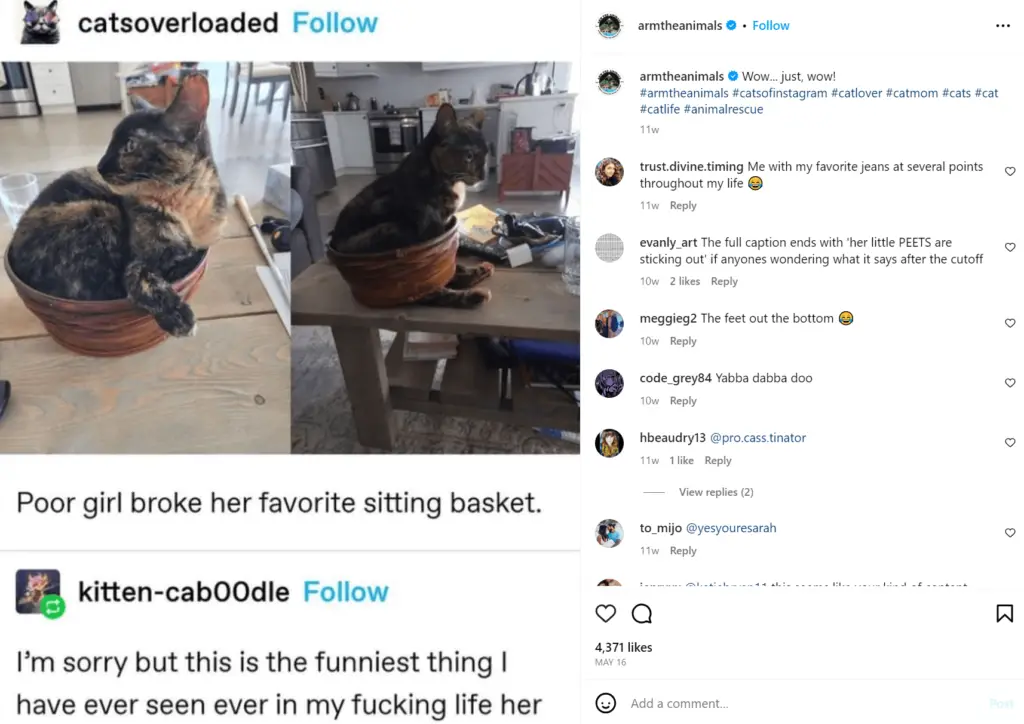 If we take a look at their caption and how they are using meme hashtags, we can see that they aren't really using many.
They went for #armtheanimals and #catlover.
The first one is simply their username, which tells us that they are trying to raise awareness for their brand more than anything; which is totally fine.
And also the short "Wow… just wow!" as in responding and commenting about the meme.
One thing that you could do is to ask a question and make your audience further engage with your content. Something like:
What do you think about this?
Comment what you think.
Or
Your third emoji is your reaction.
Will do the job.
See this post by @memes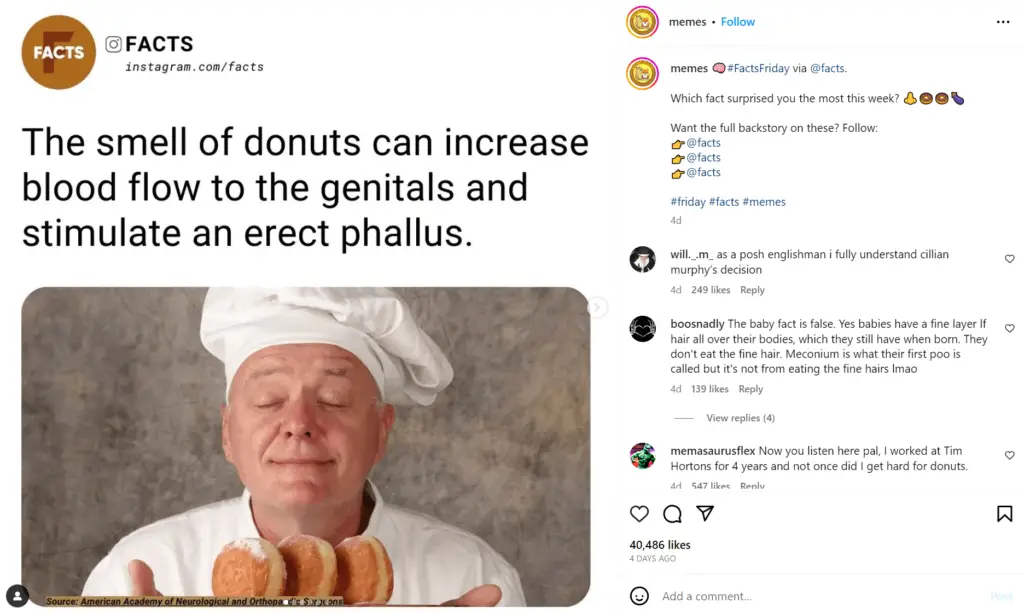 This account is easily one of the most successful meme accounts on Instagram.
At this point, they don't really need to be using hashtags because they get a huge number of followers organically just because of the username.
What we wanted to show you is that by you following and analyzing what they do very closely, you will always stay on top of new trends or new hashtags that could potentially bust your posts impressions if you do it right.
How can you grow a Meme page on Instagram?
Aside from just using meme hashtags on your posts, there are certainly a lot of things you can do to grow your page.
See how to successfully grow a meme account below:
We just talked about this, but I wanted to say something about it.
Last year I created a meme page, and within four days I had around 1680 followers.
How did I do it?
No, I won't sell you anything, I'll give you the answer right now: I was posting like crazy.
At around 100 posts a day with each of those using 30 different hashtags, my account and posts were everywhere on Instagram.
I was using only meme hashtags with the funniest posts possible, all "family friendly".
If you want that first push, then do this for a few days, and you will see how much your account will improve.
What is bad about this?
That if you do it too much, you will seem as spammy.
Keep in mind that this was last year, Instagram's algorithm can change from one day to the next one.
2- Shoutout for shoutout
When doing this, all accounts publish either a story post or a regular post linking to each other.
How can you do this?
Try finding pages with similar numbers.
If you have 1000 followers, then contact pages within the range of 900-1100. Make sure that you both would benefit from it.
Don't be that person that just asks for a shoutout, always try giving the other person value as well.
3- Always stay on top of the latest trends
If you stay on top of what is going on every day, then you will do very good with your page.
New hashtags are always being created, and if you jump on a new trend using a hashtag that is searchable and short, you will for sure get a lot of post impressions with hopefully a lot of likes, comments, and followers.
See, for example, #saltbae.

Prior to this meme, nobody used the hashtag #saltbae. Now it has about 605k posts by the time I'm writing this. 
If you are fast enough to take advantage of this type of opportunity, then your numbers will always go up dramatically.
4- Don't do follow-unfollow
I tried doing this, and it is just bad.
Having 200 followers and 6000 followings, makes you look spammy from the second somebody clicks on your profile.
And if you do it too much, Instagram will block you from doing it for a while.
5- Join an Instagram engagement group
If you don't know about engagement groups I don't blame you; people don't talk about them too much.
Engagement groups are groups to engage with other Instagram accounts, and what they do is that they bust your chances of being on the explorer page.
For example, let's say you have an engagement group with other accounts with 100k followers each, and they all like, follow, and comment on each one of your pictures.
That tells Instagram that your content is good, and therefore it makes more people see your profile on the explorer page.
In order to work, you have you get a big number of followers already, which makes it counterintuitive for some.
If you are just starting a page, it won't be of much help, but if you have a decent number of followers and want to keep growing, then this is your ultimate goal.
6- Get on the explore page
Just like the one before, but this time is basically you being there already.
Try making your posts appealing and make people want to click on your post more.
A good technique that people have been using since forever for videos is the annoying red circle poiting out something random.
I know is nonsense, but it works.
7- Post original content
By posting original content and putting your username in the meme itself, you increase your chances of getting tagged by others that repost your memes.
Try making the best of the best, and you will see how others will give your free promotion all over the place.
The #1 rule you must follow:
If you are reposting, always credit the person that you got the meme from.
You must post relevant content as well.
For example, on Instagram, if you use hashtags, you will need to make sure that whatever you publish is related to them.
This will help you build and grow your engagement as opposed to just copying and pasting irrelevant hashtags in there.
The good thing is, we have put them into groups of 30.
This makes it easy for you to come back, and copy a different group every time you are posting in the same niche or about the same topic.
Always remember that any of your posts can get featured in the top section of a certain hashtag on Instagram.
This will dramatically bust your post impressions and will increase the chances of getting more followers, likes or comments, so be prepared for that in case it happens by always posting high-quality content.
We wanted to show you this video by Kat Kobzeff in which she talks about how to hide your hashtags on Instagram. 
Not everybody knows that hashtags work on comments too, that is why they keep putting them in the captions.
Putting your hashtags in your caption is not a problem, but it just feels unprofessional and spammy.