These are the best TikTok hashtags on Instagram. As always, you can use the copy buttons to easily copy and paste them into your posts if you want to grow your online presence and build your brand. Please remember that when and what you post will have an effect on the results you get. On the other hand, do not forget that for example, Instagram only allows 30 hashtags per post. Keep reading for more.
#tiktok #tiktoks #tiktokapp #tiktokvideos #tiktokers #tiktokduet #tiktokmemes #tiktokfunny #tiktokdance #tiktokchina #tiktokjapan #tiktokvideo #tiktokkorea #tiktokviral #tiktokseleb #tiktokindia #tiktoklover #tiktokhot #tiktokfever #tiktokmoments #tiktokflops #tiktokindo #tiktokkid #tiktokpeople #tiktokhits #tiktokbox #tiktokrepost #tiktokfun #tiktokfamous #tiktokerszone

 

 
#tiktokmusically #tiktokartist #tiktokmeme #tiktokaccount #tiktokdaily #tiktokaddict #tiktokjokes #tiktokvietnam #tiktoksea #tiktokasia #tiktokink #tiktokglobal #tiktokzone #tiktokscene #tiktokofficial #tiktokmuser #tiktokfame #tiktokupdates #tiktokgirls #tiktokdancer #tiktokstars #tiktokking #tiktokbanned #tiktoklove #tiktoktrending #tiktokfitness #tiktokstar #tiktokthailand #tiktokduets #tiktokpopular

 

 
#instatiktok #igtiktok #instagramtiktok #tiktoktime #tiktokid #tiktokhindi #tiktokhots #tiktokdog #tiktokcat #tiktokanime #tiktoklife #tiktoklifestyle #tiktokindian #tiktokfashion #tiktokindiafamous #tiktokmumbai #tiktokqueen #tiktokmusic #tiktokcringe #tiktokturkey #tiktokpakistan #tiktokvids #tiktokclips #tiktokchallenge #tiktokwow #tiktoknepal #tiktoktamil #tiktokboys #tiktokexpert #tiktokecuador

 

 
#tiktokvibes #tiktokgallery #tiktokpower #tiktokactor #tiktokacting #tiktokaction #tiktokcosplay #tiktokstory #tiktokgym #tiktokrewind #tiktokr #tiktokworld #tiktokhitz #tiktokmuserid #tiktokindopost #tiktokspam #tiktokm #tiktokmood #tiktoklike #tiktoklaunchparty #tiktokcouple #tiktokcanada #tiktokusa #tiktokstartup #tiktokcambodia #tiktokbest #tiktokkids #tiktokchile #tiktokcina #tiktokcute

 

 
#tiktoklive #tiktokperu #tiktokfollow #tiktokmalaysia #tiktokrussia #tiktoklucu #tiktokquotes #tiktokposts #tiktokfeature #tiktoksay #tiktokcolombia #tiktokmedan #tiktokcomedy #tiktokmusers #tiktokmuserhits #tiktokhongkong #tiktokidola #tiktokkeren #tiktokfriends #tiktokvictorious #tiktokpalembang #tiktoktiktok #tiktokviews #tiktokitaly #tiktoknonflop #tiktokremaja #tiktokvines #tiktokvenenzuela #tiktokbrasil #tiktokfans

 

 
Everything was carefully picked and ordered according to how popular each hashtag is on Instagram.
When you search TikTok on Instagram and then go to the "tags" tab, most of the results and recommendations that the app gives you, are also included here.
Just because most people just want to copy and paste the hashtags into their posts, we made it easy for them to do that with the copy-to-clipboard buttons.
What they will do, is that whenever you click or press them, the hashtags will automatically be saved to your clipboard, so the only next thing you will have to do is paste them wherever you want.
You will need to post relevant content as well. For example, on Instagram, if you are using hashtags, make sure that your photos and/or videos are related to them. This will make it easier to grow your engagement in comparison to simply copying and pasting irrelevant hashtags in there.
The good thing is, we have put them into groups of 30. This makes it easy for you to come back, and pick a different group every time you are posting in the same niche or about the same subject.
Have in mind that any of your posts can get featured in the top section of a certain hashtag on Instagram. This will dramatically bust your post impressions and will increase the chances of getting more followers, likes or comments, so be prepared for that in case it happens by always posting high-quality content.
Let's take a look at the #tiktok Instagram page: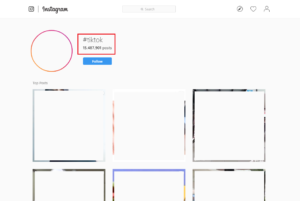 As you can see, even though TikTok is still a growing platform, the number of times that this hashtag has been used on Instagram is fairly big.
That number alone tells us that there are potentially many accounts both posting and consuming content in this niche.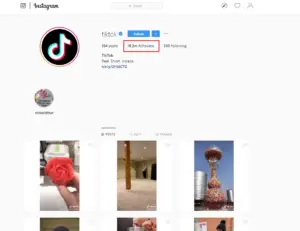 The official TikTok account, as seen above, is always reposting the most creative and popular videos from its platform.
Whether you are a TikTok user or a repost account trying to make it big in this niche, it will help you immensely if you take a look at everything that they post.
It can serve as a great inspiration if you want to create similar content or just be on top of what's trending on the platform.
Let's take a look at how TikTok videos are being used on Instagram.
See @tiktok, for example:
https://www.instagram.com/p/BwSsv9qnPwY/
When you take a look at the official TikTok account on Instagram, you will see that they are all about creativity and how innovative people are with their content.
If you are trying to get reposted by them, make sure that you follow the format that they usually feature on their page or that you at least implement similar ideas in your TikTok videos.
Also, while using hashtags, make sure that you always take a look at the ones that they use as well. For example, in the post above, we can see that they used #tiktok, #tiktokdontstop, #oddlysatisfying, and #mesmerizing.


These are great hashtags to implement in your videos since they get traffic directly from the official TikTok account itself. Many people will naturally click on them while scrolling through their timeline.
Now…
Just as @tiktok, you will find many other accounts that are dedicated to showing you the best and most viewed content, the classic repost accounts.
For example, @tiktokcreator: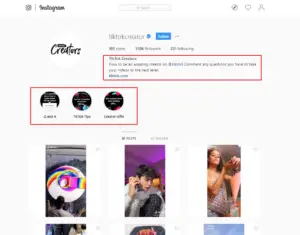 If your goal is to be a popular creator on TikTok, then you definitely need to follow this account. Not only do they share and repost some of the best TikTok videos, but they also share tips and tricks to use on your own videos as well.
Their Story Highlights are full of great advice for creators.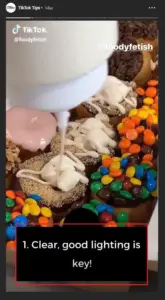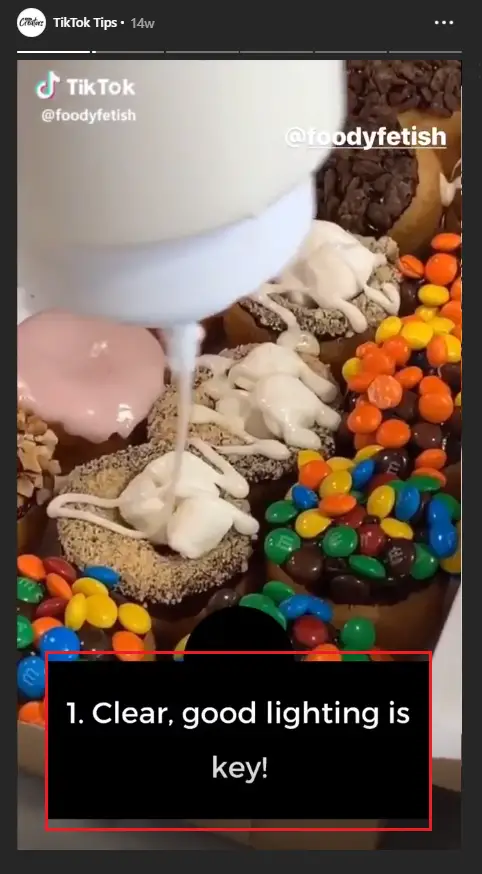 You might think that "Clear, good lighting is key!" is something very obvious to say.
But…
The problem is that we often forget to pay attention to the small details, so this is a good way to give our videos that extra touch that's never too much.
You should watch this YouTube video by LifeWithErick, in which he talks about how to get on the "For You" page on TikTok, which is like the explorer page on Instagram.
I encourage you to watch it since he shares really good tips on how to become successful in the platform and what things you should have in mind when creating your videos.
One thing that he mentioned was how staying on top of new trends can help you get seen by more people, and how using hashtags makes your content more discoverable on TikTok.
Before you go
Our website is all about giving you the best hashtags to use on Instagram.
If you like what we do, make sure to bookmark our homepage so you can easily access our content anytime you want.
We also encourage you to read our blog, in which we talk about every new Instagram trend and share the best tips to implement in your account.
As always, thank you for being here.
The Hashtagie Team