The power of hashtags cannot be overlooked in today's social media-saturated world where visibility equates to success.
It's even more essential when it comes to platforms like TikTok and Instagram where content is consumed at unprecedented rates, making visibility a greater challenge.
Harnessing the potential of the right hashtags might be the game-changer that sets your content apart from the crowd.
The focus here is understanding how to effectively utilize TikTok hashtags to augment your presence not just on TikTok, but on Instagram as well.
Evidently, their roles are far from that of mere aesthetic complements to your posts; rather, they serve as secret weapons for elevating your social media performance.
Everything was carefully picked and ordered according to how popular each hashtag is on Instagram.
When you search TikTok on Instagram and then go to the "tags" tab, most of the results and recommendations that the app gives you, are also included here.
Just because most people just want to copy and paste the hashtags into their posts, we made it easy for them to do that with the copy-to-clipboard buttons.
What they will do, is that whenever you click or press them, the hashtags will automatically be saved to your clipboard, so the only next thing you will have to do is paste them wherever you want.
You will need to post relevant content as well.
For example, on Instagram, if you are using hashtags, make sure that your photos and/or videos are related to them.
This will make it easier to grow your engagement in comparison to simply copying and pasting irrelevant hashtags in there.
The good thing is, we have put them into groups of 30.
This makes it easy for you to come back, and pick a different group every time you are posting in the same niche or about the same subject.
Have in mind that any of your posts can get featured in the top section of a certain hashtag on Instagram.
This will dramatically bust your post impressions and will increase the chances of getting more followers, likes or comments, so be prepared for that in case it happens by always posting high-quality content.
Let's take a look at the #tiktok Instagram page: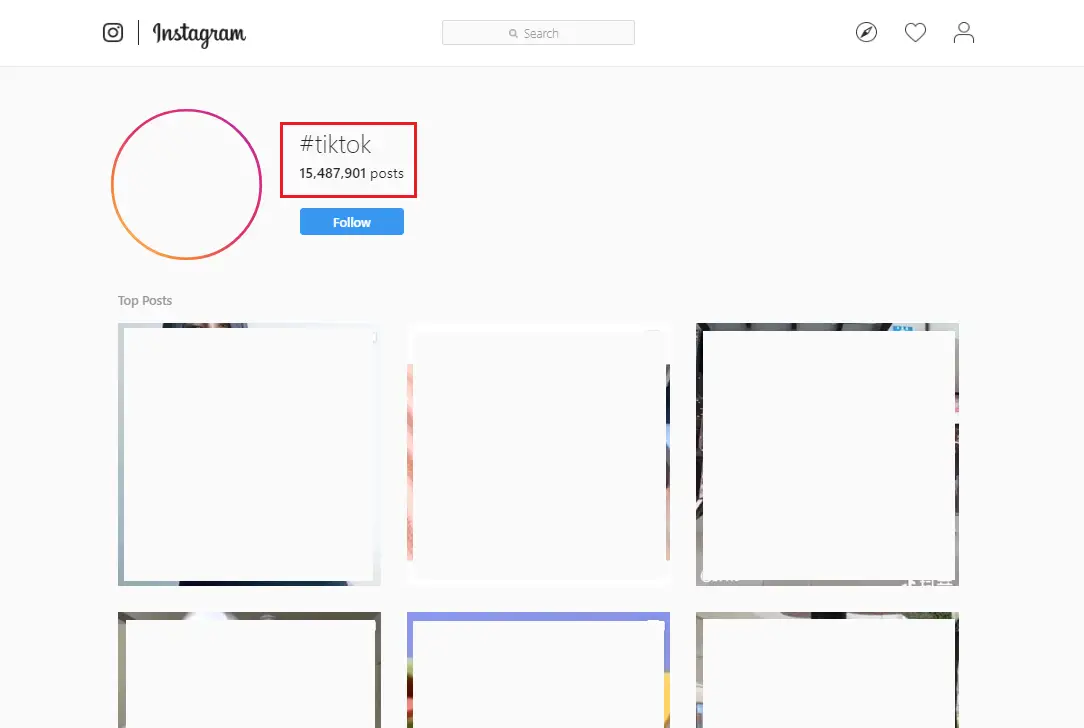 As you can see, even though TikTok is still a growing platform, the number of times that this hashtag has been used on Instagram is fairly big.
That number alone tells us that there are potentially many accounts both posting and consuming content in this niche.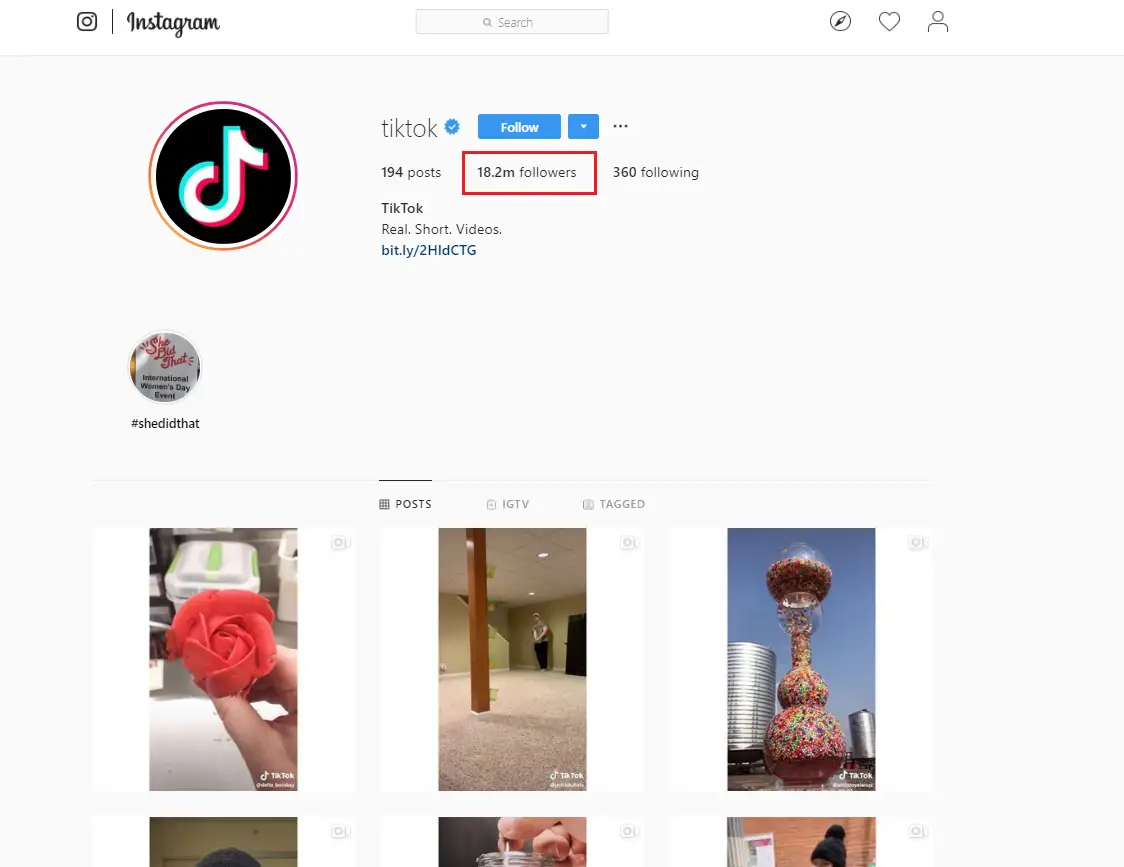 The official TikTok account, as seen above, is always reposting the most creative and popular videos from its platform.
Whether you are a TikTok user or a repost account trying to make it big in this niche, it will help you immensely if you take a look at everything that they post.
It can serve as a great inspiration if you want to create similar content or just be on top of what's trending on the platform.
Let's take a look at how TikTok videos are being used on Instagram.
See @tiktok, for example: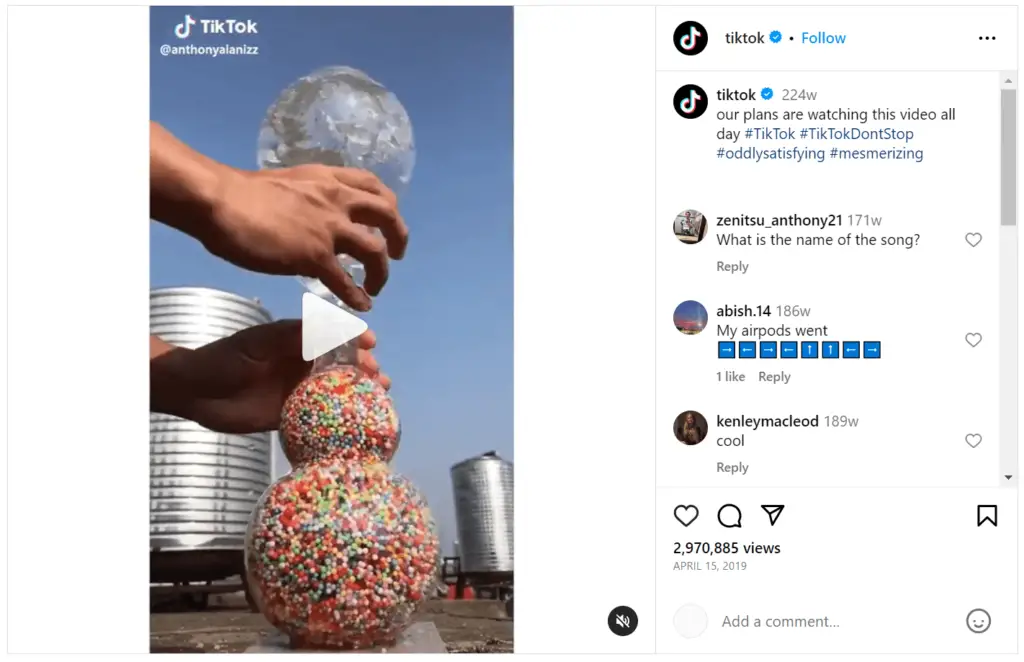 When you take a look at the official TikTok account on Instagram, you will see that they are all about creativity and how innovative people are with their content.
If you are trying to get reposted by them, make sure that you follow the format that they usually feature on their page or that you at least implement similar ideas in your TikTok videos.
Also, while using hashtags, make sure that you always take a look at the ones that they use as well.
For example, in the post above, we can see that they used #tiktok, #tiktokdontstop, #oddlysatisfying, and #mesmerizing.

These are great hashtags to implement in your videos since they get traffic directly from the official TikTok account itself. Many people will naturally click on them while scrolling through their timeline.
Now…
Just as @tiktok, you will find many other accounts that are dedicated to showing you the best and most viewed content, the classic repost accounts.
For example, @tiktokcreator: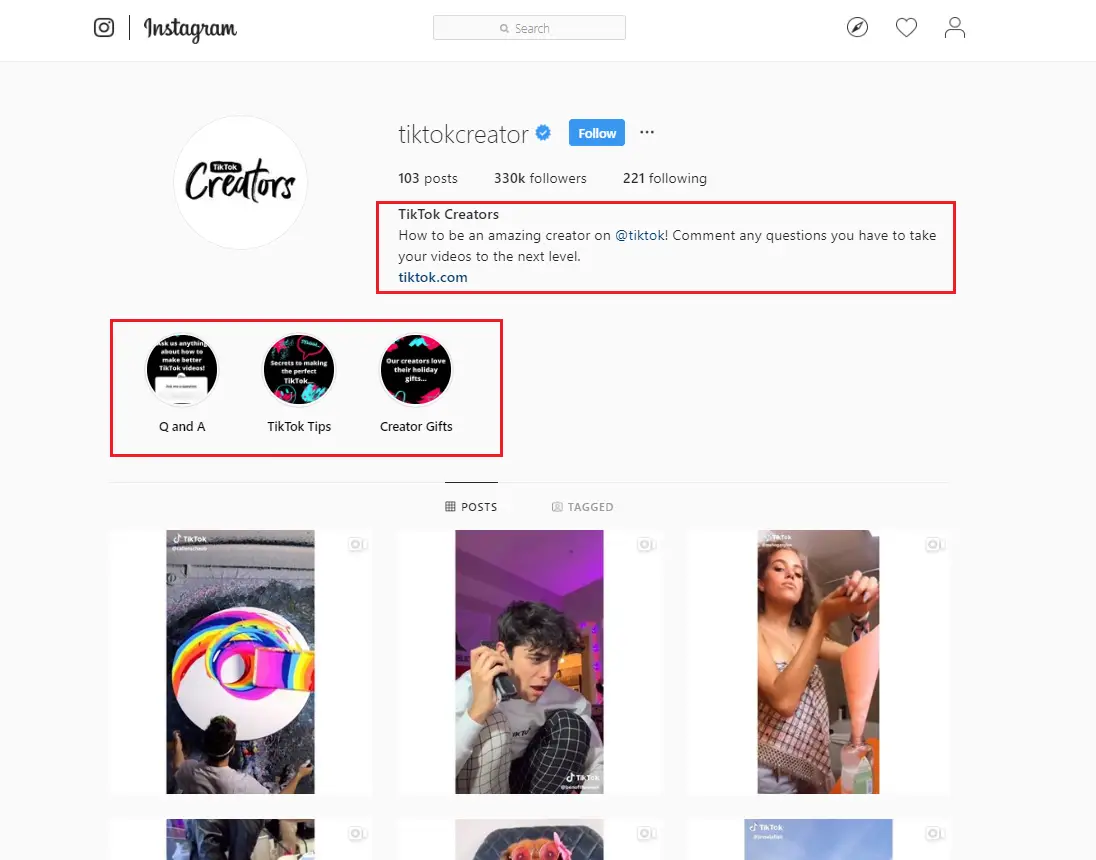 If your goal is to be a popular creator on TikTok, then you definitely need to follow this account. Not only do they share and repost some of the best TikTok videos, but they also share tips and tricks to use on your own videos as well.
Their Story Highlights are full of great advice for creators.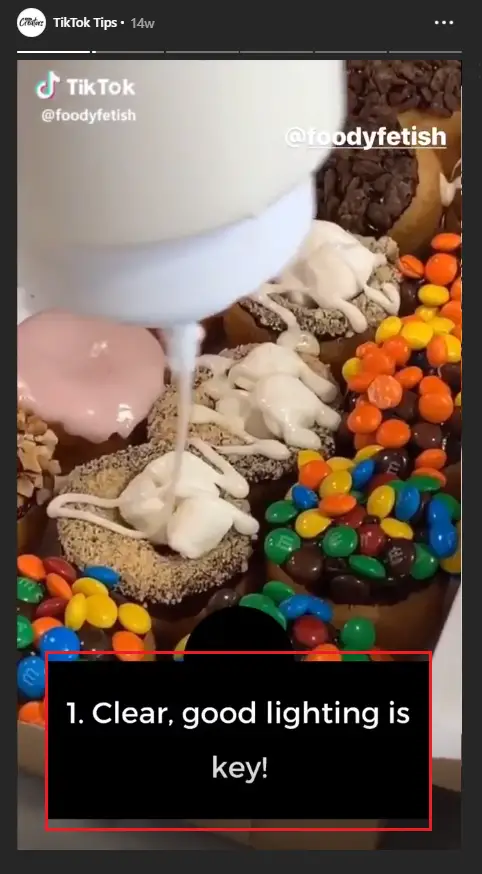 You might think that "Clear, good lighting is key!" is something very obvious to say.
But…
The problem is that we often forget to pay attention to the small details, so this is a good way to give our videos that extra touch that's never too much.
You should watch this YouTube video by LifeWithErick, in which he talks about how to get on the "For You" page on TikTok, which is like the explore page on Instagram.
I encourage you to watch it since he shares really good tips on how to become successful in the platform and what things you should have in mind when creating your videos.
One thing that he mentioned was how staying on top of new trends can help you get seen by more people, and how using hashtags makes your content more discoverable on TikTok.
How to Grow Your Instagram and TikTok Account?
Growing your social media audience can seem like an uphill battle at times.
However, with the right strategy, patience, and consistency, you can surely build a strong following on Instagram and TikTok.
Here are some incredible tips that can help you scale up your game on these platforms.
1. Understand Your Target Audience
The very first step towards building a massive following on Instagram and TikTok is understanding who your target audience is.
Delve into the analytics, research trending topics, hashtags and content types in the demographic you're targeting.
Tailor your content to meet their interests, needs and engagement patterns.
2. Post Consistently
Consistent posting is key.
Posting regularly makes your account stay in your followers' minds and feeds.
Don't lose your relevancy; instead, strive to be a constant content provider.
Both Instagram and TikTok's algorithms reward accounts that post frequently with more visibility.
3. Create High-Quality Content
Not only it's imperative to post frequently, but it's also critical to ensure that each post is of high quality.
High-quality content is more likely to be shared, get more engagement, and result in more followers.
Prioritize value and authenticity in all your posts.
4. Engage with Your Followers
Engagement is a two-way street.
Respond to your followers' comments and messages, run polls, ask for their opinions, and make them feel valued.
This can increase brand loyalty and show the Instagram and TikTok algorithms that your account is active.
Hashtags can help your content reach a broader audience on both Instagram and TikTok.
However, remember to use them wisely.
Use hashtags that are popular, relevant to your content, and can specifically draw your target audience.
6. Collaborate with Other Content Creators
Collaborating with other content creators in your field not only can increase your content variety but also expose your content to a larger audience.
Said collaborations can attract followers of your collaborator's account to yours as well.
This makes it a win-win situation for both of you, which is a great value point to bring up when you're proposing one.
7. Utilize the Power of Trends
Trends on Instagram and TikTok come and go very fast.
Jumping in on a trend and creating your unique spin on it can help your account gain visibility and attract new followers.
8. Run Contests and Giveaways
Contests and giveaways are effective ways to grow your followers.
They incentivize your audience to engage and share your content, which could attract new followers.
Make sure the rules are simple, and the rewards are valuable.
9. Utilize Instagram and TikTok Advertising
Though it requires a budget, investing in advertising on Instagram and TikTok can significantly boost your reach and follower count.
It allows users who may not have come across your content organically to see your posts.
10. Analyze Your Performance Regularly
Lastly, make sure you regularly analyze your performance.
Assess which posts get the most engagement, what times work best for posting, which strategies are working or not working.
Use these insights to refine your strategy continuously.
It's all about learning, adapting, and improving.
Hashtags play a vital role in categorizing content for users on both TikTok and Instagram.
They make it easier for users to find posts related to a specific theme or content.
Hashtags can also help content creators to attract new followers, increase engagement, and get widespread visibility for their posts.
In essence, hashtags are powerful tools that can significantly boost the visibility and reach of your content on both of these platforms.
TikTok uses hashtags to categorize videos.
Therefore, by using relevant, trending, and industry-specific hashtags, your videos can gain a higher chance of appearing in searches and recommendations.
Don't overuse hashtags; 3-5 per post are usually sufficient.
TikTok offers several hashtag challenges, which can give you a chance to showcase your creativity while reaching wider audiences.
What are Instagram Hashtag Best Practices?
It's essential to balance popular and more specific hashtags when posting on Instagram.
Using strictly popular hashtags may result in your post getting buried among thousands of others.
Incorporating location-based, event-specific, or niche-specific hashtags, along with broader ones, can help increase your post's visibility.
Instagram allows up to 30 hashtags per post, but it's generally recommended to use 5-10 for best results.
On both TikTok and Instagram, branded hashtags can help to extend your reach and encourage user-generated content.
These are unique hashtags related specifically to your brand or a particular campaign.
By promoting your branded hashtag, you encourage your followers to use it in their posts.
This way, you can easily track and interact with posts related to your brand or campaign.
Yes, hashtags can significantly improve engagement on your posts.
Users might follow hashtags that interest them, and if your post appears on these tabs, it may result in more likes, comments, and shares.
Moreover, users may discover your profile through a hashtag and decide to follow you.
Therefore, using relevant and popular hashtags can be a strong strategy to increase engagement.