These are the best Christmas hashtags on Instagram. As always, you can use the copy buttons to easily copy and paste them into your posts if you want to grow your online presence and build your brand. Please remember that when and what you post will have an effect on the results you get. On the other hand, do not forget that for example, Instagram only allows 30 hashtags per post. Keep reading for more.
#christmas #xmas #december #instachristmas #christmasnight #christmastree #christmasdecor #christmasfood #xmasphotos #christmastime #christmasparty #xmaspictures #christmasgifts #christmastimes #christmasmusic #christmaseve #christmascheer #christmasmoments #christmascake #christmasweekend #christmasligth #christmasdays #christmasmagic #christmascountdown #christmascards #christmaslove #christmasfun #christmasdecoration #christmasvibes #christmasdinner

 

 
#instagramchristmas #christmastreats #christmasbaby #christmasmarkets #christmasadventures #christmascheer #christmassnow #christmasshopping #christmassweets #merrychristmas #christmaswinter #bestchristmas #xmasdecor #christmasclothing #ilovechristmas #winterdecor #christmasspirit #lovechristmas #christmasreads #christmasdowntown #christmasdance #christmasdrinks #christmashappiness #christmasdinnertime #christmashearts #xmastree #christmasparty #xmasmood #xmasmarket #christmashotel

 

 
#instaxmas #igchristmas #instagramxmas #xmaseve #gochristmas #christmasherewecome #christmashereicome #christmasdogs #christmascats #christmasanimals #christmasmemes #xmasfood #christmascookies #christmasfashion #christmasfestival #christmasfamily #christmasflow #christmasbaking #christmasmassy #christmasfever #christmasvideos #christmasvids #christmasclips #christmasbloggers #christmasiscoming #christmasholiday #holidaytime #holidayfun #christmasseason #christmaswish

 

 
#christmasfeel #christmasgallery #christmassingers #christmasdog #bestchristmasday #christmasgolf #christmasstories #christmasstory #alliwantforchristmas #christmaslaughs #christmasjokes #christmascompetition #xmascountdown #christmaslist #christmasoutfit #christmasspam #christmasmoon #christmasmood #christmassale #christmasdress #xmasvibe #christmasjewelry #xmasnight #christmasstuff #christmascard #christmasjazz #christmaskids #christmaskaraoke #xmasmagic #localchristmas

 

 
#christmaslivemusic #christmaslooks #christmaspromotion #christmaspresent #christmassnowman #christmascakes #christmasquotes #christmaspost #christmascontent #christmassayings #christmascolors #christmassweater #christmascomedy #christmaswarm #christmassports #christmascoffee #christmasthings #christmasnails #christmasfriends #christmasvice #santaclaus #december23 #christmasviews #christmasfeelings #christmasvenues #holidayspirit #holidays #christmasvices #christmasvip #christmasred

 

 
#whitechristmas #christmasphotographer #christmasevents #christmasweddings #christmaschill #christmasmode #christmasandchill #christmaschilling #christmaskings #christmaswithbts #christmaswrapping #christmasrock #christmaswindows #christmastravel #christmaswishes #christmastrip #christmastrends #christmaslikekids #christmassounds #christmaswithkids #christmastraveler #christmastrend #nightmarebeforechristmas #christmaswalk #christmasrestaurants #christmaspage #christmasaccounts #onlyinchristmas #christmasfacts #christmasweather

 

 
#christmasphotos #christmaspictures #christmaswork #christmasedit #christmaslight #christmasemotions #christmasair #christmastoday #christmaspuns #christmasedits #christmaseveeve #christmasears #christmasevent #xmasboxes #xmasfeed #christmasfolks #christmaself #xmasdesserts #christmasengagement #christmaselves #christmasdecorations #xmascookies #christmasearrings #christmaspoet #christmasportrait #christmaslike #xmasmoments #christmasevebaby #christmaseverywhere #christmaspoems

 

 
#christmasgame #xmasparty #merryxmas #christmasgram #christmastradition #christmasrose #christmasbestfood #christmastattoo #christmasready #christmasrocks #christmasride #xtmasfood #christmasrun #christmasradio #christmasrush #justchristmas #christmasrecital #christmasornaments #christmastweets #bestchristmaspics #christmasfollow #christmastreefarm #christmastown #christmastoys #christmastrain #christmasmakeup #christmascreations #christmascraziness #christmasmusicshows #xmasdays

 

 
#christmastimeishere #christmasturkey #xmasclothing #christmasyoga #christmaswreath #xmasdinner #christmasupdate #christmasideas #christmasunited #christmasisland #christmasinthepark #christmasclothes #christmascrafts #christmasbooks #christmasinlove #christmashistory #christmasisnear #christmassquad #christmastakeover #christmastips #christmastour #christmasinchicago #christmasnyc #christmasturnup #christmasfuntimes #christmasinthecity #christmasinthesouth #christmasoffer #christmasmovie #christmasopenhouse

 

 
#christmasprep #xmaspajamas #xmaspudding #christmasparade #christmaspromo #christmaspast #christmasprogram #christmassongs #christmassunrise #christmasfall #christmaspups #christmascamp #christmassales #christmaspackage #christmasatmosphere #christmasadvent #christmasatwork #christmasslime #christmassocks #christmasstocking #christmasdrink #christmasdisney #christmasfabric #christmasgiftidea #xmasfestivals #xmasweekend #christmasvinyl #christmastour #christmasbows #christmasbreak

 

 
You will need to post relevant content as well.
For example, on Instagram, if you are using hashtags, you must make sure that your content is related to them. This will make it easier to grow your engagement in comparison to simply copying and pasting irrelevant hashtags every time.
The good thing is, we have put them into groups of 30. This makes it easy for you to come back, and pick a different group every time you are posting in the same niche or about the same subject.
Have in mind that any of your posts can get featured in the top section of a certain hashtag on Instagram. This will dramatically bust your post impressions and will increase the chances of getting more followers, likes or comments, so be prepared for that in case it happens by always posting high-quality content.
Let's take a look at how others are using them.
It might sound obvious to think that people just use these hashtags around December, but, the real truth is, that users still use Christmas hashtags any time.
Take a look at #christmas on Instagram: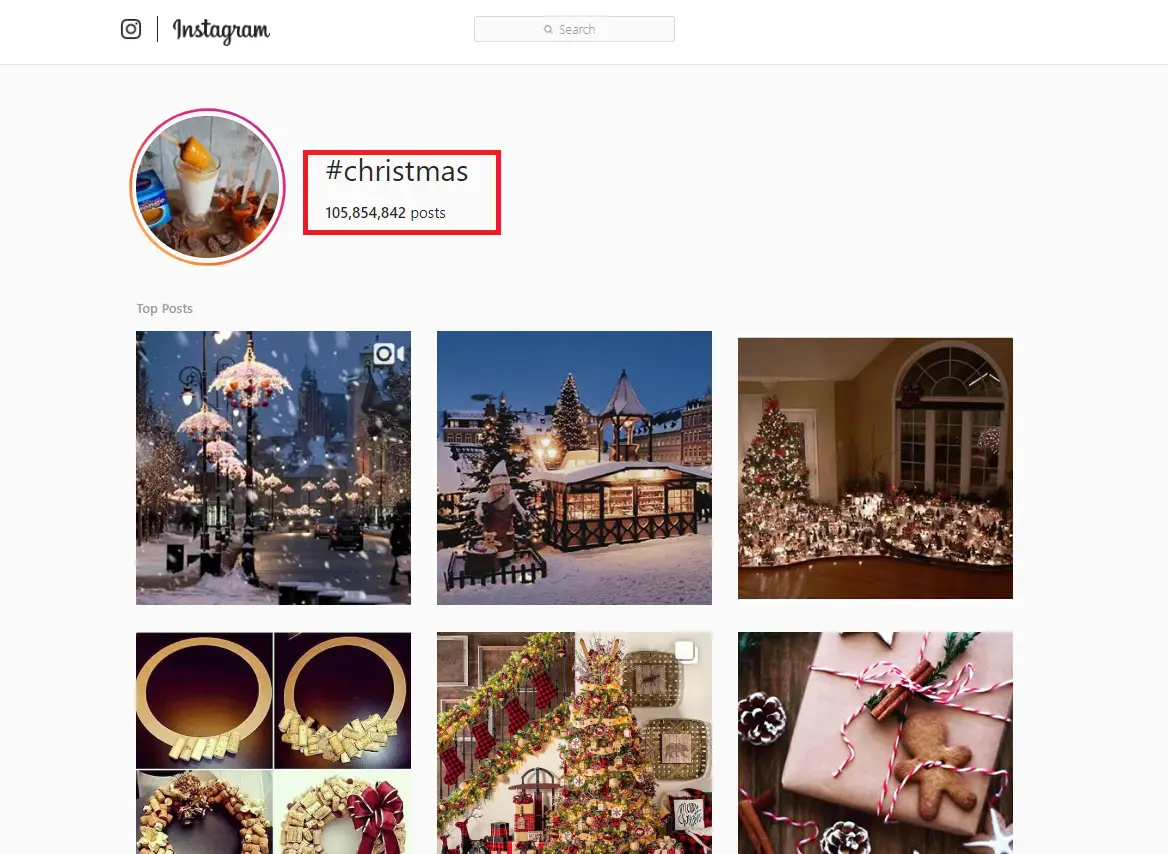 That's a lot, and just expect that number to really take off every December.
With this, just know that a lot of users are searching through them.
Why?
Just because of how searchable these hashtags are, meaning that we would expect this type of content every time we go on any of these hashtag sections.
Take a look at this post by @hobbylobby
They are already promoting Christmas on their page.
https://www.instagram.com/p/BpSiuxslpxj/?taken-by=hobbylobby
As you can see, they have a nice caption with a great high-quality photo.
You want to also do that when you post since often times people tend to follow others based on how good their photos are, and how much work they put into their content.
They are using just two hashtags, #HobbyLobbyStyle, and #Christmas.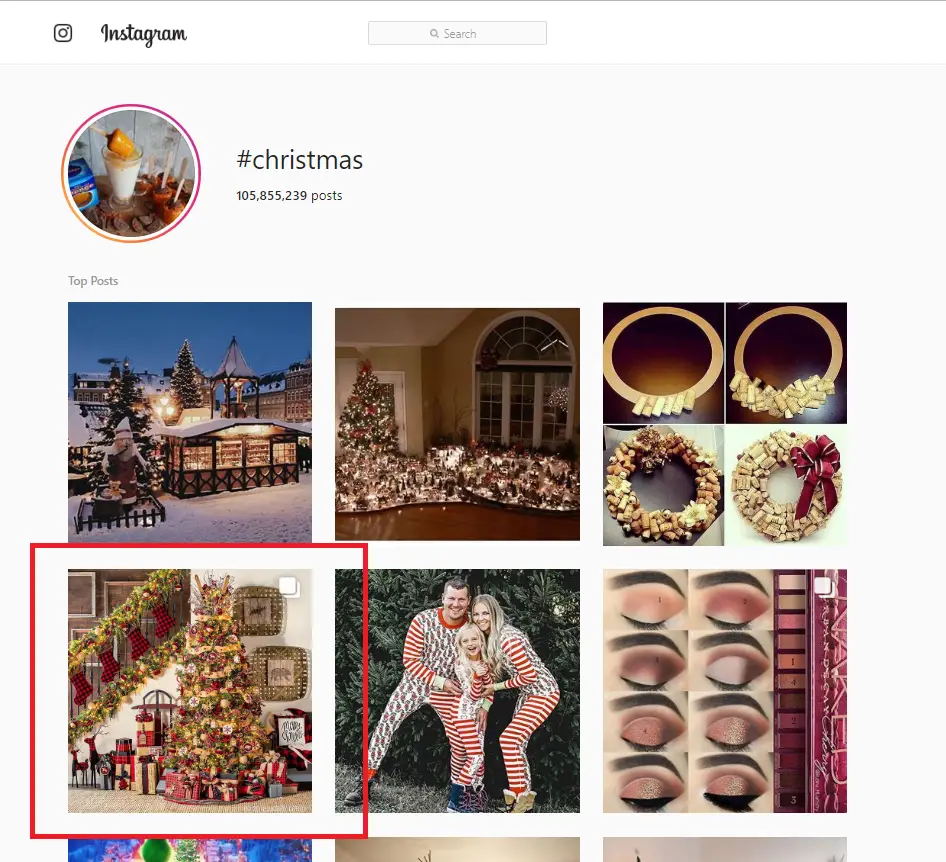 They are ranking in the top section for #christmas. That's a lot of potential people that could see their content.
Of course, it is easy for them since they have a big following and are verified on the platform, but still, you can see how valuable it is to use hashtags, even if you are a big account or brand.
At this point, they are just doing it to raise more awareness for their brand and as a general marketing strategy. It seems to be working for them.
If you find yourself in a similar position trying to make more people recognize what you do, then do the same, create your own hashtag and tell others to use it.
See this post by @spititualchristmas
We found them through #xmas.
https://www.instagram.com/p/BpUSRzjg2kP/?taken-by=spiritualchristmas
They were ranked in the top section of that hashtag (#xmas) and many others.
Take a look…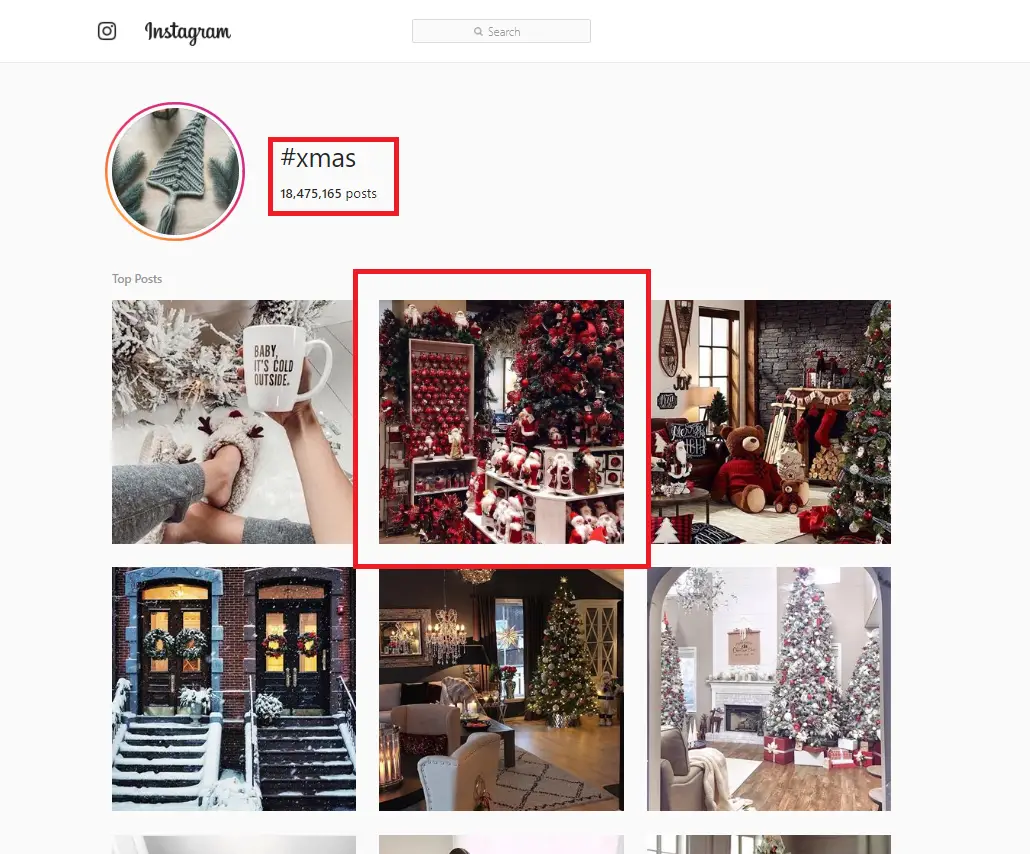 Why are we even mentioning this?
Well, sometimes it will certainly be harder to rank with other hashtags such as #christmas, that is why a good thing to do would be to use other alternatives that still get traffic but people use fewer times; #xmas is a great one (we already included it in our list of hashtags above).
You will still get a lot of post impressions and rank in the top section and maybe even get featured in the explorer page.
Now…
This is what we want you to take away from this…
Is not always so good to use hashtags that are extremely popular and get high traffic, you want to include other ones that will allow you to stand out from other big pages.
Just by mixing high-traffic hashtags with low-traffic ones, you will increase your chances of being in the top section for the low-traffic ones, while still being able to get short-term impressions from the high-traffic hashtags.
Take a look at this other post by @winter…
As you can see, it is a great photo.
https://www.instagram.com/p/BpVB5rUl4ZR/?taken-by=wintergoals
A good thing that they could have done differently is to try to make their followers engage with them more. A simple question asking what their thoughts are would have been perfect.
If you go to this post, you will notice that they put their 30 hashtags for Christmas on the first comment, which is something that we really think they did great and that you should be doing to.
Keep reading as we will further explain this below; take a look at some of the most asked question related to this topic.
There are many misconceptions about this.
A lot of people just use 28 hashtags instead of 30 hashtags because they think that Instagram will put them "under the radar", meaning that they won't be seen as spammers.
Others prefer to use only 4 to 5 hashtags.
This is what we think…
Instagram has officially said on this website page (link to help.instagram.com) and many others, that they allow up to 30 hashtags. See it also below:

This means that they are perfectly fine with you using all 30 hashtags.
It won't change any algorithm and it won't do anything to your account. Plus, if you don't use all of them, you will just be missing on many potential followers and viewers that could engage with your account or page.
Yes, without a doubt.
People also have this misconception that hashtags will just work on captions.
Truth is, you can put them as your first comment and they will do just fine; your post will still get featured everywhere on Instagram.
Plus it will much better; people who already follow you might not even notice that you are using them.
Take a look at the difference.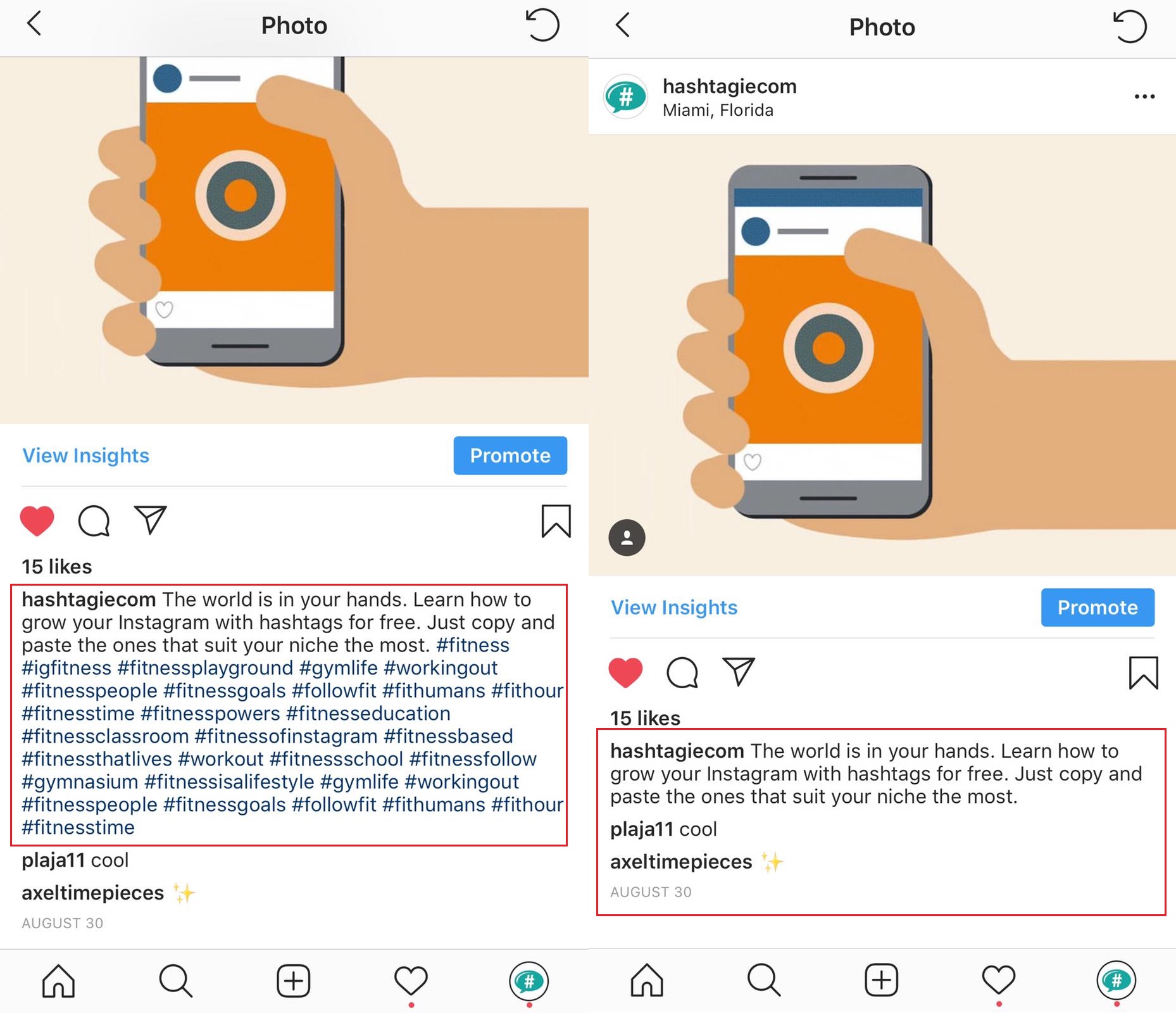 As you can see, the one to the right does look more professional and clean than the one on the left side.
One thing though, you have to put the hashtags right after you publish because the hashtags sections work in real time, meaning that if you posted 30 minutes ago and you put the hashtags now, your post will still appear 30 minutes ago (fewer people will see it).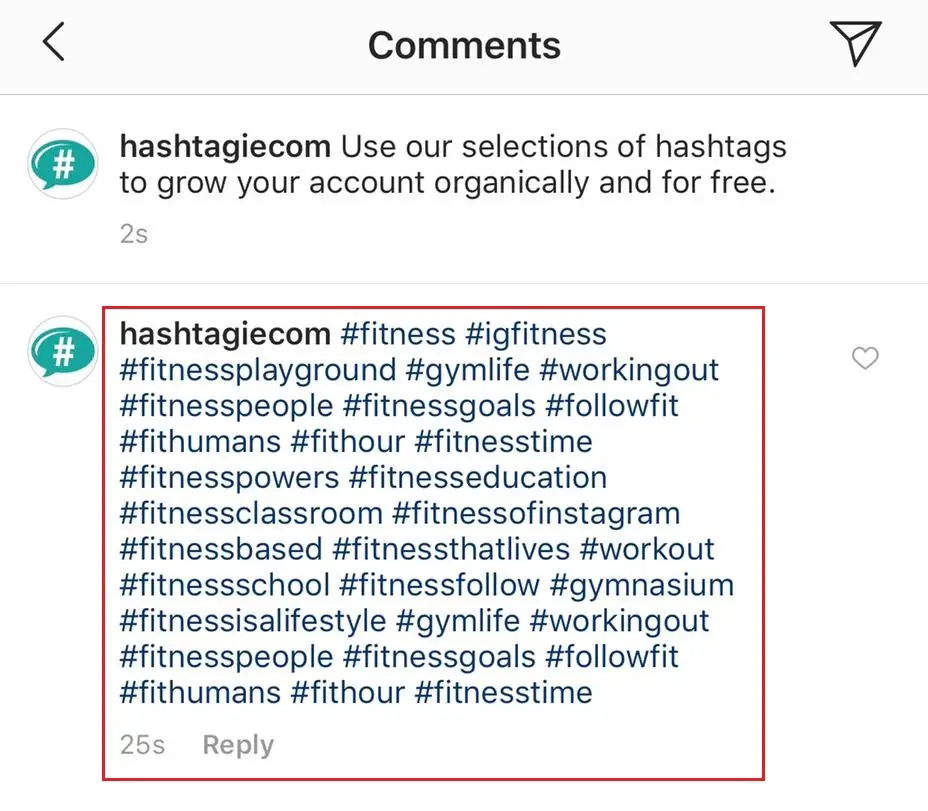 See in the picture above how the hashtags were copied as the first comment seconds after the post was published; the only way to notice these hashtags would be to open the comments section.
Have that in mind everytime you publish content to Instagram and you will see how more people will see your content. This is because usually, nobody scrolls down too much on these hashtag sections and if the hashtag gets a lot of traffic…
Your post will simply get lost.
In this YouTube video by Chris Hau, he goes over 10 tips to grow organically on Instagram, and "beat the algorithm"
I encourage you to watch it since he talks about very good points on how to grow your following the right way, with real people.
You might notice how he also mentions what we talked a moment ago about how many hashtags to use. Again, people have different opinions on this. We're still on the 30 hashtags side, just like Instagram itself has said.
Before you go
Our website is all about giving you the best Instagram hashtags out there.
If you like what we do, make sure to bookmark our website so you can easily come back everytime you want.
You can also visit our blog to read about more tips on how to grow on Instagram.
Thank you for being here,
The Hashtagie Team