Many are already asking themselves this question, can you make money with Instagram Reels?
Will you be able to make a living out of it in the future?
Keep reading as I will answer all of these questions, and also share the best tips and tricks that you could start implementing now.
Let's start…
Can you make money with Instagram Reels?
The short answer is yes, you can make money with Instagram Reels. In fact, a lot of money.
Now, will it be easy? Nope. Unless you already have something going on, it will take some time. I will talk about this later on.
So, how do you actually make money through this new Instagram feature?
Think about it like YouTube, but with no ads (yet, more of this below).
If you are a Youtuber, you should be making money by promoting your own products, sponsorships, and affiliate marketing.
With Instagram Reels you can do exactly the same.
Let's break them down…
1- Promoting your own product:
Just like in any platform, if you have merchandise that you want to sell to your audience, you can do that.
With Instagram Reels you would have more time to talk about the products and what is even better, put clickable links on your videos descriptions.
Let's say you have a fan base already, which is the most important thing for making money on Instagram Reels.
If I had a product that I wanted to sell, then you I would make a video around that product, without making it too obvious. You can review it if is something worth reviewing it, or you can simply talk about it.
In today's world is very easy to sell what influencers refer to as "merch". If you want to sell your own "merch", you can do this by creating your own online store.
This is what ultimately every YouTuber has been doing for the last couple of years.
Steps for creating an Online Shopify Store (simplified):
Sign up with Shopify (use the free trial and see how everything works first)
You will be able to select your store's name, it has to be unique, this will eventually be your domain if you happen to like how the site works, and you make money if you do the right thing.
After it, you will need to put your name, address, country, and contact number.
All your information is totally safe. Shopify is the most trusted site when it comes to online stores, and it's been mention by companies such as Forbes.com.
You will be on your store's admin screen, that's where everything connects to.
Now, you can go ahead and design however you want your store to look like, and after it.
You will be able to choose whatever theme you want. A theme is, as I like to say, the vibe that your store will be giving to its customers. So, be careful.
Any theme will work perfectly on the technical side, and its creators will give you their support if you need help. So, you are just looking for whatever you like the most in looks.
Premium themes, are the ones that will cost you money. These tend to have more features, but you will do just fine with a regular free theme of your choice.
Pro Tip: Try to obviously look for one with the best reviews.
Now, you just installed the theme, but you need to customize it. Maybe upload a photo of yourself, a custom logo, font choices, etc. You can get as creative as you want to.
Download a Print On Demand app
I recommend you use TeeLaunch, but there are others that will work just fine. TeeLaunch is the one I used in the past, and it worked out very well. It is extremely easy to use.
For any merch, you will want to have a logo or something that will make you stand out from others.
You can use Canva.com, which is a free site that will allow you to do, pretty much anything. Or you can use other advanced tools such as Adobe Illustrator.
If you don't want to get stuck in designing, which is very frustrating for whoever does not know too much about it, just use Canva.com.
Another easy alternative and maybe the best is to simply go to Fiverr.com. In there just simply search for Logo designing, and it will cost you about $5 to get a professionally well-designed logo.
Now…
Once you have your logo.
Add your products to the store
Go to TeeLaunch, and create whatever product you want your logo to be in. For example, a hoodie, a T-shirt, or a hat.
Once you have that put price it as low or high as you want.
And ultimately…
Market it to your Instagram audience
If you have a big following, which is what we are aiming for in this option, start telling them that they can buy your merch on your new store.
Throughout any Instagram Reels video description, you can start pasting your store's link.
Now, THIS IS NOT THAT EASY. These are just the simplified steps, but there is more to do with it than just 8 steps.
You need to set up taxes, how much shipping you want to charge, and pretty much all the legal things inside the store.
Before you get discouraged, this won't take you too long if you sit down for a few hours and really read more about it. It won't really take you more than a day or two to have everything decently ready if you really put some effort into it.
You can visit Shopify's website and see all the tutorials that they have, and you should be in good shape.
2- Sponsorships:
Most people know about this one since it's one of the most popular ways we've seen influencers make money on Instagram and now with Instagram Reels.
When you get sponsored, a brand pays you to talk about their product in your videos. On YouTube, we have seen it all the time when YouTubers say at the beginning or at the end of their video, "this video is sponsored by …", and then they start talking about why the product is the best one out there.
You can do the same thing with Instagram Reels. You will soon start to see big accounts on Instagram Reels, just like in YouTube, getting sponsored by brands.
Now…
Most of the time, if you are big enough, you will get people to contact you, meaning you won't need to do a thing. But if you are a small content creator, then you can simply contact the brands themselves.
You send them emails or contact them through their Instagram DMs, which they can then see, right away, how your page might help their product grow.
An example of an email would be:
Hey, I upload Instagram Reels where I get (average number of views you get) on average. I would like to know what do you guys think about me promoting one of your products? (you can now, if you want, share any ideas you might already have).
You can get lucky and land some "big deals" with big brands, but if you don't want to be thinking that you are losing your time, then contact smaller companies as well.
They will surely be open to working with you.
3- Affiliate Marketing
Affiliate marketing is one of the best options there is for you to make money with Instagram Reels. Why? Because it can be very passive if you do it the right way.
Imagine you sign up as an affiliate, and then promote other products on your Instagram Reels.
In affiliate marketing, you make money for every person that uses your link and buys the product you are promoting. For example, let's talk about Amazon's affiliate program since it is one of the most known ones.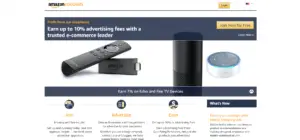 After you sign up as an Amazon affiliate, you can then get a unique link for whatever product they have, that you want to promote. Literally anything on their website. After you get the unique link, you can paste it into your Instagram Reels video descriptions.
Note: You only make a commission after somebody makes a purchase.
What are the best affiliate programs out there?
There are many, but for me, the two winners are Amazon for physical products and Clickbank for digital products.
Digital products are courses or eBooks that other people are selling.
4- Ads?
Can you make money with Instagram Reels using ads?
In my opinion, this is what Instagram eventually will do. It is not even close to being something that will be available anytime soon, but I think it will happen.
I think that Instagram will be something like YouTube in which you get a short ad before your video starts. The more people watching your content the more money you will make. If this is the case, then expect to see a lot of competition.
Disclaimer: Number 4 is just me speculating about Instagram Reels being monetized with ads. We are not sure it will happen, and only they (Instagram) know.
And now, just like that, you know if you can you make money with Instagram Reels or not.
In this next video by BreakTheInternet, he talks about the app, and how to use it. 
I encourage you to watch it if you are new to Instagram Reels and Instagram in general.
He does a walkthrough that will surely help you post your first video.
Before you go:
We are a hashtags website that provides the best hashtags for any Instagram niche or keyword. We will help you grow your account through hashtags that actually make sense.
See our list of best hashtags for IGTV, for example.
If you like what you see, bookmark our homepage, so you can easily access our site everytime you want.
The Hashtagie Team