Many of you are already asking this question, can you post affiliate links on Instagram Reels?
Is it possible to make money with this new feature? The short answer is yes.
Now…
If you want to know all the ways in which you can be better than anyone and make more money than anyone, keep reading.
Since the new Instagram Reels update, the possibilities to generate an income on Instagram became endless.
On this article, we will be answering these question, and we will also be sharing some tips that you should start implementing on Instagram Reels right now before is too late and others flood the platform with their own strategies.
Let's start…
Can you post affiliate links on Instagram Reels?
As we previously said, yes, you can post affiliate links on Instagram Reels.
Until now, you were able to do that just on your regular profile link, meaning only one link per account.
Now with this new update, you will be able to do it as many times as you want (having in mind their character limits, we will talk about it below).
When you post an Instagram Reels, you will also be asked to write a description for your video, this is where you will be able to post your affiliate links. 
As of right now, Instagram does not have a limit on the number of links that you can post, we don't think they will, but if they do, expect us to update this information.
How do you post links on Instagram Reels?
Is very easy. After you created your channel, you will see a plus sign (+) on your profile.
That's where you will be able to post your videos.
Once you are inside and you selected your video, everything else is self-explanatory.
You can write the tile that you want, and below that, you can post the description with your affiliate links included.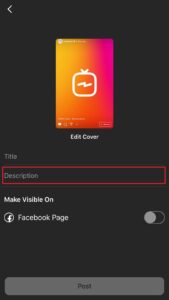 As you can see in the image above, once you fill out the information that they ask you for, you can simply press "Post", and your video will get published.
What's the limit of characters?
The limit as of right now is 2200 characters. 
This means that you can post as many links as you can, but you just need to consider the number of characters of your text.
Pro Tip: There are tools that shorten your links. This may be helpful if your links are extremely long.
How to get people to click your affiliate links on Instagram Reels?
Everyone is new to Instagram Reels, we are still learning how to use it. So don't expect people to know that your video even has a description.
Tell them that they can do it by clicking on your video title. This is very important, so don't skip it.
So, what else can you do?
Make sure you say it on your video. Just like the old YouTube "link on the description" talk, you should do the same here, tell people something like:
Hey, make sure you check this videos description for (whatever you want them to click the link for)
Just like that, you are encouraging your viewers to actually check your stuff out, and not just expecting them to magically know that you have some links that they should look for.
The whole YouTube vs Instagram Reelsdiscussion can be simplified with this:
In Instagram Reels you are playing a different game with the same rules.
At the end of the day is marketing what you are doing, and that hasn't changed, yet.
Just as you have seen it with YouTubers, you will see it here.
Obviously putting some creativity into it will always help.
Is it possible to make money with this new feature?
Yes, in fact, there are many ways.
A lot of people are, as of right now, making a lot of money on Instagram with shoutouts and sponsor posts. What's required? A big following.
There are many ways to go about making money with Instagram Reels, the ones we like are:
1- Affiliate Marketing
You should already know about this one.
Every time that someone buys something using your link, you get a commission.
Being an affiliate for a product or service is a great way to make money since it can be very passive.
Once you put your video/content out, everyone will be able to see it for years to come.
You won't have to do anything else aside from bringing more traffic to your content.
2- Sponsorships
Many times you can get a sponsorship while having a small following.
But sadly, is rare to see it since the companies won't be reaching as many people with the campaign.
They are the ones that usually contact whoever they want to hire, but you can also contact them and see if they are interested in working with you. You won't lose anything.
Now, if you have a lot of followers, you can use this to your advantage. 
How it works is that companies will pay you to try their products out or even just mention it in one of your videos.
We have seen it with YouTube all the time.
3- Promoting your own product
After you create a big following, you can sell your audience a product.
Just as many YouTubers do, you can create a website where you sell hats, hoodies, or t-shirts with your name, logo, or pretty much whatever you want.
You won't even have to get the inventory over to your place, there are many companies that will do all the printing and shipping for you.
Is called Print on Demand.
If you do this, your only task is getting the traffic.
I talk about making money on Instagram Reelson one of my articles.
See: Can you make money with Instagram Reels? | Things to do before is too late
Instagram Reels SEO (search engine optimization):
Right now the only way other people can search for your videos on Instagram Reelsis through your username.
However, we absolutely think that Instagram will make it possible to look for other content based on the title. Just like YouTube.
What should you do now?
Instagram Reels is very new.
The competition is very low, so if you can start putting content out right now and Instagram decides to implement a search engine feature, then guess what?
You will be one of the first results for whatever keywords you use.
I think that's where Instagram Reels is heading to.
Disclaimer: This is us just speculating about it. We don't know what Instagram will do, but it does make sense to us if you can get discovered by others based on the tile of your videos.
How do you get people to watch your video?
Based on what we just talked about Instagram Reels SEO and how others can discover you, the only people that will currently see your videos are your followers.
Unless your video gets very popular and gets featured on the "popular" section, then whoever follows you will be your only audience.
Now, this feature just got released.
A lot of people have not even updated their apps, so they won't even know what Instagram Reels is.
So, if you want, you can post a regular post explaining what it is, and how they can watch your stuff.
This is how generally others are converting their current followers into viewers.
In this video by DevanOnDeck, he goes over how it is possible to get followers now that there are not too many people using Instagram Reels and the app isn't fully developed.
I encourage to watch this video since he talks about the app and how people are starting to use it.
He says something very important that we really liked and is that, you need to start now.
So, don't think about it and create your channel and post your first video. It will be worth it.
The only organic way for others to find you right now is through hashtags.
If I was you and my Instagram Reels channel was about traveling vlogs, for example.
Then I would use hashtags such as #igtvtravelingchannel and #igtvvlogchannel to get discovered.
Your videos will get featured on the same hashtags sections that your regular posts go to.
You can also post a screenshot of your video as a regular post, and have the Instagram Reels hashtags there.
See: IGTV Hashtags (to copy and paste) to gain viewers and followers
Before you go:
Our website is dedicated to providing you the best hashtags out there.
We research and create lists of 30 hashtags that actually make sense to use on your posts on Instagram to get the best engagement possible.
If you like what we do, bookmark our homepage so you can easily access our content every time you want to.
The Hashtagie Team